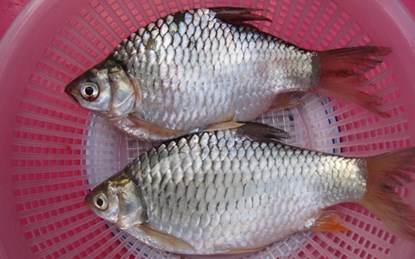 Silver barb has silver scales and looks fresh (Photo: Ba Can Tho).
Silver barb, which belongs to Barbonymus, lives in the fresh water environment in the Mekong Delta (around May of Lunar year), especially in the flood season. This kind of fish looks lozenge with thin shape, silver scales, light green color in its top head and body and white in its bottom. Knowing silver barb's characteristics, the local people often spread nets and use casting-nets to catch it.
When reminding of silver barb, many people will think about the dish called featherback quenelle (another speciality of the Mekong Delta). Featherback quenelle is sold at the market and normally included in the meals of the Mekong people. In fact, however, silver barb quenelle is also as delicious as featherback quenelle in terms of its smell and taste with its reasonable price. If these two kinds are compared, the price of silver barb quenelle is just a half of featherback quenelle's (their current price at Can Tho: featherback quenelle: 20.000 dongs/100 gram, silver barb quenelle: 9.000 dongs/100 gram).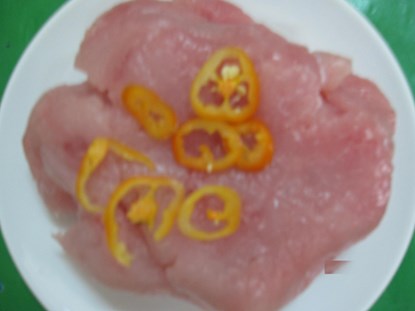 A piece of silver barb quenelle(after scraping off its meat) is as pink as a piece of beef (Photo: Ba Can Tho).
To have silver barb quenelle sold to the market, the sellers have spent a lot of time taking its meat. First, after fresh and big silver barb being caught or bought, it will be put in a sponge box (with a layer of silver barb, a layer of ice) in 2 days to have tough fishmeat. After that, it is taken out of the box and two sides of its body are cut to get the inside meat with a sharp knife. The small fishbone is taken with a clip. Finally, use a spoon to scrape fishmeat to put in a bowl.
A piece of silver barb quenelle with its light pink color as a piece of beef looks very delicious! If this is cooked immediately, the fishmeat is soft and not delicious.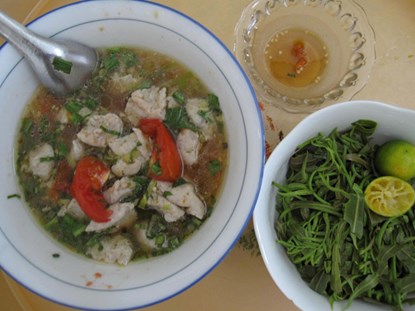 A bowl of silver barb quenelle cooked with fish sauce smells great and appetizing (Photo: Ba Can Tho).
To have the delicious dish of silver barb quenelle cooked with fish sauce, remember the "secret" that tough silver barb meat will create good taste! First, put silver barb quenelle into a cup with enough spices (salt +vegetable oil+ monosodium+ grinded pepper+ chopped onion root + sliced chili) and use a spoon to grind the mixture to become smooth and sticky. Next, put a pan on the stove, fry the oil to have good smell and then add the water into a third of the pan with enough spices ( fish sauce + monosodium) and boil it. Ladle one after the other pieces of silver barb quenelle into the pan and cook well. Finally, add cut pieces of tomato into the pan, add more spices, and take it out of the stove (do not overcook tomato to have a better dish)
Remember that to have this dish with good taste, do not forget to put some onion, chopped celery (or coriander) before ladling it into a bowl, and eat this dish with one small cup of fish sauce with some sliced chili in it! It will be more wonderful to enjoy this dish with rice vermicelli and a little lemon juice (or juice from citrus microcarpa) or chopped raw mango (green mango)!...
If you have a chance to visit Can Tho City, welcome you to explore this speciality of Tay Do region. I believe that you will forever remember the prosperous land in the Westland area of Vietnam which was mentioned in Vietnamese folk verses: "Can Tho is a prosperous place. Once you get there, you will not want to leave…"
Source: danviet.vn - Translated by Phuong Quyen