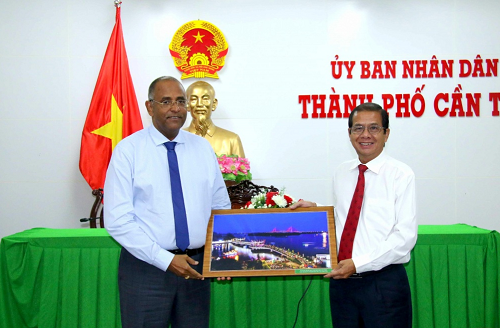 Mr. Nguyen Thanh Dung (R), Vice Chairman of Can Tho city People's Committee presents a souvenir to Mr. Achi Patrick (L), Minister and Secretary General of the presidency of Ivory Coast.
Speaking at the meeting, Mr. Nguyen Thanh Dung, Vice Chairman of Can Tho city People's Committee said that Can Tho and Ivory Coast share similarities in agricultural development plans. As home to several agriculture research institutes and universities, Can Tho is well-positioned to develop rice and fruit farming, and aquaculture. As a result, this will be the basis to promote the bilateral cooperation in agricultural development effectively. In addition, Mr. Dung said Can Tho could partner with Ivory Coast localities to boost aquaculture, agriculture, cattle and fowl farming, fruit and rice processing and preservation.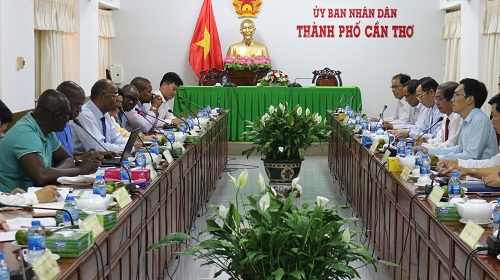 Scene at the meeting between Can Tho authorities and the Ivory Coast delegation
Leaders of the municipal Department of Agriculture and Rural Development and the Mekong Delta Rice Research Institute introduced the strengths of city agriculture in production, processing and exports of rice, aquatic products and fruit ensuring the domestic consumption and export to many countries around the world.
Specifically, the proportion of Can Tho agriculture accounts for less than 10% of GRDP but still has a population-related importance (> 60%) of the whole city. Currently, Can Tho has 87,893ha of rice growing area organized in the form of agricultural cooperative (96 cooperatives) with large-scale production, associated with 24 export enterprises. At present, 80 percent of the province's specialty rice is grown for export with a total annual output of nearly 1.3 million tons. Besides, the city has 700ha of Pangasius fish (Tra fish) farming area with about 30 factories, producing 160,000 tons/year, to ensure the export processing demand. Fruit plantation area is 18,986ha with more than 20 tropical fruit varieties (star apple, durian, mango, longan, Burmese grape, etc.). Its annual output of over 150,000 tons has met the domestic and export demand. The vegetable cultivation area reached 1,404ha, which is organized in the form of cooperatives and processed under clean procedures to serve at local markets and supermarkets as well as fastidious markets like the US and Europe.
At the meeting, Mr. Achi Patrick said that Vietnam and Ivory Coast have similar climatic conditions, so they will learn about Vietnam's development models to seek driving forces for Ivory Coast's growth in the near future.
According to him, Ivory Coast is the world's top cashew nut and cocoa producer and leads Africa in terms of rubber and palm tree growing and others. However, Ivory Coast faces several difficulties in agricultural development in terms of rice production and export. Despite having 400km of coastline, the country has to import 90 percent of frozen fish due to underdeveloped aquaculture.
While Can Tho is strong in rice, seafood materials and processing technology, Mr. Achi Patrick hoped that enterprises of both sides can promote investment cooperation in such fields as: rice studies to choose high-quality varieties, farm produce processing for export and aquaculture, high technologies applied in agricultural production; cattle and fowl farming, etc. Adding that apart from ongoing government and ministry-level coordination, Mr. Achi looks forward to direct cooperation between localities.
Mr. Dung affirmed that Can Tho leaders highly appreciate the cooperative relationship with Ivory Coast localities and will support enterprises of both sides to promote agricultural development cooperation in the near future.
Hoang Dat