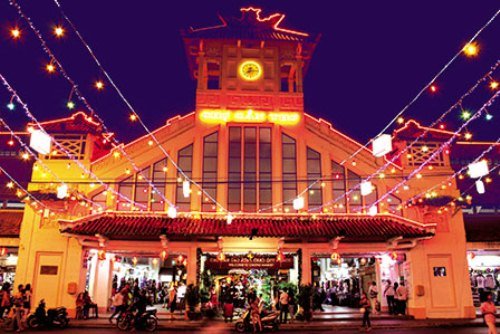 This 1.723 square meter rectangle - shaped market has two main sides: one faces the river and the other is towards the ancient pathway, which has a legend that the early settlers laid the first bricks in the land of Can Tho.
Inside the market, there are 80 kiosks displaying goods and traditional handicrafts as souvenirs. You can buy products, costumes and ancient living items from hats, bags, ear rings, bracelet for temporarily use to the colorful costumes, from traditional handicrafts to processed agricultural and seafood products in the calm atmosphere of the noisy city.
Next to Can Tho Ancient Market is Ninh Kieu Night Market. This is a new market, which has recently put into operation. The market is tidily arranged with diversified goods, from traditional products highlighting the Southwest culture to modern ones serving the entertainment needs of young people. Visitors not only come to the night market to buy their favorite items but also to enjoy the street food of Can Tho. This is also a way for visitors to better understand the lifestyle of Can Tho people who are gentle and hospitable.
CanTho Portal. Translated by Minh Loan