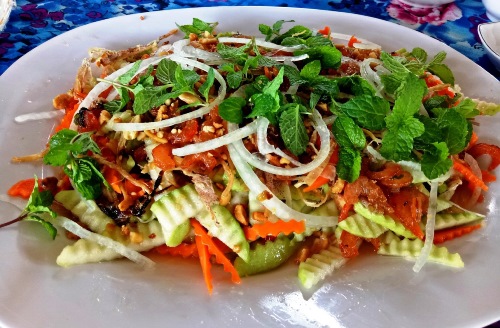 Guava Salad. Photo: Minh Nhien
The two most special dishes in the island are Guava Salad and Crispy Fried Guava which are created from guava in the garden by the owner, Ms. Le Hong Diep. The main ingredient is pear guava which is grown by clean technology so the fruits are fragrant and crispy. To do this, first remove seed of guava but still keep the green peel of the fruit. Then cut them into small pieces (just about 1-2 cm each). Slice carrots and onions and mix them with sugar, vinegar, sweet and sour fish sauce. Roast and tear to small pieces dried shrimp and squid, and then mix them with the guava mixture above. Finally, add roasted peanuts and a few basil leaves on the dish. The unique salad is completely finished, it is so delicious to stimulate appetite. Meanwhile, the Crispy Fried Guava is made with their own powdered formulation, which remains crispy when the cake is cool. These make the dish be more delicious. The outside of the cake is crispy, the guava inside is also crunchy. The taste of this cake is the same as that of fried sweet potato, but it is not cloyingly sweet, it is quite sweet and really strange.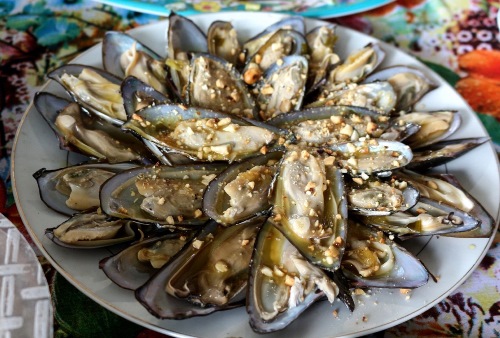 Bung bung chang chang. Photo: Minh Nhien
If visiting the island in flooding season, visitors will enjoy a quite interesting dish which is cooked from a kind of mussel, namely "bung bung chang chang". They can be steamed, fried and baked. The most interesting is "bung bung chang chang" baked with pineapple juice. The sweet and sour sauce makes "bung bung chang chang" more special, especially with roasted peanuts. In addition, in this season, the island has many countryside ingredients for cooking delicious local dishes, such as: frog soup, fried mussel, catfish, and snail. With the freshness of the raw material from river and paddy field, the dishes in the island are really rich and unique in Can Tho cuisine. Another highlight in Thot Not cuisine in general and in Tan Loc in particular is salted pangasius catfish of Ut Anh's shop and the visitors often buy them as gifts for their relatives.
Source: Can Tho Newspaper - Translated by Minh Loan