Tourists are eager to join the bicycle riding tour. Photo: Hao Tran
Can Tho is one of the five municipalities of Vietnam and the central city of the Mekong Delta. Besides the bustle of a growing city, it still keeps the spirit of a western region which is very simple. With its interlacing network of rivers and canals, it is easy to see a lot of roads, poetic and cool with the shadow of coconut trees, along the riversides and many small production enterprises of local people. These make a large number of tourists participate in bicycle riding tours. Here are some interesting places for tourists to experience in the suburban when taking part in the bicycle riding tours.
Visiting handicraft production enterprises and traditional handicraft villages
What makes foreign tourists feel excited is to see by their own eyes and experience the process of making handicraft products from local people, such as: making traditional noodles, knitting objects by materials from bamboo and hyacinth, and making huge cement pots by hands only. Moreover, tourists are offered the fresh air of a quiet village without factories, noise and smoke. The pure nature and the smiles of hard working people are mainly "specialties" of these places that many tourists from Europe, America and Australia want to enjoy.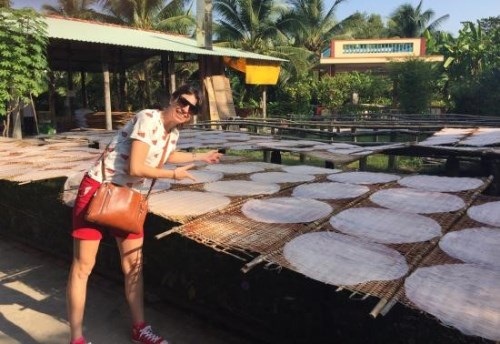 Sau Hoai's noodle production Enterprise. Photo: nhtravel.vn
Peaceful pagodas and village schools in the riversides
Cycling on the village roads along riversides, tourists can stop by village's temples and pagodas to learn more about the spiritual culture and beliefs of local people. Tourists can also stay here to have lunch together with the Buddhist in pagodas. Tourists will be happy with vegetarian dishes being full of love made to invite guests or the friendliness and hospitality of teachers and pupils in village schools where visitors can come in to the classroom and interact with pupils. These village schools stand in very small areas but they are full of love and happiness of children here. Tourists are very eager to find out the activities in the school life of pupils, they especially like seeing pupils welcoming the flags in the schools at the beginning of week.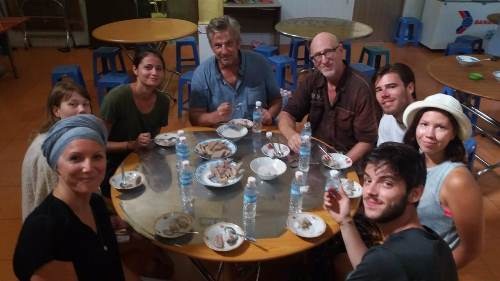 Tourists having lunch in a pagoda. Photo: Thien Thanh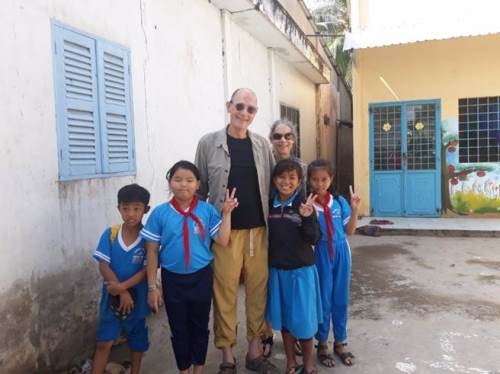 Two tourists from Denmark taking photo with pupils in Thuong Thanh Elementary School. Photo: Oanh Nguyen
Ferry-boats
Together with the scenery of the western areas with the interlacing network with rivers and canals, it is impossible not to mention to ferry-boats which have stood forever in the hearts of local people. If tourists in bicycle riding tour do not cross over the river on concrete bridge, they can have other option with ferry-boats. Local people usually choose ferry-boats for their traveling in order to save more time. This means of transportation not only helps travelers save time but also gives them new experiences about the life of people in the region with many rivers and canals.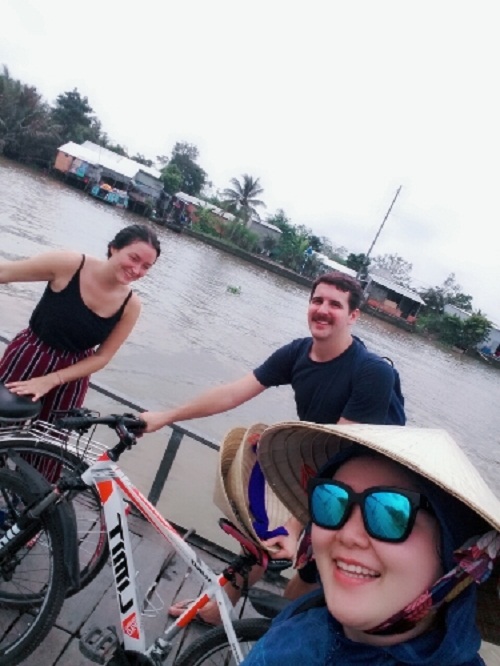 Two tourists from France in bicycle riding tour crossing river by ferry-boat. Photo: Thien Thanh
Nothing is as exciting as both cycling and doing sightseeing in village roads at leisure. Moreover, tourists will have chance to contact local people to understand more about their lifestyles. Actually, these will be unforgettable experiences for foreign tourists.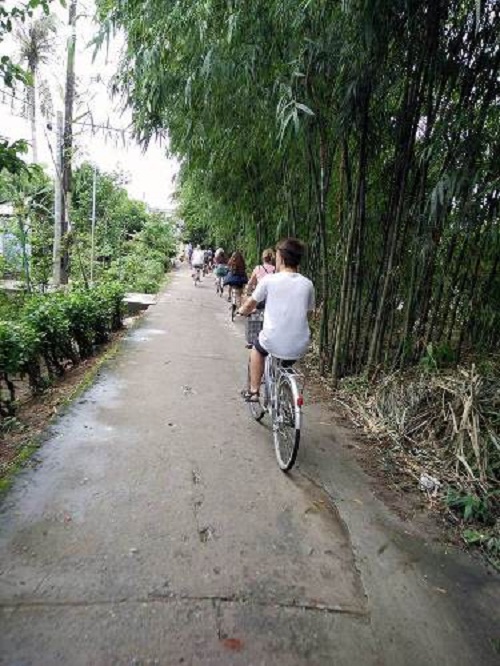 Tourists ride bicycles unhurriedly on village roads in the shadows of green bamboo trees. Photo: Trieu Trinh
Source: Tourismcantho.vn. Translated by Huynh Loan