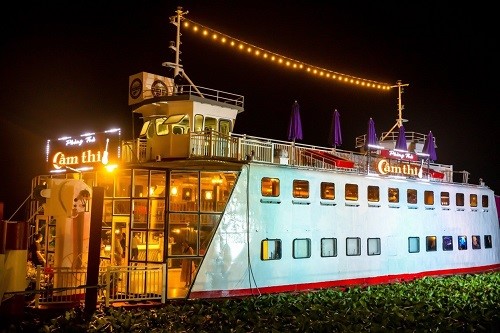 So what makes Cam Thi teahouse so special? The answer is its unique design which comes from an old ferry. Can Tho city is known as a city of rivers with interlacing canals and gentle Hau river. That is why, nearly a century ago, the image of the ferries taking tourists to the other side of the river was not only famous in verses or songs but also familiar to the people of the Western region in general and Can Tho city in particular. Since the Can Tho Bridge was put into operation, the image of the ferries bustling and hustling on the Hau River has completed its nearly one hundred years of historical mission. With the rapid change and development of society, the image of the ferries traveling back and forth on "Can Tho North Pier" remains only in people's memories. The idea of building a tea room on an old ferry is carried out to commemorate the river and the wharf. Thanks to that, the next generation and tourists coming to Can Tho can learn more about such means of transportation and be grateful for it ever existed to help the people of this land.
The teahouse can accommodate up to 250 guests. Moreover, it has a luxurious design with a majestic stage, modern sound, and lighting system. Here, you can immerse yourself in the emotional levels of the music of the night such as timeless Bolero songs or the gentle yet deep-lying melodies of Trinh Cong Son's love songs. Moreover, you can enjoy the peaceful sky while listening to the wonderful sound of guitars and pianos.
Cam Thi Teahouse is the ideal spot for check-in photos. This is also the place to meet your favorite and top Vietnamese artists. Moreover, Cam Thi Teahouse is a weekend rendezvous where you can gather to relax and listen to melodic songs on the banks of the Hau River.
Source: Tourismcantho.vn - Translated by Hoang Dat