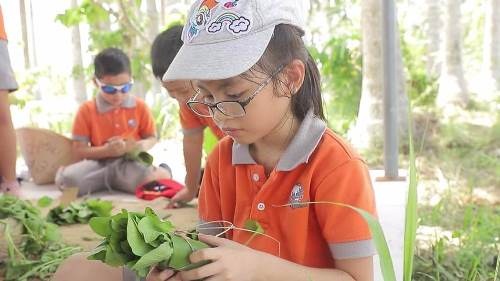 Students at Singapore International School are bundling newly harvested vegetables with banana leaves at Bao Gia Farm. Photo: Ngoc Suong
Currently, there are a number of farms operating in Can Tho city that attract many students who come for sightseeing and studying. Most of these farms specialize in growing clean, hydroponic vegetables, cultivating cantaloupe in Israeli-style membrane houses, breeding livestock and poultry, etc. Here are some farms organizing practical activities for students in Can Tho.
1. Bao Gia Farm
Being one of 3 farms of Hai Au Agriculture Development Company (Seagull ADC), Bao Gia Farm specializes in developing high-tech agriculture and organic agriculture. It is located in Thanh Thuan Hamlet, Dong Thanh Commune, Chau Thanh District, Hau Giang Province. The agricultural engineers here have overcome many difficulties and challenges from hazardous weather conditions, pests, water and soil pollution... to develop high quality, nutritious and safe agricultural products without using toxic fertilizers, chemicals and pesticides. Here, students will learn about the farming process and understand that Vietnam is fully capable to develop into an advanced agricultural country. In addition to sightseeing, growing and harvesting vegetables, children also participate in useful activities such as bundling vegetables as a gift for relatives, learning how to weave mats and baskets from the skilled artisans of the traditional craft village. These activities are aimed at educating children to appreciate and respect the cultural values of our ancestors.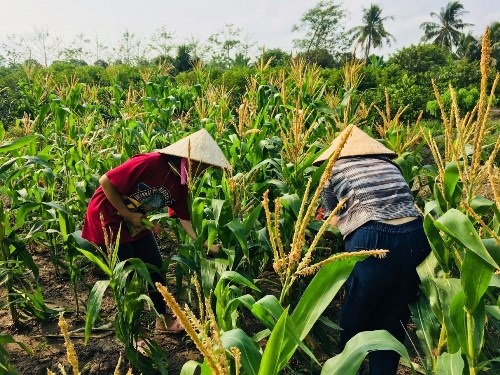 People are taking care of corn plants at Bao Gia Farm. Photo: Ngoc Suong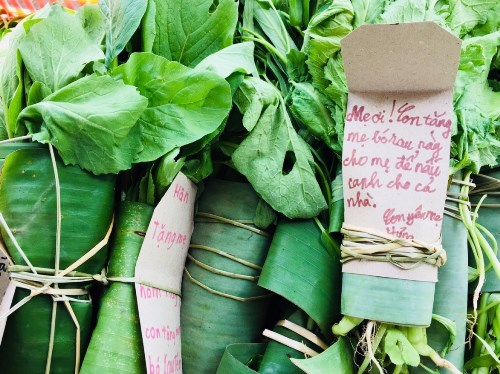 The students' achievements are fresh bundles of vegetables giving to their parents as gifts. Photo: HaiAu Tourist
2. Can Tho Farm
Situated at 79A Vo Van Kiet Street, Long Hoa Ward, Binh Thuy District, Can Tho Farm is a beautiful farm not too far from the city center but still has a cool and green space with an area of over 600m2. Can Tho Farm is developing tourism based on its green agricultural production which focuses on cultivating of hydroponic vegetables, seedling nursery, growing cantaloupe indoors, etc. The vegetables here are very diverse, fresh and good for health. Visiting Can Tho Farm, students not only have fun but they can also cultivate and harvest agricultural products by themselves. There is also a common room where children can listen to instructions and acquire knowledge from agricultural engineers as well as participating in group activities. Can Tho Farm is now an attractive place for schools from preschool to high school in the city coming here to participate in extracurricular activities.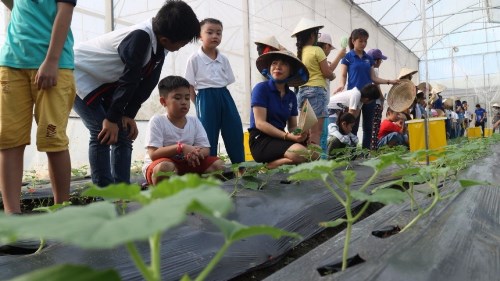 Students from Pacific school visit a greenhouse growing Dutch cantaloupe in Can Tho Farm. Photo: Minh Thu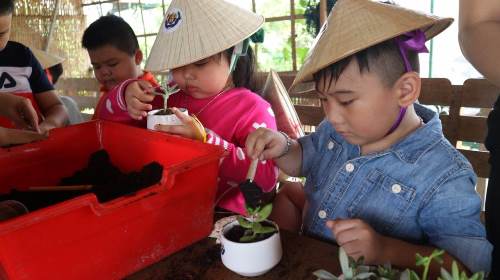 Children enjoy planting tiny ornamental succulent plants in Can Tho Farm. Photo: Tan Dat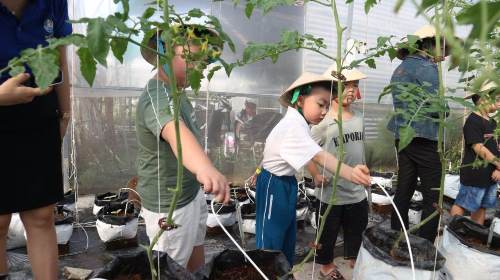 A corner of the tomato garden in Can Tho Farm. Photo: Hong Nhung
3. Minh Hoa hydroponic garden
Minh Hoa hydroponic garden, a familiar name to Can Tho residents, is famous for its fresh and green vegetable with surprisingly delicious vegetarian dishes served on the spot. Minh Hoa hydroponic garden is located at 273 Nguyen Van Linh street, An Khanh ward, Binh Thuy district, Can Tho city. This 3000 m2 garden is also an interesting destination for students and those who want to visit the modern farming system ensuring adequate light, water source and pest prevention, etc. Currently, Minh Hoa hydroponic garden has welcomed students from many levels in the city.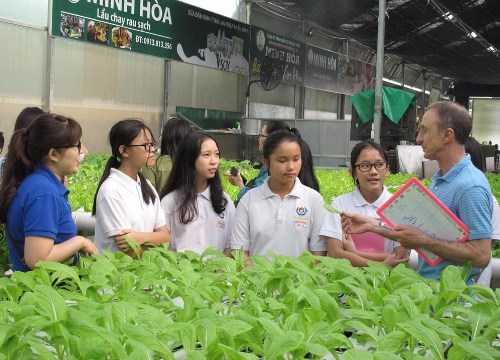 Students listen attentively to foreign teachers teaching about vegetables at Minh Hoa garden. Photo: Quang Tien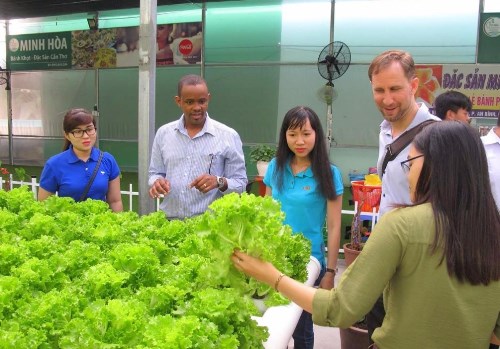 Bunches of fresh organic lettuce are good enough to harvest in Minh Hoa. Photo: Doan Uyen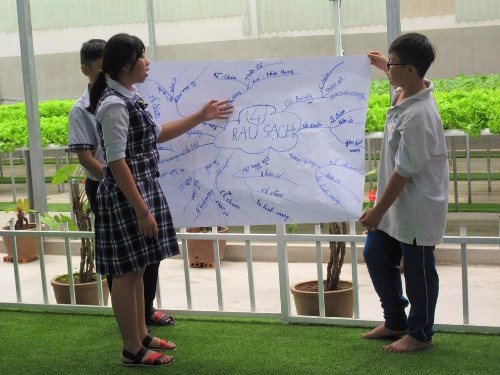 A study session of students from Pacific school at Minh Hoa clean vegetable garden. Photo: Tan Dat
Source: Tourismcantho.vn - Translated by Hoang Dat