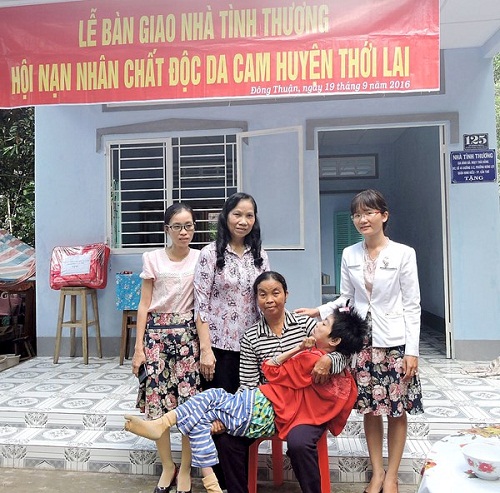 Scene at a ceremony to hand over a charity house to a family of AO/dioxin victims in Can Tho (Photo: baocantho.com.vn)
As heard at the function, during the period, the sum was used to build and upgrade 20 charity houses, aid five families with capital to set up businesses, and present over 4,000 gifts to the victims. The association also organised free health checkup events and granted scholarships in support of the group.
To date, nearly 4,000 AO/Dioxin victims, or 90 percent of the total living in Can Tho, have been benefiting from the Government's preferential policies.
In the coming time, the association said it will step up survey activities toward the group to come up with suitable assistance plans annually. It will mobilise all social resources to increase the total municipal fund for the group to at least 5 billion VND, with support activities set to focus on building charity houses and boosting vocational training and production capital aid.
The association unveiled that by the end of this year, it will work with competent agencies to repair and expand a care centre for the victims of the city, which is estimated to cost nearly 2 billion VND.
It also plans to collaborate with the municipal Department of Culture, Sport and Tourism to organise exhibitions on the impact of the wartime toxic on Vietnam and on the country's work to alleviate such consequences.
The US army sprayed some 80 million litres of toxic chemicals, 61 percent of which was Agent Orange containing 366 kilograms of dioxin, over nearly one quarter of the total area of South Vietnam from 1961 to 1971.
Preliminary statistics show that 4.8 million Vietnamese people were exposed to Agent Orange/dioxin, and about 3 million people became victims. Tens of thousands of people have died while millions of others have suffered from cancer and other incurable diseases as consequences of exposure. Many of their offspring have also suffered from birth deformities.
Can Tho city is home to around 4,500 AO/dioxin victims, including 1,200 who cannot take care of themselves, and over 600 children aged under 16.
baocantho.com.vn