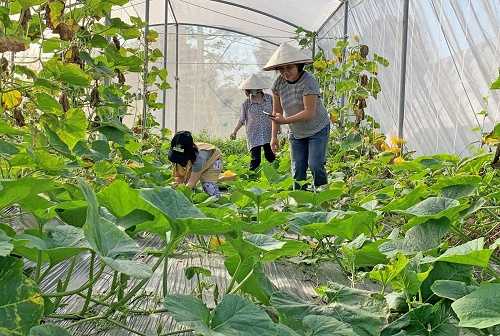 Experience picking squash blossom and young squash at Bao Gia Farm Camping.
15 km from the city center, Bao Gia Farm Camping (Thuong Thanh ward, Cai Rang district) is a new destination for visitors to Can Tho. On a surface of 7 hectares, the farm with its complete system of cultivation of vegetables, fish farming and cattle raising, becomes an ideal site for agricultural tourism - visit and experience the life of a farmer. All products are fruits of organic culture.
Visitors start very early, around 7:30 am, their day of peasant work in orchards and vegetable gardens with professionals. This is the seasonal harvest: squash, waxy squash, melons, bindweed, salads. Each visitor is equipped with a conical hat, gloves and a basket. We are lucky to come to the pumpkin harvest. At sunrise, work in the greenhouses begins: picking and sorting the stems, flowers, young squashes, ripe squashes. The products are transported on the tractor to the main house.
Visitors load the tractor and transport harvested products to the collection point.
Other families and groups of young visitors are also involved in harvesting squash or other field work such as picking longevity spinach (Gynura procumbens), blue pea flowers, cytherea apples (Spondias dulcis), mangoes, star apples (caimito fruit, Chrysophyllum cainito) ..., feeding goats, poultry, pigeons ... The farm gives you real experiences in the life of peasants.
The farm operates normally with its daily growing and raising activities. All products according to the organic standard are to be supplied to Danny Green - a commercial brand specializing in organic products. The visitor reception, which takes place only at the beginning of February, aims to exploit agricultural tourism, to present the values ​​of agricultural products and to raise responsibility for the environment. Mrs. Nguyen Thi Ngoc Suong, head of agricultural tourism activities at Bao Gia Farm Camping, tells us: "Living peasant life on the farm is not limited to researching the production process for organic products. We also offer visitors the oppoturnity to discover indigenous cultural values. Visitors, with the help of craftsmen, learn to make items such as mats, bamboo pannier, baskets ... The experience of green tourism, environmentally-friendly tourism is our target. " Therefore, Bao Gia Farm Camping designs activities to connect to nature and aboriginal culture such as: Be a farmer, Family Outing, Summer camp, Cultural exchange (cultural exchange between Viet Nam and other countries) and so on.
We can also cite Cantho Farm as a green tourism site in Can Tho. On a surface of 6,000m2, the farm interests us with its hydroponic vegetable garden and the cultivation of melons. Visitors can study the production process and even rent a small plot for growing vegetables. Mr. Nguyen Van Phong, owner of Cantho Farm, tells us: "Visitors who love organic agricultural products often come at weekends to visit the farm, trade and buy products. They can also rent land for growing vegetables. We take care of the plants, and they take care of the harvest."
In reality, ecotourism works in such a way as to reduce the environmental impact, to preserve biodiversity by using renewable energies, by enhancing natural and cultural heritage, by promoting products that respect the environment. According to the Viet Nam tourism development strategy until 2020 and by 2030, the solution for the sustainable development of tourism in Vietnam is to create green tourism products, to respect local natural and cultural factors. Ecotourism, of which agricultural tourism is a part, not only gives access to organic products at the place of production but also harmonizes the relationship between man and nature. Green tourism helps to preserve cultural values, village areas of traditional agriculture, products of natural origin and to promote the export of local goods.
Having grown only in recent years, Can Tho's ecotourism has achieved remarkable success and yielded considerable values, which helps to promote local identity for its sustainable development.
Source: Can Tho Newspaper - Translated by Hoang Dat