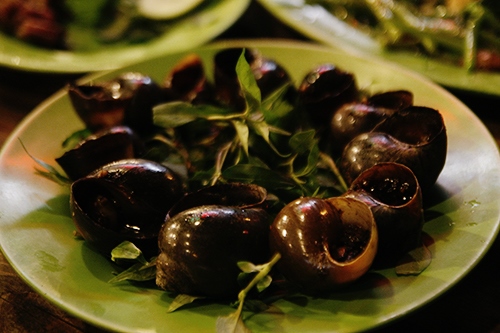 Can Tho has been famous for numerous of simple but always tasty dishes that diners once tried will be perpetuated. Among those dishes, grilled snails with pepper sauce is one of the most famous in Cần Thơ. To make this dish, people often cursorily boil snails before grilling. Snails are grilled on charcoal stove to retain the natural fragrance and taste of the dish. After that, add fish sauce mixed with spices such as pepper, garlic, seasoning powder, etc. then grill until the sauce inside the shell boiling and diminishing.
When grilling snails, do not forget to turn them steadily and lay them face down on the grilling grid, otherwise they will be very easy to be burnt both the shell and meat.
Snails cooked to medium will have a specific sweetness in harmony with spices in the sauce. The spicy taste of pepper on the tongue with a little salty sweetness will make you fascinated.
In particular, the success of this dish is determined by the sauce when grilling. When mixing the sauce, it must have enough quantity of sour, spicy, salty and sweet tastes. If it lacks one of these tastes, the dish is considered unsuccessful. Grilled snails are usually served with laksa leaves.
In addition to the common processing above, many people prefer to grill fresh snails to keep natural sweetness. When they are grilling still have to set a reasonable time before adding pepper sauce. Processing in this way, the meat will be sweeter and crispier but diners have to wait longer.
Sipping the sauce inside is the correct style when enjoying grilled snails. The salty, peppery taste of the sauce makes the dish more attractive and extraordinary. Maybe so, we do not need any other sauces when enjoying this dish. You can find this dish in any restaurants in Can Tho. The average price for a dish is 70,000 dong.
Source: VnExpress - Translated by Ngoc Diep