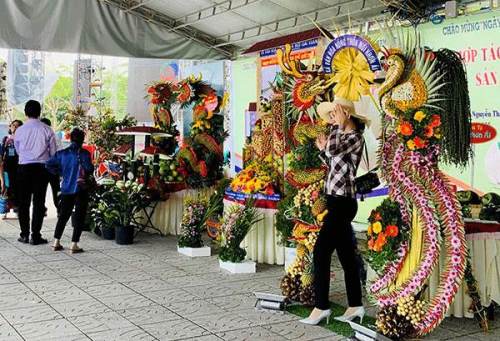 Phong Dien specialty - Ha Chau Burmese grapes attracts many tourists. Photo: Kieu Mai
This year, the Festival has overcome many limitations and shortcomings from last year. Specifically, the content has been renewed with larger scale, better quality and therefore becoming widespread. Moreover, there were also many new activities and healthy, interesting playgrounds kicking off for the first time, creating interactions between the locals and tourists.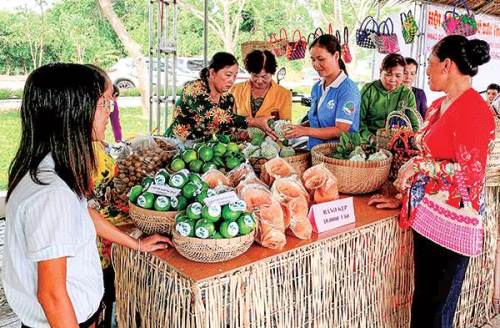 Country market with specialty fruits and traditional handicraft products from Phong Dien are introduced to visitors. Photo: Kieu Mai
Mr. Le Hoang Dung, Vice Chairman of Phong Dien District People's Committee, Head of the Festival Organizing Board affirmed that the event contributed to raising public awareness about tourism, connecting tourist orchards with travel agencies as well as creating opportunities to promote and introduce agricultural products, typical fruits and diverse cuisines of Phong Dien to domestic and international tourists. As a result of that, Phong Dien can gradually promote tourism potential and affirm its brand of eco-tourism.
On this occasion, the Organizing Board also awarded individuals and collectives winning the competitions. Accordingly, the photo entitled Phong Dien - The ecological development belt of author Ly Hong Van won the first prize in Phong Dien's Beautiful Photo Contest.
Source: Can Tho Newspaper - Translated by Hoang Dat