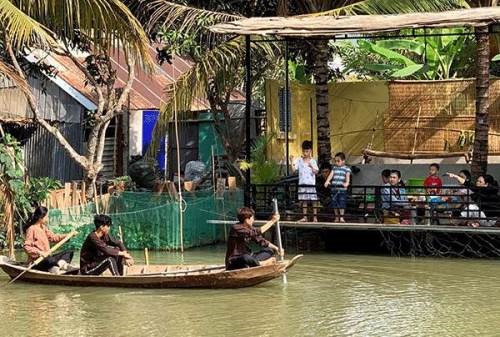 Visitors can practice boat rowing in the pond.
The restaurant is open from 6 am to 10 pm daily, with breakfast, office lunch and dinner. The price of drinks and breakfast varies between 15,000 and 55,000 VND. Phone number: 0292.3603126.
On an area of ​​approximately 6,000 m2, Dong Duong Xu Quan presents an airy, traditional space, in a garden with pond and greenery, and fresh air. In particular, there is an old house (dating from 1870) which was originally the Vinh Trinh communal house (Thot Not District), bought and restored by the owner, creating an old space offered to visitors. Mr. Nguyen Trung Thanh, the owner of the site, said: "By orienting myself in preserving the traditional culture of the South, I had the idea of ​​creating a space like this which, combined with typical cuisine of the South, is a highlight." Thanh said the old house was not intact but badly damaged over time. This is why he restored the space taking into account the old lifestyle. The restaurant also serves "landowner" meals. The name Dong Duong Xu Quan, which means the Indochinese restaurant is partly derived from it, recalling an ancient era with space and rustic dishes.
Its cuisine can be said to be the exceptional characteristic of Dong Duong Xu Quan since it retains the rustic flavor with traditional recipes that require little spice but give the dishes enough color and flavor. Cha tom Dong Duong (fried shrimp paste) and goi bo Dong Duong (beef salad) are two special dishes from this restaurant, created by Mr. Nguyen Trung Thanh, a cook with more than 22 years of experience. It is also with these two dishes that M.Thanh won the gold medal in culinary competitions in the Mekong Delta as part of the Dat Phuong Nam Gastronomic Festival in 1998 and 2009.
In addition to fried shrimp paste and beef salad, this restaurant also serves many Vietnamese dishes, such as sour soup, caramel fish, Lau mam (hot pot with fermented fish) ... There are also lots of special dishes to discover, such as Vientiane beef salad, Lau mam Dong Duong (Dong Duong hot pot with fermented fish).
On weekends, this site offers activities to discover and traditional cakes to taste. Many traditional delicacies are presented to visitors, such as Banh xeo (Vietnamese pancakes), Banh khot (Vietnamese savory mini-pancakes), Banh chuoi (banana cake), Banh duc (pandan rice cake), Banh man (Vietnamese savory steamed rice cake), Banh bo (Vietnamese honeycomb cake) ... all at a reasonable price, or 10,000 VND for each dish. In addition, visitors can enjoy the music such as the Don ca tai tu (southern amateur music), the concert, bolero… while children can play in their specific playground.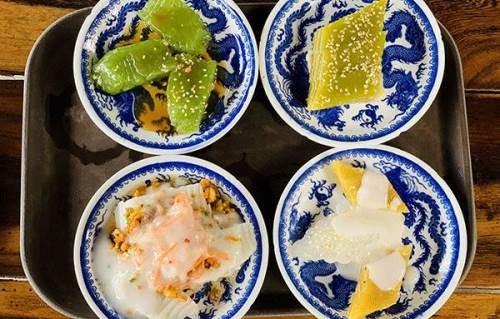 Folk cakes at the restaurant for 10,000 VND/dish.
Mr. Nguyen Trung Thanh shared: "Currently, we are testing the "cooking together with your children" program, in order to teach skills to young children, create a space for relaxation, and create emotional ties between family members by preparing a meal together". At the same time, a space for team building games is being built, plants of new varieties are being planted on trial, a check-in garden is created, and many interesting experiences are added.
Despite being put into service for more than 4 months, Dong Duong Xu Quan has become an ideal destination for families and many tourists who appreciate southern cuisine.
Source: Can Tho Newspaper – Translated by Hoang Dat