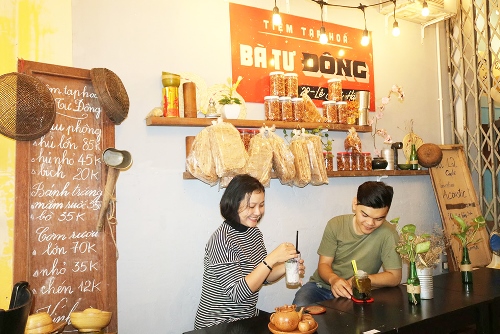 A corner of Alley Café – Ut 12's House. Photo: M.Hoa
Alley Café – Ut 12's House is not only strange by its name, but also attractive to guests by its unique decoration style which was designed to offer customers the feeling as in a temporary stall shop in a small alley. Therefore, sitting in the shop, people will have the feeling like sitting next to the window of an old house or in the spaces among shops of the previous half century as Kim Chi restaurant, Tu Dong's grocery store, Ba Le's tailor's, barber's, garage. Also, the tables and chairs in the shop are not in uniform, they are wooden chairs, stools, square tables in the ancient houses of the South. Every place in the shop is taken care carefully, expressing the beauty of culture and daily activities of the ancient Southern people.
Alley Café – Ut 12's House has a stable number of guests because coffee is made by the shop itself and many kinds of juice, cocktails, butterfly pea tea, honey and chamomile tea, chia seed and aloe vera and snacks (fermented glutinous rice, girdle cakes, peanuts mixed chili and garlic and so on) are very delicious. Among all dishes and drinks of the shop, yogurt with violet sticky rice is the most special. The recipes are homemade yogurt and original violet sticky rice being transported from the North, so they have their own flavor. Guests who once enjoy, usually come back to have them again.
Ms Chau Hai An, the owner Alley Café – Ut 12's House, says: "Shop always updates typical snacks and new drinks with fresh and clean materials". The owner is also meticulous and diligent find the way to attract visitors by collecting more items to decorate the shop such as a black and white television of many years ago, radio, telephone, sewing machine, clock, cabinets, tables and chairs. They both have and old-fashion feeling and create a natural and simple features, bringing a peaceful and relaxed feeling for those who prefer quite space. Thank to these things, Alley Café - Ut 12's House gradually becomes a favorite destination for young people. They come here not only for enjoying their favorite food and drinks, but also for taking beautiful and unique nostalgic photos.
At Alley Café – Ut 12's House, The prices of drinks are from VND 15,000 to VND 35,000; Yogurt with violet sticky rice: VND 25,000. Fermented sticky rice: VND12, 000 /bowl. Peanuts mixed chili and garlic: VND 45,000 / small jar.
Source: Can Tho Newspaper. Translated by Huynh Loan