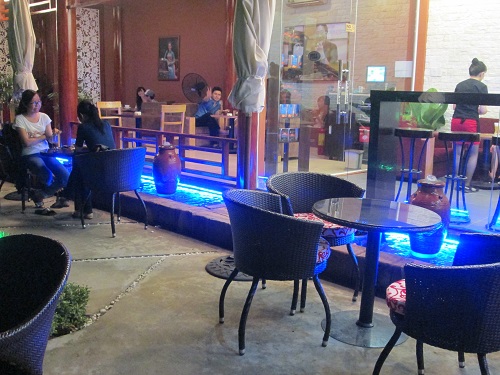 Thuy Moc (meaning Water and Wood), 1985 or Cố Đô (Citadel) is suitable for those who wish to find a romantic and quiet place to sip coffee while emerging themselves in sweet melodies.
Thuy Moc
As the name Thuy Moc, anywhere in the cafe, you can easily see green leaves and clear water brooks. This romance-style café came into being quite early in Can Tho.
There are two unique spaces in this café. One space is made of grass and air-conditioned. You'll be able to sit here listening to gentle love music. Cordial room is designed with little pond, gravel aquarium along the walls and green trees along the walkway in the middle, which creates a feeling of closeness to nature, yet remains the privacy among tables. The other space in the back is airy outdoors with a pond and large trees. Sitting here, you can enjoy breathing the pure scent of the orchids next to the pond.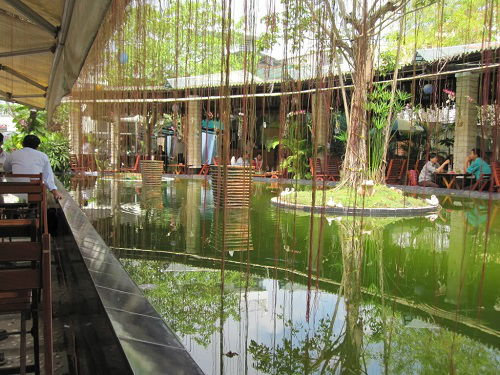 Near the rear edge of the pond is preferable because everyone likes being emerge themselves into the fresh natural scenery. Photo: Tinhte.
In the evening, on every table are scented candles, and this is certainly an ideal place for lovers to chat.
Address: 3 Thang 2 Street, Ninh Kieu District (Opposite Gate C of Can Tho University).
1985 Coffee House
The café is designed as a three-storey delicate white house. Its floor is decorated with fancy multi-colored dried flower baskets. Opening the door, you are welcome by the warmth and familiarity as if it was a room of yours. Due to very small and lovely decorations, 1985 Café creates a feeling of nostalgia via old fashioned utensils such as cups, spoons, forks ...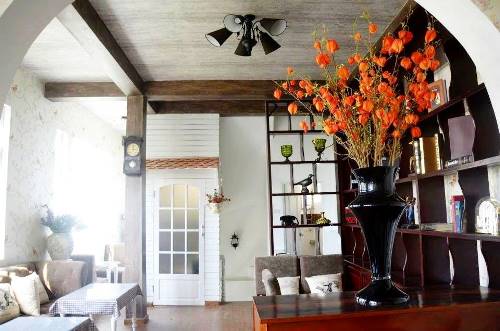 A cosy corner of 1985 Coffee House. Photo: 1985 Coffee House.
In the funky American or British music, you feel as if you were living an exciting yet nostalgic life of the old days. Instead of classical music, the owner plays pop or rock music to suit the taste of its young customers.
Address: 27, Nguyen Khuyen Street, Ninh Kieu District
Co Do (Citadel)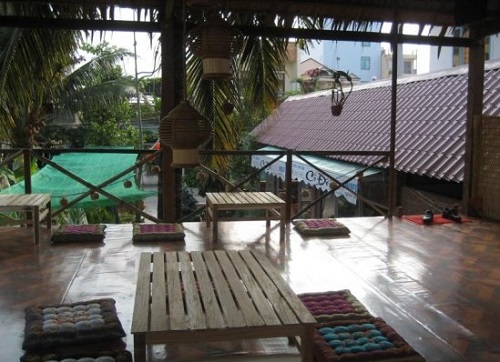 Bamboo lanterns in Co Do Café Photo: sieuthisocantho.
With the appearance of the somewhat ancient citadel in the heart of the Southwest, the café is a familiar address to those who are from Hue wishing to search memories of their hometown. Various bamboo or paper lanterns are hanging from the porch to the small attic upstairs. The thatched porch and attic look ordinary. Sitting on either wooden or rattan chairs and listening to murmuring brooks among the rockery make you feel pleasant in hot afternoons.
When you and your friends come here in the evening, you should not choose the attic since it is rather dark. The light from downstairs and small candles inside lanterns makes it suitable lovers as their private space. If you are a music enthusiast, please visit this café on Saturday and Sunday to enjoy Trinh's love songs by the bands and by young music lovers.
Address: 170, Quan Trong Hoang, Ninh Kieu District
Trung Nguyen Café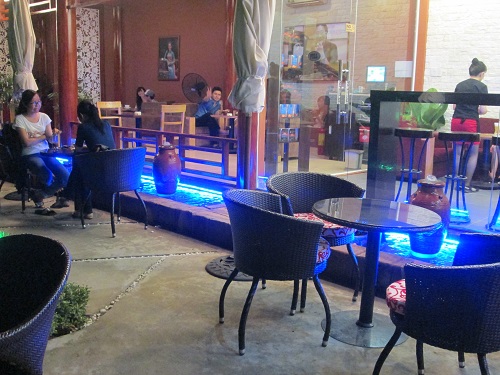 Eye-catching space. Photo: Internet.
Despite its recent opening, the café attracts many people, especially office workers because it is located near various offices and companies. The strong smell of coffee can be felt here since it is prepared on site. Such smell may make some people feel smell sick. However, this fragrance fascinates those who are addicted to coffee.
Address: 259, 30 thang 4 Street, Ninh Kieu District.
Source: VnExpress, Translated by Truong Thi Ngoc Diep