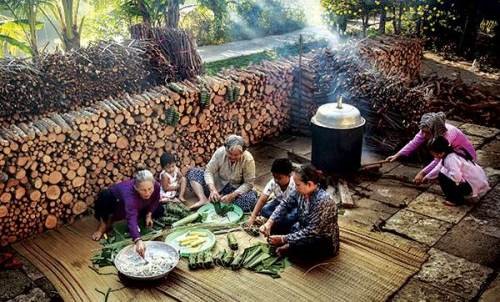 Do Tien Vung's photo captures the scene of his big family gathering to prepare Banh Tet (Vietnamese traditional food on Tet holiday). Photo by Do Tien Vung
It is in a house on Lo Vong Cung Street towards the end of the year. Here, Mr. Le Quang Bay (or Bảy Ngữ) is offering his ancestors a plate of Ha Chau Burmese grapes and another plate of various fruit that are newly picked up from the orchard. With much respect, he puts his hands together praying, "To our respectful ancestors, we, your descendants, would like to petition you to celebrate Tet with us. Our sincerity is expressed by these plates of fruits which you planted a long time ago. Would you please enjoy them?"
Mr. Bay Ngu has still kept the old custom for decades: there is always a plate of Ha Chau Burmese grapes and other fruit from the backyard garden on the tray of meal to offer his ancestors. Behind such expression of filial piety is the rural story. Mr. Le Quang Duc (Mr. Bay Ngu's father), brought the Burmese grapes to this countryside. This fruit also has another name dâu miệt dưới (Burmese grape of the lower area). Later on, the locals named it Ha Chau Burmese grape, a fine name for this specialty in Phong Dien District. In all his Burmese grape gardens, Mr. Bay Ngu loves the oldest one along the bank of Rach Chuoi. Those are 50-60 years old and have been planted and cultivated since his ancestors' time.
At the age of 77, Mr. Bay Ngu is still strong and quick. Every morning he rides his bicycle to Phong Dien Market to drink coffee, and then he does the gardening. As a former teacher with much interest in learning, Mr. Bay Ngu is well versed in gardening. He says that his grandfather did the garden from about 1900 and earlier. Gardening was not a significant feature of this land, and gardening techniques were not developed well. Local people used pairs of buffaloes to plow the topsoil for hilling up. Gradually, the higher the planting area, the lower the topsoil. The locals have found out the benefits of this technique: the low-lying area serves to bring water into the garden and to let boats enter to carry fruit. The technique of hilling up for planting trees came into being naturally. According to Mr. Bay Ngu, Phong Dien District was famous for mandarin oranges in the past because his grandfather contributed to bringing its breeds from Saigon for cultivation in here. It used to be exported to France. And then, later on, Phong Dien honey oranges were added, and now Ha Chau Burmese grapes.
The story of Mr. Bay Ngu shows that Can Tho people were quick and smart to create their own brand name. I have commented, "as a brand, it is proud to have names associated with countryside such as gardeners, countryside people, rural area, countryside dude, a visit to the countryside, etc." Hearing me say that, Mr. Bay Ngu laughs softly and says a rural sentence, "You are right, bro!" Then, he continues with a high-inspired voice, "Rural easy-going boys would easily get married in the old days. Everyone here knows these sentences:
Chuồn chuồn bay thấp
Mưa ngập ruộng vườn.
Nghe lời nói lại càng thương
Thương em, anh quyết lập vườn cưới em.
(Dragonflies fly low
Rainwater makes the garden flooded.
The more I listen to you, the more I love you
As I love you, I decide to do the garden to get married to you.)
Obviously, gardening is a career or a guarantee of the maturity and success of the rural man. Mr. Bay Ngu points to Can Tho River in front of his house, "Across the river is the house of Mr. Dieu Huyen, who composed the play Tiếng hò Sông Hậu. I really love its lyrics:
Trai nào bảnh bằng trai Nhơn Ái.
Đầu thì hớt chải tóc tém bảy ba.
Mặc pi-ja-ma khăn bàn choàng cổ.
Thấy em gái Ba Xuyên ngồ ngộ muốn cùng ai thổ lộ đôi lời.
Cấy cày cực lắm em ơi,
Theo anh về vườn ăn trái một đời ấm no
Young men in other places are not as handsome as those in Nhon Ai, whose hair is brushed to the side unevenly.
They wear pajamas and scarfs. Seeing charming Ba Xuyen ladies, they wish to express their affections.
Farming is very hard, my dear. Therefore, you should follow me to the orchard to have a fruitful life.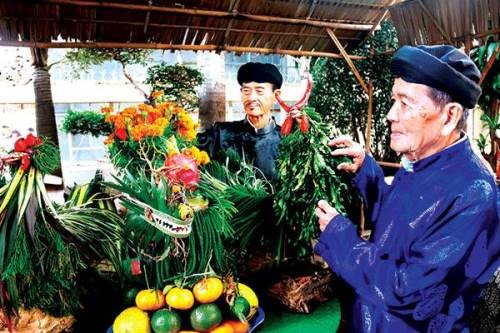 The traditional beauty of displaying fruit trees, ornamental flowers in the home garden to worship ancestors on Tet Holidays. Photo: Duy Khoi
Regarding Nhon Ai young men, people usually think of the phrase "Nhon Ai men, Long Xuyen lady". According to Son Nam, this phrase is a "praise" for the gardeners. In his book "Talking about the South", he states, "Nhon Ai in Phong Dien area is famous for orchards of oranges and tangerine in Can Tho City. Its Confucian scholars, especially middle-class and popular people, speak politely and fluently. They also know how to sing. This place is where the freshwater river is deep and where there are many two-row or four-row sampans in use."
Led by the words of the ancients, I have found myself following Mr. Do Tien Vung - a young man of less than 30 years old, a young photographer of Can Tho - to have a visit to a big rural family in Nhon Ai and Phong Dien. Mr. Vung is a gardener, who is very successful although he does not create his own "gardening". Arrived home, he folds his arms greeting everyone in the family. Knowing about my visit, all of his family gathers at home. This is a big family of 6 siblings. His mother Aunt Ut An, is 60 years old. Her 6 sisters are sitting talking to one another very respectfully although they now have grandchildren. They live close to one another, so they usually gather to share happenings with their family members."
Ms. Nam Be, Mr.Vung's aunt, living in the worshiping house, says that her grandmother has 10 children, 2 of whom died at a young age and other three young men died for our Fatherland. The others are always ready to care and help one another. "My grandmother is recognized as a Vietnamese Heroic Mother, so we must keep this pride," says Ms. Nam Be. Mr. Vung has often told me the story of his family with much pride. According to this "technology guy", on the 30th of the Lunar New Year, all siblings and children gather at home, prepare a tray of dishes to worship their ancestors. Several relatives of his generation are very successful "doctors, engineers, or people of high social position." However, when they return home, they still go to the kitchen helping with humble housework activities such as chopping chicken or cleaning vegetables. His brothers are aware that going back home means returning to their origin or to the place where humanity makes up the essence of a person. Phong Dien gardeners always believe in this.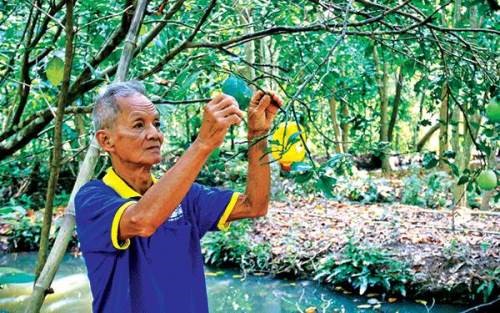 Mr. Bay Ngu in his garden. Photo: Duy Khoi
Phong Dien District now is not far from the downtown during the 4.0 period. Despite its fast development, the only unchanged is its people's dignity, which has been forged through hundreds of years of gardening. This is the reason why geographical names here are closely related to our traditional culture: Nhon Nghia (humane and righteous), Nhon Ai (humane and charitable), My Nhon (virtuous and humane), My Phuoc (virtuous and blessed)... Every time I come back home during the Ky yen Festival, I will visit Nhon Ai Communal House. At the opening ceremony, it is easy to hear Chanh Te's (the ceremony chief) reading the full text of the royal title conferred to the villagers by King Tu Duc in 1852: "Quảng Hậu - Chánh Trực - Hữu Thiện - Đôn Trang (generous - truthful - goodwill - elegant)". The local gardeners have these virtues imprinted in history, selected, and spread out in the community.
Source: Can Tho Newspaper - Translated by Diep Truong