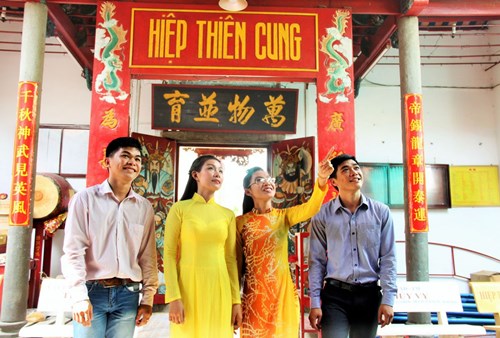 Hiep Thien Cung National Relic (Cai Rang District) - a showplace of the Chinese ethnic people's traditional festivals including safety and peace worshipping ceremony. (Photo: Duy Lu)
ICHs Identity
At the beginning of 2019, Can Tho Chantey (Hò Cần Thơ) has been included in the List of the National Intangible Cultural Heritages. Some artisans who are enthusiastic with Can Tho Chantey for years such as meritorious artisans Truong Ut, Kieu Nga, Thanh Tung are elated because they are the 'keepers' of this unique folk music. Up to now, four heritages of Can Tho have their names written in the list, namely, Southern Amateur Traditional Music (Đờn ca tài tử Nam bộ), Cai Rang Floating Market (Văn hóa chợ nổi Cái Răng), Ky Yen Festival in Binh Thuy Communal House (Lễ hội Kỳ yên đình Bình Thủy) and Can Tho Chantey. The cultural sector of Can Tho has been preparing scientific documents for some other ICHs like Can Tho lullaby, Southern Folk Cake Festivals … to be recognized as national ones.
Until 2017, Can Tho has had 104 types of ICHs which are Folk Literature (4 types); Folk Artistic Performances (10 types); Traditional Festivals (16 types); Social Customs (23 types); Traditional Craft (15 types); Folk Knowledge (34 types); and 2 General Types.
Together with the four national ICHs, other outstanding heritages have formed the vitality and enrichment of the local cultural identity. In fact, Traditional Festivals are known for its multiple festivals like Temple Worshipping Ceremonies, Tong Phong Ceremony of Kinh people; Quan Thanh, Ong Bon, Ba Thien Hau sacred Festival, Safety and Peace Worshipping Ceremony, Ghost Festival, Cam Thien Dai De Sacred Festival of Chinese ethnic people; The Kathina Festival, The Sanctum Opening, Cambodian New Year, Ok-Om-Bok Festival, Sene Dolta Festival (Khmer ethnic people). Besides, cơm rượu (rice and yeast) village, Trung Thanh cốm nổ (booming glutinous rice) village (Co Do District), Thuan Hung rice paper village, Thom Rom fishing net village, lop (đan lọp _ a fishing tool) village, Ba Rich candy village (O Mon District) are some of trade villages in Can Tho to help make the local particular identities. In ​​Folk Literature, according to the recent results of the study "Can Tho Folk Literature", Can Tho has had about 5,000 works of folklore with 12 genres such as narratives, folk songs, proverbs, vè poems or songs, etc. These heritages have played an important role in the cultural and spiritual life of the local people, which becomes valuable resources for tourism development.
Interestingly, Can Tho artisans have silently preserved and practiced precious legacies of the predecessors. For example, artisan Le Van Buoi, or Nhac Buoi (O Mon District), has spent almost all his life preserving and making Southern ceremonial music. Nhac Buoi also has trained dozens of skilled musicians, including his children and grandchildren. He says, "Ceremonial music creates formal and sacred atmosphere, and the musicians are well aware of this." Another example is the deceased artisan Sau Trong (Binh Thuy District), who devoted his entire life to making Banh tet la cam (bánh tét lá cẩm cylindrical glutinous rice cake with magenta leaves) and passing this trade down to his children and grandchildren with the desire that the ancient craft will be preserved.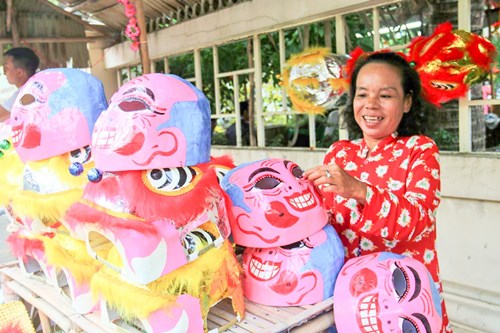 An artisan in Ninh Kieu District making Southern Lions' and the Earth Gods' masks. Photo: Duy Lu
ICHs Preservation
In early 2018, Can Tho City People's Committee approved the Proposal for Preservation and Value Promotion of Can Tho ICHs till 2020. It reviewed that Folk Literature was a ICHs type at the highest risk of sinking into oblivion because its practitioners were mostly the elderly. However, Traditional Craft and Folk Knowledge were developing and forming many other types with an increasing number of practitioners.
To implement this proposal step by step, Can Tho Department of Culture, Sports and Tourism has publicized a lot of specific tasks in 2019. Ms. Huynh Thi Tuyet Nhung, Director of Can Tho City Museum says, "The museum and other related units will fulfill the Project of Preserving and Promoting the ICH "The Safety and Peace Worshipping Ceremony of the Chinese ethnic people" (Cai Rang District). The project is to identify, evaluate the current situation as well as offer proper suggestions to uphold the heritage value". Mr. Do Khen, Vice Chairman of Hiep Thien Cung National Relic Management Board (Cai Rang District) informs, "The Safety and Peace Worshipping Ceremony is held on a good day of early lunar December in order to thank Gods for bestowing the local people a peaceful year and to pray for much fortune in the upcoming year. The ceremony originated long time ago, and its age-old customs have been preserved. We are very happy because the project has chosen this ceremony to be preserved."
Ms. Huynh Thi Tuyet Nhung also adds that the City Museum has implemented a publication of the typical ICHs of Kinh people, the Chinese and Khmer ethic people in Can Tho, and 1,000 copies are supposed to go on sale at midyear. Nearly this publication will introduce 30 ICHs with their scientific documentaries and lively illustrations. Additionally, the museum will also take an inventory, check and add other ICHs across the city to be preserved. It will select typical ICHs and prepare relevant scientific documents for them to be included in the National ICHs List.
However, one of the difficulties in preserving and promoting Folk Artistic Performances like chantey, ve and lullaby is that they lack successors and a majority of artisans are senior practitioners. Therefore, according to Ms.Nhung, the association between the current local singing clubs and the aforementioned types will have positive effects on deep-rooted preservation.
Ms. Ho Thi Tham Thuy Hang, Deputy Head of the Culture and Information Department of Binh Thuy District states that since Ky yen Festival in Binh Thuy Communal House was recognized as a national ICH, the locality has focused on preserving and promoting its values. In addition to maintaining traditional rituals, the "festive" activities supported by the Department of Culture, Sports and Tourism, have expanded and become more fascinating. Thanks to that, every Ky yen Festival in Binh Thuy Communal House attracts a huge number of visitors and worshippers at present.
Source: Can Tho News - Translated by Ngoc Diep