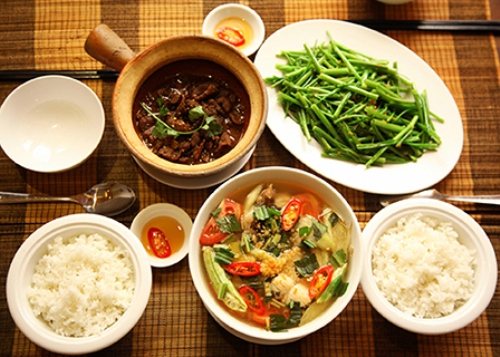 A simple meal with sour soup, braised fish, stir-fry vegetables, common in Can Tho in particular and the Mekong Delta provinces in general. Photo: cachlamhay.com
In daily meals, sour soup and braised fish are affordable, simple dishes that anyone can cook. Sour soup in Can Tho is also diverse: snakehead fish sour soup, gray eel-catfish sour soup, Chinese pangasid-catfish sour soup... Particularly, Can Tho is a hick city, there are many types of fruit to make sour taste, such as fresh tamarind, salted tamarind, fermented rice, slender watervine, vinegar, sour-soup creeper, tomato, pineapple, lemon, star fruit, kumquat, mango, rose apple ... Vegetables include water lily, water spinach, water mimosa, beansprouts, Indian taro, kae flower, hastate-leaf pondweed, yellow burrhead... All together harmoniously combine to create a delicious adequate sour soup pot. The combination of spices, coriander and sauce must also follow principles. For example, snakehead fish sour soup is cooked with beansprouts, Indian taro; usually used salted tamarind to make sour taste and served with original fish sauce. Eels or loaches are cooked with water lilies, water spinach, or kae flower. As for fermented rice sour soup, some people prefer chilli salt to fish sauce... Beside fish sour soup, there are chicken sour soup, duck sour soup and even rat sour soup.

Braised fish dishes are made from all kinds of fish. Any kind of fish can be braised from snakehead fish, catfish, perch to seabass, spot pangasius, basa fish, green catfish... and there are many brasing styles such as braise with sauce, caramelized braise, braise in claypot, braise with fermented fish ... with the appropriate amount of spices, salt, fish sauce, pepper, onion, sugar, fat ... in accordance with the property of each dish to make it tasty. In addition to braised fish, fermented fish is also preferred by Can Tho people, especially that is made from gourami fish, snakehead fish, catfish, perch, mystus, Siamese mud carp, sheatfish, shrimp... Several decades ago, when natural sources of food were still abundant, every Vietnamese family in rural areas reserved a couple of jars of fermented fish. Can Tho people have many ways to process food from fermented fish as eating raw, steaming, brasing.
There are a few kinds of raw fermented fish: shredded fermented fish, Thai fermented fish, fermented gut (or bowel), fermented egg, cucumber ... Each kind has some additives mixed into or served along as garlic, chilli, lemon, vinegar, sugar, ginger, papaya ... and then enjoyed with boiled pork, boiled shrimp, grilled fish ...
Steamed fermented fish can be a whole fish as snakehead, catfish or finely minced (usually gourami fish) then steamed with duck eggs, pork ...
In braised fermented fish dish, the fermented fish is the main ingredient to make the flavor for other ingredients when braised together so people also call it braised in fermented fish such as snakehead braised in fermented fish, eel braised in fermented fish. Food used to braised in fermented fish is very diverse. A braised dish can use only one major food as perch or goby or gray eel-catfish with bacon. On the other hand there can be a dish using a sum of many kinds of food including: snakehead, perch, mudskipper, eel, loach, squid, shrimp, snail... Braised fermented fish is delicious thanks to the charming flavor of fermented fish combined with fresh vegetables. This type of mixed cooking is usually served on a coal stove or in the hot pot with warm fire to boil the food, slowly dip raw vegetables when enjoying, very tasty.
Beside those common dishes, there are also many different ways to process popular dishes in Can Tho that are simple, close to the nature but attractve such as grilled snakehead , grilled in banana areca; grilled rat in pot, grilled snake ... In the old days, meat dishes such as pork, chicken, duck ... were rare, which were only used to served guests to show hospitality.
Beside the dishes made from natural resources are food and drinks that are made by skillful hands of grannies and sisters. From rice grains, they can make dozen kinds of cakes: vermicelli, fine rice vermicelli, Vietnamese honeycomb cake, steamed glutinous rice, plain rice flan, pancakes, cylindric glutinous rice cake, crackers ... Women of Can Tho is well-known for skilful baking: bloating fern-shaped cake, sponge cake, ... As for cylindric glutinous rice cake , Can Tho is famous all over for the four-color cake stuffed with meat, sausage and salted egg.
Regarding drinks, Can Tho people still have traditional drinks as wine and tea.
Rice wine is the specific drink of Can Tho people. This is a very tasty kind of wine brewed from rice, glutinous rice. The best wine is distilled from aromatic glutinous rice, the second is distilled from rice, least tasty one is sugar cane wine ... On an average, one kilogram of glutinous rice, rice can be distilled to two liters of liquor. To make the perfect wine, people must take care of each single grain of glutinous rice, yeast, each action of distilling, blending. Choosing glutinous rice is the first important step. It must be fine glutinous rice without any grain of ordinary rice to make the wine clear, usually are "mo" glutinious rice, "mu u" glutinious rice and violet glutinious rice ... After choosing delicious glutinous rice, cook the rice to have boiled rice, let it cool down (still warm), then prinkle yeast (crushed) onto the rice and seal. Primitive yeast were ground from roots or esoteric yeast prepared from medicinal herbs: cinnamon, clove, dried tangerine peel, cinnamon twig, anise plus longan, betel ... After three nights, it is fermented, people pour water into it and seal it as before, then cook it after three more nights.
The brewing oven is made of clay. Wine rice is put into "trõ" (a large earthen pot), then boil it using straw, dry wood. When the mixture of wine rice with water is evaporated into stream, people let the stream meet cold water to make it condensed into the drops of alcohol, which can be collected in plastic bottles, cans ... (*)
Apart from rice wine, in Can Tho there are wines made from local raw materials such as violet glutinous rice wine, banana wine, pineapple wine, fermented glutinous rice wine…
Can Tho people usually use tea to entertain guests but rarely slowly sip tea, except for some old people. When guests come to visit, or anniversary occasions, weddings, funerals will be served with hot tea, while in daily life people have the habit of letting tea to cool down, and dilute it to drink the whole day. And when work hard people tend to have iced tea.
Today, with economic development and urbanization, the structure and timing of meals of Can Tho people in particular and the Mekong Delta in general have a lot of changes but the basic traits of traditional culinary culture still have strong vitality. People of the Western region always remember warm family meals with a hot bowl of sour soup and braised fish dishes that could be delicious till the last piece; or on rainy afternoons, the whole family cluster together around the fragrant pot of braised fermented fish...

---------------------
(*) Tran Minh Thuong (2010), Rice wine in Southwestern folk under the cultural perspective, Folk Light Magazine volume 2.

Source: Can Tho Newspaper - Translated by Ngoc Diep