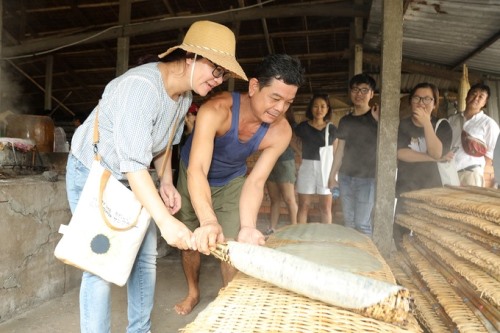 For ages, the trade of making noodles has been preserved by a lot of families in Cai Rang District, Can Tho City, and is considered as the local traditional beauty.
Mr. Duong Van Cua, 49, (second left) says that he started working in this trade in 1982. He says, "Making noodles is a traditional trade of not only my family but also others' in around An Binh Area, I learned the trade from my grandparents when I was a child and have been practicing it for nearly 30 years."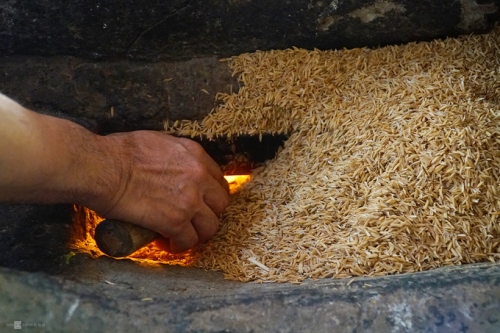 As soon as you arrive at the leaf-roofed house after going quite far along the village road, you will see smoke rising up from the stove which is said to be more than half a century. From 4:00 a.m., a fire is made in the stove where a big pot of water should boil in 30 minutes. Then the flour is poured in.
Currently, Mr. Cua's relatives including his wife, siblings, children, and grandchildren do all the work here.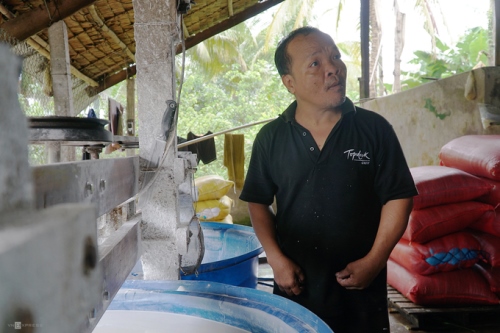 Mr. Quach Tinh (born in 1964), a cousin of Mr. Cua's, says that mixing powder here is similar to what other people do. In order for the noodles to be milky white and fragrant, it is essential to choose a good type of rice. Rice dough has to be prepared the night before.
"Tapioca starch and rice flour are mixed in appropriate proportion with clean water, let it sit overnight, and it is ready to be used in the next morning," Mr. Tinh explains when visitors ask him about how to make noodles.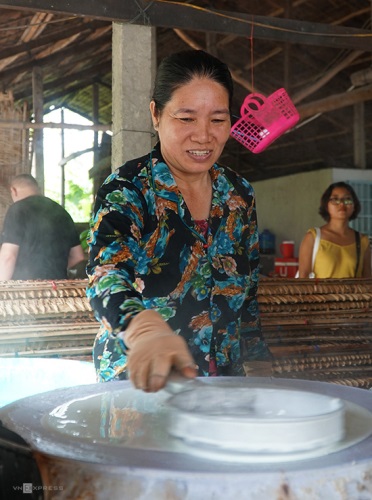 Coating flour requires the employee to quickly take the cake out as soon as the dough is cooked on the bamboo rack. "If you are slow, it becomes sticky and difficult to be removed from the pot, or even torn," says Mr. Cua's wife. The steaming time is about 1-2 minutes.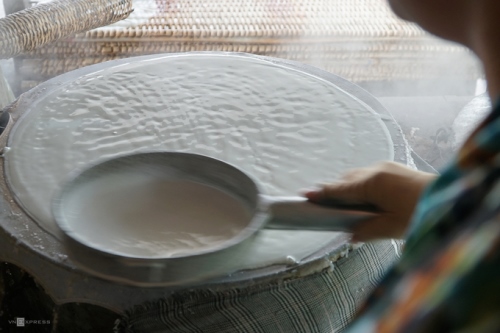 The noodle-coated oven looks no different than the one to make steamed rice pancakes, but it is larger.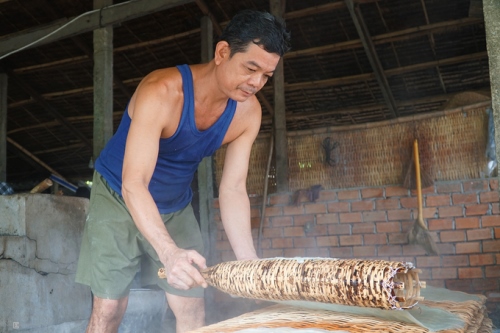 Mr. Cua quickly spreads the cake on the bamboo racks.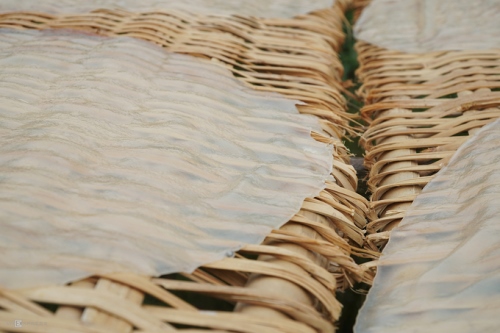 Each bamboo rack is nearly 2 meters long and used for drying 4 cakes. According to Mr. Cua, the important factor affecting the quality of the noodles is the weather. He says, "The cake needs drying in one to two sunny days, but not too hot ones as the cakes may be too dry."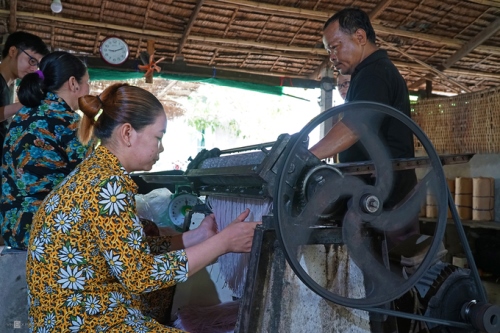 Cake after sun drying will be cut off in exact sizes on the machine. Mr. Cua puts the cakes on one end of the cutting machine, and his sister at the other end is waiting for large round noodles running out.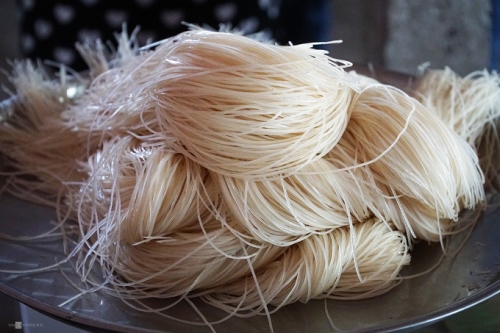 Currently, the family produces 5 types of noodles. In addition to the basic white one, the others are of 4 different colors from magenta plant seed, turmeric, baby jackfruit, and pandan. The new types have just been put into production to meet customers' needs.
His noodles, after packaging, can be bought as gifts by visitors or delivered to shops in Can Tho and other neighboring provinces and cities such as Tra Vinh, Vinh Long, Ho Chi Minh City.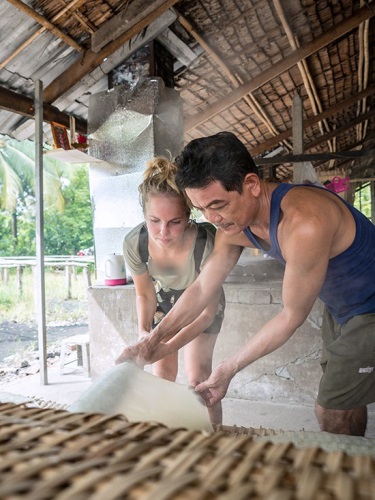 "In 1991, our factory was along the highway, welcoming a large number of Japanese customers. In 1995, when we moved deep into the village, at the current location, European visitors started to visit us," says Mr. Cua. Visitors coming here not only can learn how to make noodles but also can try coating cakes and buy products as gifts. Photo: Thai Tang Tung.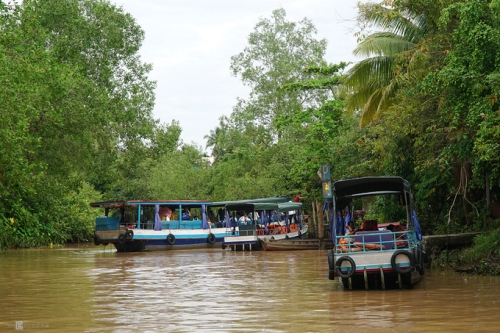 ​
Mr.Cua's house is near Cai Rang Floating Market. You can schedule your tour to stop by here by boat right after visiting the floating market. Or if you go by road, you can run to Lộ Vòng Cung (Road 923), then turn into Alley 476, go ahead for a while and you can find it.
There is no entrance fee to visit this place. The average price for 1 kilogram of noodles is 40,000 VND, depending on the type.
Source: VnExpress – Translated by Diep Truong