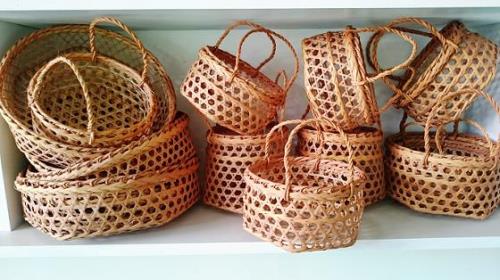 Dong leaves (Phrynium placentarium) basket
Particularly, the handicraft product named Dong leaves (Phrynium placentarium) basket, made by Mrs. Le Thi Hiep in Thanh Hue area, Thuong Thanh ward, Cai Rang district is one of the potential new products.
This year, Mrs. Hiep is known to be more than 80 years old and has nearly 70 years of experience with the trade. Currently, her Dong leaves basket is becoming more and more popular with orders from many places, nearly a dozen products sold each month. She has passed this business to her children and grandchildren. Although her income is not high, this traditional job is enough to help her family earn their living.
In order to produce a basket from Dong leaves (Phrynium placentarium), it has to go through many stages such as make the base, weave the basket, foot the base, pack the base, trim the base, make the rim, attach the handle. In addition, the materials are also carefully prepared by her family members. The Phrynium placentarium tree after bringing back home will be dried, shaved, split in half, and sharpened to make basket fibers. These fibers are meticulously selected to give consumers the best products.
Besides, this is also a long-standing traditional product with potential for development in the field of tourism. Recently, Tourism Development Center of Can Tho city has also succeeded in bringing Mrs. Le Hiep's basket into one of the tourism gifts in Can Tho City. Since then, the city has developed a tourism product for tourists - a product deeply imbued with the characteristics of Can Tho, a river city.
Source: Tourism Development Center of Can Tho city - Translated by Hoang Dat