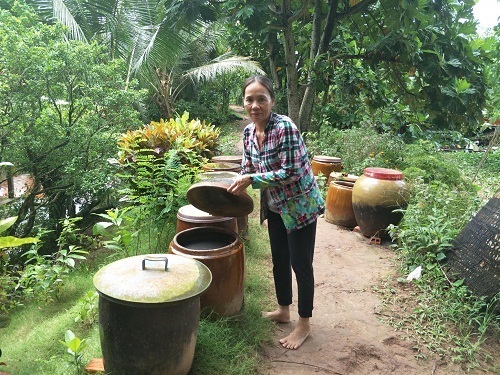 Natural Fish Sauce Maker on Son Islet
In one cool afternoon, if you start from Son Islet Wharf, walk about 300 meters along the dike road to "the community tourist village", cross a monkey bridge, you can get to Ms. Phan Thi Kim Ngan's house. Locals and tourists call her with a loving name, Ms. Bay Muon, who has been determined to preserve the traditional taste of natural fish sauce for many years. This medium-height woman in casual clothes, getting used to walking barefoot, quickly guides us to the line of dozen pots on high base along the path. Off the lid comes the smell of natural fish sauce, both new and familiar. And here is the story of how she preserves such traditional smell.
Her hometown is O Mon District. Her family has made good use of natural fish to make fish sauce for generations. After her mother's death, her father took her siblings and her to explore new land in Son Islet. When they settled down, he earned his living by making fish sauce with the traditional recipe. Ms. Bay Muon says, "In 1981, I was about 15 or 16 years old. My father started to be a vegetarian, so the method of making fish sauce was passed down to me. He carefully taught me the quantity of fish and salt for the best fish sauce. During the process, he shared with me how to know whether the smell of fish sauce was good or not. Since then, I have made fish sauce for my relatives, my children and many other people. I make hundreds of liters of fish sauce every year, then share with other people. People's compliments are my happiness and motivation to keep up my work. I'm so delighted and wish my father were alive to hear that!
The season of Siamese mud carps and anchovies is from around Lunar October to February every year. Local people usually buy them from fishing boats. Some fish are served as food, and the rest are to make fish sauce. To make fish sauce, first they pour fresh anchovies into a big earthen pot, then add salt and stir them gently. The ratio of fish to salt is 35:15. However, for Siamese mud carps, they wash them off and let the mixture drain for four hours before mixing 35 kilos of fish with 6 liters of salt. They let it sit for 24 hours, then add another six liters of salt in the mixture and three more liters of salt on top. Next, the pot is tightened with a rubber gasket and covered with the lid. After 10 months to a year of incubation, the sauce is ready. People, depending on their own flavor preference, serve pure fish sauce or cook it by adding coconut milk and boiling it to preserve its special taste. Usually, 35 kilos of fish with a year of incubation produce 28 liters of fish sauce. "According to the traditional incubation, it is very important to measure accurately both anchovies and Siamese mud carps in kilos. Sea salt is the best. Don't use table salt to incubate fish because it is not salty enough. You should use an adequate amount of salt to mix, yet a great amount of flattened salt on top to prevent it from grubs as well as to make it deposit gradually," she added.
Natural fish sauce is saltier and the taste is better than its look. The taste and flavor are superior to industrial fish sauce, and especially it has no chemicals and additives. On Son Islet, most households make natural fish sauce. Some of them have a couple of pots, while others have dozens pots to have fish sauce as food all year round or as a present to relatives. Since Son Islet developed tourism, natural fish sauce has been better known. Ms. Phan Thi Kim Phuoc, Song Khanh Home Garden states, "At first, I served industrial fish sauce because I was afraid that tourists would not prefer the strong smell of natural fish sauce. However, when they tried it, they liked its taste and flavor. Now they only enjoy natural fish sauce. All kinds of sauce served in here such as pure natural fish sauce, sweet and sour fish sauce or tamarind fish sauce are homemade from natural fish sauce according to the traditional recipe. Formerly, we made only 3 pots for household use, but now we make 6 to 7 pots to serve tourists."
Those who grow up in the countryside might enjoy the typical flavor of natural fish sauce which recalls their sweet memories of the small cooking area in the house corner. These days, although natural fish sauce is not as popular as it was in the past, locals and international tourists always have a special affection for it. Tasting natural fish sauce, Mr. Vo Van Dung in Da Nang City has said, "It tastes so good. It brings me back to my adolescence when I had it in my hometown. Many kinds of fish sauce sold in markets or supermarkets are the processed one, which confuse me a lot. Now I embrace the special familiar taste and flavor of fish sauce."
Trung Nhan - Translated by Ngoc Diep