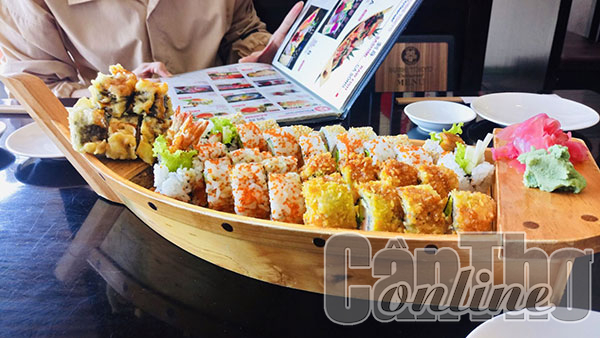 Japanese foods have been popular in Can Tho for many years because Japanese cuisine focuses on the fresh, pure, natural flavors of the foods. In Can Tho city, there are many restaurants serving Japanese food, and one of many famous places loved for its quality is Sushi Sakura (located at no. 103 Tran Hung Dao Street). Here, from space to service style, each has its own mark; The dishes are presented very delicately, beautifully, and in high quality in terms of freshness. The highlight is the Sushi boat with the foods displayed on the wooden boat very eye-catching and attractive. Another loved Japanese restaurant is Enishi Can Tho (located at no. 21 Tran Dai Nghia Street). This is one of the first Japanese buffet restaurants in Can Tho with a menu of more than 100 sushi dishes, such as aburi sushi, gunkan, rolled sushi, traditional sushi, vegetarian sushi, eel sushi, tuna sushi, sushi herring pressed egg,... Besides, there are many Japanese restaurants highly recommended by customers: Ohisama Sushi (located at no. 139/105A, April 30th), Kiseki (located at no. 53/8 Le Lai street), Momo Kitchen (located at no. 166D Phan Dinh Phung street)… Among those, Momo Kitchen is a takeaway shop and mainly serves sweet foods such as Sakura Cheese Cake, Kyoto Matcha, Momo...
With delicious foods from Korea, popular in Can Tho, there is Heri (located at no. 43 Mau Than Street), because the food here are rated as Korean standard thanks to the Korean owner. Here, there is a diverse menu from main courses, grilled, hot pot to snacks. The highlight here is that each dish is very well taken care of, and quite large in size, especially side dishes, are also fully prepared with many varieties. The cost of Heri is also quite reasonable, so it is very popular with customers. And HanCook (located at no. 290/27 Le Binh street) is also a Korean-style restaurant that attracts young people thanks to its airy and spacious space; The foods are very diverse in type: mixed rice, tokbokki hot pot, kimbap… For those who love spicy noodles, Omega Noodles (located at no. 53/8 Le Lai Street) offers the right taste with rich broth and fresh ingredients. It is famous for 3 flavors of spicy noodles: seafood kimchi, beef kimchi, and Jjamppong. Besides, there are many Korean restaurants in Can Tho, such as Sam (located at no. 474 April 30th Street), KuShin BBQ - Grilled Hot Pot (located at no. 249 Vo Van Kiet Street), OPPA Grilled & Hot Pot (located at no. 124/9 3/2 Street). In addition, if visitors want to enjoy both Korean and Japanese foods, they can choose the following places: Grill & Cheer restaurant in Can Tho (Vincom Plaza, 4th Floor, No. 209, 30/4 Street), Obi House (located at no. 43H Mac Thien Tich Street)…
In Can Tho, Thai food is also diverse with many restaurants such as Thai Street (located at alley 107, 3/2 street), Tomato - Pad Thai (located at no. 54 Nam Ky Khoi Nghia street), Pallet (located at no. 70-72 Vo Van Kiet street)... Thai Street serves a variety of dishes from main courses to dessert; in which tomyum hot pot is the highlight with rich hot pot soup and fresh side dishes. And Tomato - Pad Thai is loved by many creative Thai foods. Here, customers can enjoy many strange foods cooked in Thai style such as seafood spicy and sour soup, Pad Thai with sour shrimp... Particularly, Pallet restaurant is famous for many attractive foods such as Pattaya grilled squid, fried tomyum noodles, Thai somtam salad.
For Cambodian cuisine, in Can Tho, there is a restaurant at 294 Dong Van Cong street, with many typical dishes such as Cambodian barbecue chicken, Bok Lahong, and climbing mountain beef hot pot...
Source: Can Tho News - Translated by Hoang Dat