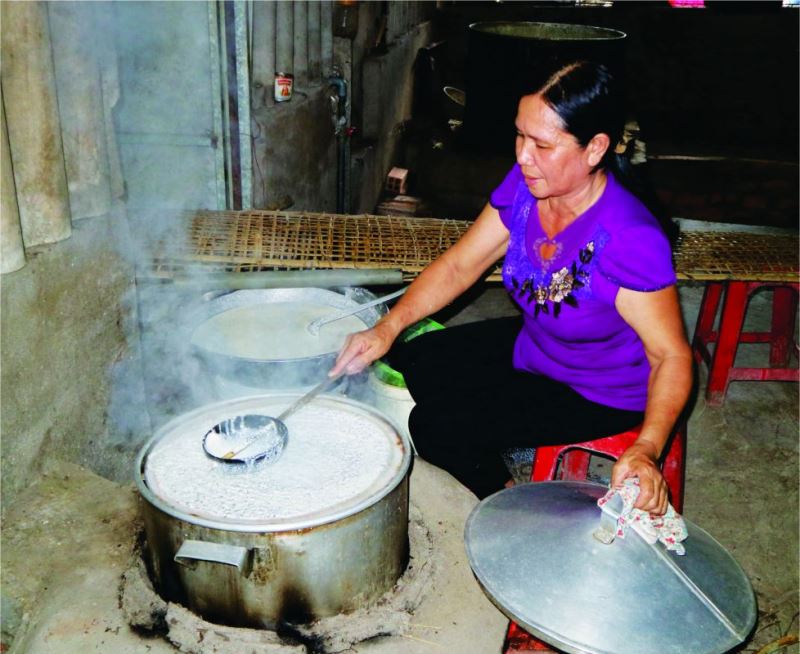 Pancake artist Phan Thị Thanh Nga rolls the rice pancake - Photo source: Ngọc Anh
In the northern provinces and cities, Minh Chau's Banh da is famous in Thieu Chau commune, Thieu Hoa district (Thanh Hoa), Ke's Banh da in Dinh Ke commune (Bac Giang), Banh da with meat rolls in Nong Xa village (Hai Phong), Banh da in Du Dai village (Thai Binh), ... In the South, there are rice papers in Trang Bang, Tay Ninh; My Long rice paper in My Thanh commune, Giong Trom district, Ben Tre province (My Long rice paper, Son Doc puff pastry)... In Can Tho city, many households in Thanh An and Thanh Loi communes, Vinh Thanh district today still make traditional Banh da.
Looking back to the origin
The legend about the origin of rice paper in Cheu village (Ha Nam) says that: Around 1347, there was a man in the village who saw that people only eat rice all year round, so he wanted to create a different dish for the new taste. He devised a way to soak rice in water, grind it into a thin powder, then spread it on a cloth stretched over the mouth of a copper pot. When ripe, bring out to dry, and cut into small fibers like noodles or pho now. When this cake is cooked, add meat, fish, and spices... it feels different and delicious. Rice paper is also easy to preserve for a long time.
Since then, people in the village have followed and gradually perfected it into a traditional rice paper. That man, named Tran Dinh Han (?), was worshiped by the villagers as the ancestor of the rice paper craft, as a god of village, and worshiped in the village's communal house. Every year, Cheu village organizes a festival on the 10th day of the second lunar month to commemorate his merits as well as the tradition of making rice paper. It is also an opportunity for the villagers who work in the village due to various reasons to have to disperse everywhere to gather and meet.
At first, people called rice paper (Banh Trang) according to the close and familiar way of making it: coating a layer of flour on a piece of cloth stretched over the mouth of the pot. In the 17th century, when Lord Trinh Trang (1577-1657) ascended the throne, the Northern people changed it to Banh Da (round cake like a banyan leaf) instead of rice paper to avoid cavalry and familiar to this day.
Another legend says: In the spring of the year of the Rooster 1789, facing the invasion of the Qing army, King Quang Trung decided to pull his army from Qui Nhon to Hanoi. Thinking about the long distance and difficult transportation of military supplies, a noble lady (?) in the harem took the initiative to make a lot of rice paper for the army to carry. Rice paper is dry, light, and easy to transport over long distances, making "dry food" for soldiers, contributing to the great victory of the Qing army.
The process of making and enjoying
The main ingredient for making cakes is rice, people often choose fragrant and delicious rice. The rice is soaked in water from the night before to soften, the next morning, put the flour in the mortar and grind it into a thin powder. Depending on the type of cake, people will add grated coconut, sugar, butter, and sesame ... to the dough. Main equipment: a large pot of water, with a round mouth that is stretched with cloth (mesh cloth); a pot with a conical lid (usually made of coconut leaves); a coconut shell with a slightly flattened mouth, the bottom part is rounded and smooth; a thin, flattened bamboo stick for easy remove the rice paper; a roll is made of ma areca; The cake drying racks are woven from coconut or bamboo vessels.
When the water in the rice cooker has boiled, people use a ladle to pour the flour on the face; Then use a coconut shell quickly, skillfully spread a thin layer of flour along (coated a layer of rice paper), and then close the lid. When the cake is cooked, use a stick to remove the cake and put it onto the spool threaded under the rice paper, then roll it up, spread the rice paper on the griddle, and dry it. Baking experience: If it's good to dry in the sun, the rice paper will be delicious. The above stages are handled by a worker, if you want to be quick, add an assistant to dry it.
From traditional rice paper, folk have "varied" dozens of different types of rice papers. The type of rice paper without sugar, sesame, thinly coated used to roll with boiled meat, and grilled fish...; making spring rolls; If not drying in the sun, make steamed rice pancakes to eat with pork bologna. Rice paper with sugar, not dried in the sun, added with green bean paste, and grated coconut into a sweet steamed rice pancake. Rice paper with sugar, sun-dried into sweet rice paper. The type of rice paper without sugar, coated thickly, with a lot of sesame, becomes grilled rice paper. Grilled rice paper "sausage" blood soup, minced snake meat stir-fried with leaves or crushed to eat with noodles of Hoi An... are all favorites. In addition, there are dew-dried rice paper, mixed rice paper ... very popular with young people.
Vinh Thanh's Banh da
Vinh Thanh's Banh da originated from the northern provinces. In 1954, many people in the provinces of Ninh Binh, Thai Binh, Nam Dinh, Thanh Hoa... migrated to the reclaimed Cai San area, and established a career under the policy of "District Palace" of the Ngo Dinh Diem government, bringing with them the profession of making traditional Banh da.
In the 1990s and earlier, the soil was acidic and the livelihood was difficult, so the profession of making Banh da was forgotten. In recent decades, the economy has stabilized and developed, and this profession has been restored. On good sunny days, following the axis of D channel, channel G, visitors will see dozens of houses still making and drying cakes in front of the yard. However, today most have switched to making Banh da by machines, only the house of Ms. Phan Thi Thanh Nga, hamlet G2, Thanh An commune still makes it by hand. Ms. Nga (originally from Ninh Binh) said: She restored this profession for 17 years; thanks to the manual work and some special recipes of additives, her Banh da is more fragrant and crispy than the machine-made Banh da. Ms. Nga's Banh Da product won a silver medal in the Southern Folk Cake Festival held in Can Tho City in 2016.
Nhat Nguyet Banh Da factory, D2 hamlet, Thanh Loi commune of Mr. Do Dinh Nhat (original hometown in Nam Sach, Hai Duong) makes pancakes entirely by machines. Grind the flour, grate the coconut by machine, then the machine coats the dough into a long pancake onto a metal trough. Banh Da is about 2 meters long, after drying, it is put into the machine to cut into a round shape. The average Nhat Nguyet facility makes 800-900 pancakes/week; Small sesame cake costs 3,000 VND, more sesame costs 5,000 VND /piece. Banh Da is sold in many places, sold in shops along Highway 80 from Can Tho City to Rach Gia City.
"Oh my hometown, Banh da, Banh duc
where you can enjoy the green fields and sweet fruits
Where we spent our childhood as beautiful as a dream…"
(Lyrics of the song Ve Nha - Composer Pho Duc Phuong)
Traditional Banh Da (rice paper) reflects the soul of the Vietnamese village. Not only in Vinh Thanh, in the past, but many villages in Cai Rang, Phong Dien ... many rice paper bakeries were also set up bustling on the full moon of December. These bakeries mainly help the villagers to prepare dishes for the Lunar New Year. That is the cultural identity - agricultural civilization. Nowadays, the pancake coating machine is developing, and the handmade bakery is gradually disappearing; The bustling atmosphere of making Tet cakes in the countryside also disappeared.
In addition to developing a machine-based baking facility to meet the market, it is thought that there should be measures to preserve handmade bakery. The artisans with skillful hands, the handmade rice paper bakeries in the countryside will become a tourist attraction - an experience that attracts visitors.
¦References:
1.Hoang Son, Story of Minh Chau's banh da making village, Sports & Culture, May 26, 2012;
2. Vietnam Folk Arts Association, 2002, Craft villages and craft villages, Youth Publishing House;
3. Ke's banh da village. Posted on: December 27, 2012, Bacgiang.gov.vn;
4. Pham Huong, Close-up of the famous banh da production village in Hai Duong, Tien Phong electronic newspaper, December 16, 2013.
Source: Tourismcantho.vn - Translated by Hoang Dat