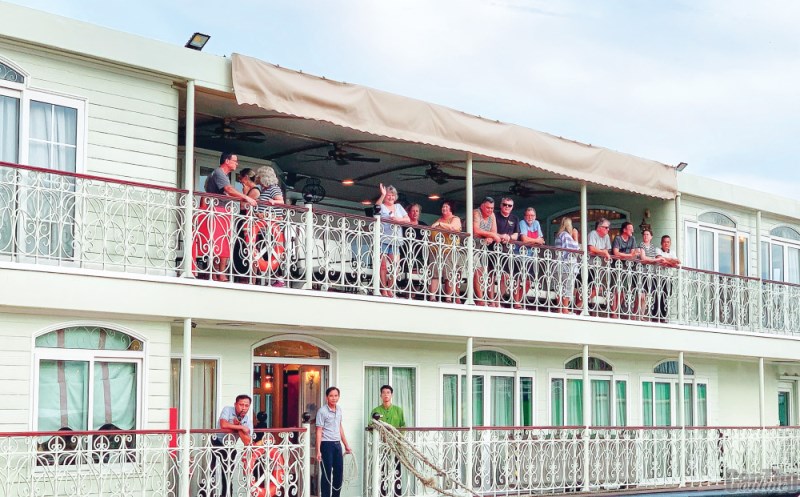 International tourists on the Mekong Princess cruise.
Ms. Juia Miles-Cassin, Leader of the New Zealand tourist delegation who just visited Can Tho on October 7, said: "After the COVID-19 pandemic, we tend to choose safe, close-to-nature destinations, and Vietnam is the right choice. Because it has great scenery, friendly people and unique culture. In particular, Can Tho is a beautiful destination, worthy of the name of the Western capital as we have heard before. The culture and people here as well as the Mekong Delta are very attractive to us." There were 26 New Zealand tourists who had an eight-day-seven-night trip on the international cruise Mekong Princess. This is also the first international group to visit Can Tho by river and stay for one night since Can Tho opened to international guests.
Mr. Giang Hoang Hai, CEO of Viet Princess Yacht Joint Stock Company - the managing agency of Mekong Princess, informed: "We have many programs to bring international tourists to Vietnam and the Mekong Delta by river. However, the journey to Can Tho and staying here was the first time. Can Tho owns a system of beautiful canals, orchards, and unique historical and cultural relics and it has all the elements to form a river tourism ecosystem associated with sustainable development. Therefore, Can Tho became a destination in our journey." If in the past, Can Tho was only considered as an intermediary connecting point on the journey, now the city has become a destination to explore. Whereby, visitors will have the experience to learn about the cultural architecture of communal houses, and pagodas, and explore floating markets and craft villages here.
Ms. Marie, Vice President of the Philippine Tourism Association, expressed: "I was very impressed with Can Tho during the days of discovering and staying here. Can Tho has a strong point of beautiful rivers and canals. The landscape and people here have their own identity and are friendly. I really enjoy the experience of community tourism in Son Islet and I am especially impressed that Can Tho's cuisine is delicious and wonderful. I think Can Tho is really an attractive destination for international tourists and the city should promote its image more." In fact, images and landmarks of the Mekong Delta are more commonly known to international tourists, and Can Tho has only been mentioned in recent years. Mr. Wilson Lim, Chairman of Indonesia Travel Association, said: "Can Tho is a potential destination but it is completely new to us. When it comes to Vietnam, we usually know Hanoi, Ho Chi Minh City and this is my first visit to Can Tho. I love this city because of its mild climate, and convenient transportation by road and air. The culture and people here are also great. I think Can Tho has great potential for MICE tourism, and through such conference connection tours, it will promote the culture and people of Can Tho better." From another perspective, Mr. Chin Kwee Peter Tay, Advisor to the Marketing and Promotion Department of Foreign ASEAN markets, said: "Can Tho is a potential destination for the international market, especially the Southeast Asian market. I highly appreciate the potential of tourism combined with the medical examination and treatment of Can Tho. In October and November, we will bring many delegations from Cambodia to Can Tho to visit and combine medical examination and treatment."
Thence, it can be seen that Can Tho tourism is being internationally appreciated for its potential, especially the types of resort tourism combined with medical examination and treatment, MICE tourism (combining conferences and seminars), river tourism, ecology, community... Therein, the infrastructure of Can Tho is highly appreciated because it has a convenient international airport connecting to domestic and foreign tourist centers. Can Tho is considered a new market and is full of cultural and human elements with experiences in line with current tourism trends. Mr. Nguyen Minh Tuan, Director of the Department of Culture, Sports and Tourism of Can Tho City, informed: "Can Tho has welcomed many caravans and tourism businesses from many countries such as Australia, Cambodia, the Philippines, and Indonesia to survey and experience various types of ecotourism, resort tourism combined with medical examination and treatment, MICE. Through these surveys, we expect travel agencies, and tourism businesses of other countries to understand more about the culture, and people as well as the potential of Can Tho tourism to promote and connect tours to bring more international tourists to Can Tho".
Currently, Can Tho is focusing on building infrastructure and calling for investment in tourism, making plans to attract international visitors when linking with An Giang and Kien Giang. In particular, the focus is on reopening international routes. Specifically, from January 1, 2023, Vietjet Air will put two international routes connecting Can Tho to Korea and Taiwan into operation. The expected frequency is 3 flights per week, flying on Mondays, Thursdays, and Fridays. In the first quarter of 2023, two international routes will be opened from Can Tho to Singapore and Thailand. Leaders of the Philippine Tourism Association also shared that they are working with two airlines in this country to evaluate the tourism potential of Can Tho, and find solutions to open a direct route connecting the Philippines and Can Tho. Previously, the Ministry of Tourism of the Kingdom of Cambodia also informed that in the tourism development planning of Cambodia, there is also an orientation to open a flight route connecting with Can Tho.
In the process of integration, Can Tho is gradually becoming more known to international tourists. Specifically, the potential for river tourism, ecology, MICE and tourism combined with medical examination and treatment are highly appreciated and the city is also focusing on investing to build a production system to meet the diverse needs of the international market.
Source: Can Tho News - Translated by Hoang Dat