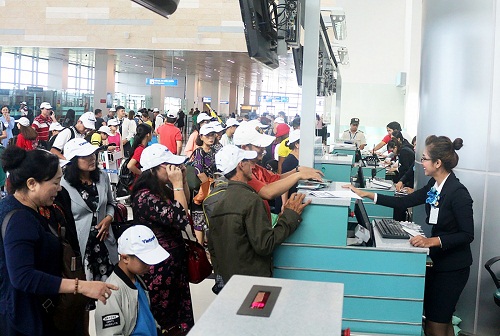 Tourists are checking in at Can Tho International Airport. Photo: AI LAM
Transport infrastructure, especially in aviation, is an important bottleneck in driving tourism development in Can Tho and Mekong Delta provinces. Over the years, this issue has been discussed and given many solutions for investors and carriers to approach and open air routes. The process is quite time-consuming and faces many difficulties, due to concerns about the market. Meanwhile, charter flights connecting Can Tho with Khanh Hoa, Lam Dong and Thailand have been exploited. Although it couldn't achieve the ideal results as expected at first, it gradually created stability in the market, especially the Can Tho - Bangkok route (Thailand). This has created a premise for many airlines such as Vietjet Air, Vietnam Airlines, Air Asia, Bamboo Airways, etc. to open many routes connecting Can Tho to Khanh Hoa, Lam Dong, Hai Phong, Vinh, Thanh Hoa, Nghe An, Thailand and Malaysia. Currently, Can Tho has 9 domestic routes and 2 international routes, 2-3 times as many routes as previous years. This increase has contributed to connection between Can Tho, provinces and cities of the Mekong Delta with the provinces of the North, Central, Central Highlands of Vietnam and international destinations. Evidently, there are many Famtrip groups travel to Can Tho from Khanh Hoa, Thanh Hoa, Nghe An, Hai Phong, Malaysia, etc. which opens up many opportunities to promote and connect tours as well as routes.
Mr. Duong Hoai Nam - Director of Vietjet's Northern regional Office, said that in 2018 the number of Vietjet's passengers travels from Can Tho to Hanoi and Da Nang increased by 150,000 visitors. Particularly in the first quarter of 2019, this number is about 112,000 visitors, which is a remarkable change. Specifically, in 2018, Vietjet Air has about 5 flights per day from Can Tho city to other destinations. Since February 2019, this number has increased to 9-10 flights per day. "I think this is an opportunity to boost the number of tourists coming to Can Tho and the Mekong Delta, thus creating an opportunity for tourism development among provinces. This famtrip is expected to create a connection between Can Tho city, Mekong Delta provinces and Northern, North Central provinces. It also promotes the creation of new experiences and new products in addition to traditional products." Mr. Duong Hoai Nam, Director of Vietjet's Northern regional Office" - Head of Hai Phong, Thanh Hoa, Nghe An Famtrip group has just come to Can Tho, said. The aforementioned Famtrip team not only stopped in Can Tho but also surveyed the tourism products of Soc Trang, Bac Lieu and Ca Mau. Ms. Nguyen Thi Ha, Director of Hai Phong Vietravel, said: "Can Tho has renovated a lot, especially in urban infrastructure and urban landscape. This is convenient for organizing MICE tourism activities (Meetings, incentives, conferencing, exhibitions). In addition, the connection of direct flights has facilitated traffic so that travel agencies can easily study and build new routes and tours on experiencing tourism product of Can Tho and Mekong Delta region".
Flight connections have clearly brought many benefits for Can Tho in tourism development. The disparity in natural resources, culture and cuisine among regions is the attraction to create unique tourism products, diversified tour routes, market expansion and increase the attractiveness of Can Tho tourism. With the advantage of having more air routes, Can Tho has many opportunities to promote tourism products. In order to increase the attractiveness of Can Tho tourism, it is necessary to create more novel tourism products, extend the travel time with festival event activities, as well as having appropriate tourism stimulus program depending on seasons. Mr. Nguyen Hoang On, Director of Can Tho Tourism Development Center, said: "The opening of air routes has brought many opportunities for Can Tho tourism to develop. Particularly, it contributes to the connection between Can Tho city and many key tourism cities, provinces. We have welcomed many Famtrip groups from provinces, cities in the North, Central, Central Highlands of Vietnam and even outside the country to study Can Tho tourism products. This is a good thing to promote and expand the market. According to Mr. Nguyen Hoang On, in the near future, Can Tho will have many projects and plans on building new tourism products, festival events to serve tourists. In addition to some new routes that will be opened more in the upcoming time, Can Tho is also focusing on developing river products, such as Can Tho - Con Dao (open in late 2019) to diversify tourism products. We also hold the Vietnam International Tourism Fair to enhance promotion and attract visitors.
The new air routes only come into operation not for long, but it attracts many visitors' interests. According to several travel agencies and ticketing agencies, Can Tho - Bangkok, Can Tho - Lien Khuong and Can Tho - Cam Ranh are now the new routes that draw much attention from visitors and have high number of booked tickets. The number of tourists traveling to Can Tho in summer is also expected to increase 2-3 times higher than before.
Source: Can Tho Newspaper - Translated by Hoang Dat