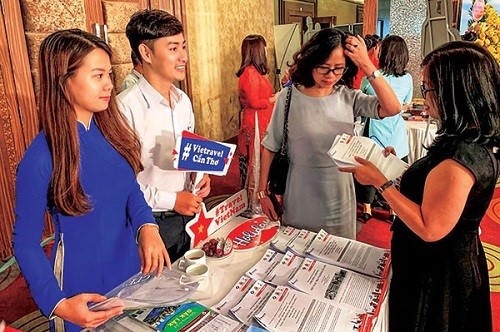 Travel businesses are presenting new products at the seminar.
►The connection between aviation and tourism
According to the statistics of the Department of Culture, Sports, and Tourism of Can Tho city, in the first 6 months of 2020, the total number of tourists to Can Tho and revenue decreased by 69.7% and 62.1% respectively against the same period last year. The number of domestic flights was only 3,526, a decrease of 17%; the number of domestic visitors was 523,205, down 24% over the same period last year. Can Tho city is currently a key gateway into the Mekong Delta, acting as a transit and coordination center for travelers. On average, Can Tho International Airport serves about 120 domestic return flights a week, connecting Can Tho with Ha Noi, Da Nang, Khanh Hoa, Hai Phong, Phu Quoc, Con Dao, Vinh, Nghe An, etc. Recently, Vietnam Airlines officially launched 4 new routes: Can Tho - Hai Phong, Can Tho - Vinh, Can Tho - Buon Ma Thuot, and Can Tho - Da Lat. With these new routes, Vietnam Airlines is expected to operate 52 round-trip flights and transport approximately 12,000 passengers through Can Tho International Airport.
Mr. Duong Tan Hien, Vice Chairman of Can Tho City People's Committee, said: "Can Tho tourism is in need of timely solutions to keep pace with the new situation. Vietnam Airlines launched new domestic services and held "Vietnam tourism - A bright destination" seminar is practical to gradually recover the tourism industry post-COVID-19. It also helps to attract investors to the localities, create a solid foundation for economic recovery and boost socio-economic development of Can Tho city and the Mekong Delta region".
Mr. Ha Van Sieu, Deputy Director of Vietnam National Administration of Tourism, said that in order to recover tourism sector in the current period, it is necessary to join hands to build a supply chain of appropriate products and services, create effective tourism stimulus, in which tourism and aviation have a close and inseparable relationship in the process of joint development. Therefore, Vietnam Airlines opening new routes contributes practically and timely to support tourism recovery more quickly. As for the Mekong Delta, Deputy Director General of Vietnam National Administration of Tourism Ha Van Sieu added: "Favorable aviation connection will facilitate the economic and tourism development in the Mekong Delta". In particular, the event that Vietnam Airlines signed tourism development cooperation agreements with provinces and cities like Can Tho, Lam Dong, Nghe An, Hai Phong, Dak Lak has further accelerated travel, initially for domestic tourists, and in the future for international ones.
Mr. Le Hong Ha, Deputy General Director of Vietnam Airlines, said that the Mekong Delta is a potential market and Vietnam Airlines has invested in here since the establishment of its first branch in Can Tho 10 years ago. Currently, Vietnam Airlines is operating 7 routes connecting Can Tho directly with Hai Phong, Hanoi, Vinh, Da Nang, Buon Ma Thuot, Con Dao, and Phu Quoc. "Through these routes, Vietnam Airlines expects to enhance the position of Can Tho Airport and contribute to the local economy and tourism growth as the whole country is joining hands to recover tourism and economy. Speaking of the Mekong Delta, the company always considers that this is a great potential destination with high economic growth, dense population, and many investment projects in key cities like Can Tho ... That is the reason why Vietnam Airlines creates convenient transportation connections for trade and tourism, connecting the Mekong Delta to other destinations across the country, "Mr. Le Hong Ha said.
►Opportunities và challenges
The opening of new domestic routes creates many advantages for the tourism industry, especially in the period when necessary policies and stimulus programs are needed. This is the foundation for the best stimulus packages (cooperation with travel agencies, restaurants, hotels ...) to attract tourists to Can Tho and the Mekong Delta. Thereby, many petitions have been proposed such as preferential packages of airline ticket - tour - hotel; enhancing marketing, diversifying tourism products; promoting local culture, and improving the services. However, this also poses many challenges, especially on safety issues.
So far, tourism safety and security is a top priority. Mr. Vu The Binh, Permanent Vice Chairman of the Vietnam Tourism Association, said: "Safety is always the most important issue. When the pandemic was under control, the Association submitted stimulus plans and the Government immediately set out safety criteria and prepared solutions. We have collaborated with the Ministry of Health to develop a set of safety criteria including safe destinations, safe tourism businesses, safe services, and safe transportation. Moreover, we also cooperated with localities to develop and launch stimulus programs, of which Can Tho and the Mekong Delta were the first destinations chosen to launch the program."
​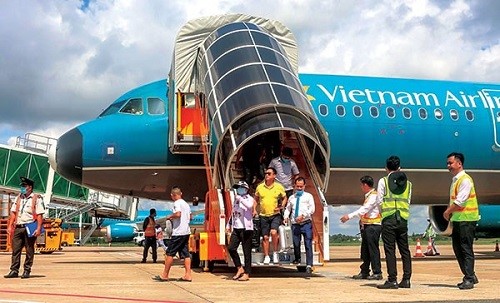 Tourists on the flight from Hai Phong to Can Tho.
Along with the campaign "Vietnam tourism - A safe destination" is the tourism stimulus program implemented by the Mekong Delta Tourism Association since June. This is an action program to announce Mekong Delta a safe tourist destination and introduce the regional tourism stimulus program which will gradually recover domestic tourism. Mr. Le Thanh Phong, Permanent Vice Chairman of Mekong Delta Tourism Association, said: "The program aims at cooperating with Ho Chi Minh City as well as localities and tourist centers in the East and West. Moreover, we also formulate policies to reduce prices, improve service quality, ensure tourism safety, prioritize domestic tourism, promote joint activities between businesses to lower costs, improve service quality and build interesting tours to attract tourists". The Mekong Delta Tourism Association has mobilized about 100 businesses to reduce the average price from 10% to 50%, including free admission fees in some places.
Mr. Nguyen Khanh Tung, Director of Department of Culture, Sports and Tourism of Can Tho city, said: "So far, there have been about 30-40 units participating in tourism stimulus program of the city. We also build many new products and services. Safety is our top priority, so we cooperate with the local health sector to develop a safe tourism map. To make full use of the new air routes and lure tourists to Can Tho as well as the Mekong Delta, many tourism activities will be held in the city."
Accordingly, a series of tourism events will take place in Can Tho from 3th to 5th July like the 6-month review conference on tourism development cooperation between Ho Chi Minh City and 13 provinces and city in the Mekong Delta; Famtrip examining Can Tho tourism destinations, products, and services; "Impressive Vietnam tourism" event; etc. In particular, the main event is the 6-month review conference on tourism development cooperation between Ho Chi Minh City and 13 provinces and city in the Mekong Delta which will re-evaluate the effectiveness of the cooperation agreements deployed between 14 provinces and cities. Moreover, this is also an opportunity to deliver new directions and tasks in the future; establish programs and plans to recover and stimulate tourism in localities post-COVID-19; discuss solutions for effective associate programs, and so on.
Currently, tourism is recovering, but at a slow speed. Therefore, the participation of the aviation industry, the cooperation of tourism businesses, and the support from local authorities will quickly boost the recovery of domestic tourism in the coming time.
Source: Can Tho Newspaper – Translated by Hoang Dat