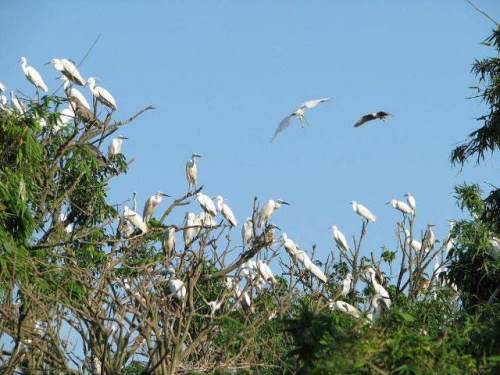 This is a natural gathering shelter for many birds. Tourists can climb the tower to watch the white herds of storks. This is home to many kinds of storks such as cattle egret, striated heron, white-shouldered ibis, yellow bittern, pelican, woodpecker painted stork, etc. The smallest stork weighs about 150 gr, while the largest one weights over 1.2kg. The most crowded type of storks is the white cattle egret, the one with white feathers, yellow bill and black legs, which takes up 80% the total storks in the garden.
The garden is about 1.5 hectares. In the breeding season, storks are very crowded here (from August to January of the lunar calendar every year), Cattle egret particularly nest and lay eggs from February to April of the lunar year. The ideal time to watch the storks is their early eating in the morning and their return to the nest at sunset. The best time to observe the storks is at 6:00 am - 7:00 am when every herd leaves the nest and creates a beautiful white sky then split everywhere till afternoon. About 5:00 pm - 6:00 pm they fly back to the nest which excites the whole garden.
Bang Lang stork garden is an attractive tourist destination for those who like to explore the nature and enjoy the peaceful countryside with green rice fields, bamboo garden and so on.