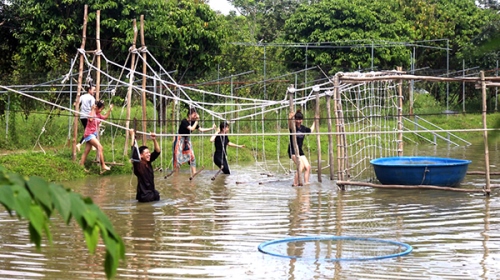 Outdoor folk games attract many young people
Deep in the land of Phong Dien's orchards, the road to Ba Hiep fruit orchard is circuitous with many bushes on both sides. However, this is the right way for tourists to ride a bike, and enjoy the peaceful atmosphere of the countryside. Coming to Ba Hiep orchard, many tourists choose the package tour with many activities such as canal exploration, bike ride in the countryside, fruit picking, traditional cake making, participating in some sports games.
On this journey, the orchard will welcome visitors at the stop of Khoi My (54 Lo Vong Cung, Area 8, An Binh Ward, Ninh Kieu District) and guide them through the winding canals of Cai Rang, Phong Dien to Ba Hiep pier. Here, visitors will receive bicycles and start the journey to conquer the crooked paths in the countryside. The 1km road is enough for tourists to experience the simplicity of the country life with the bamboo bushes, flock of chickens and ducks crossing by. At the end of the journey, visitors can try making traditional cakes. This is a very interesting activity; visitors will be guided by skillful bakers to make cakes by themselves such as Vietnamese pancakes, waffle, Vietnamese snow-flaked cake, pound cake and then enjoy their self-made cakes right there. With an area of nearly 2 hectares, Ba Hiep orchard has four sectors for visitors to explore namely the fruit garden (accounting for nearly 90% of the area), traditional cake-making area, gaming zone, and shops area selling souvenirs and specialties of the local as well as the Mekong Delta. There are nearly ten kinds of fruit trees in the orchard: Burmese grape, orange, mandarin, guava ... depending on the season that visitors can harvest and enjoy the fruits on the spot. The orchard here is kept pristine with dirt roads, interlacing ponds and ditches. Visitors coming here can join the activity of rowing wooden boats to pick fruits. Rows of gourd and calabash interlacing with the ditches make the countryside scenery cooler and more peaceful. Occasionally, there are a few monkey bridges, and a giant lotus (king lotus) pond for visitors to take photos of their trip.
Another interesting activity that visitors often take part in when coming to Ba Hiep orchard is draining ditches for fish. Wearing "áo bà ba" (a traditional southern Vietnamese garment), tourists are free to dive with the fishing baskets. From that moment, they actually become "anh hai" (brother), "co ba" (sister) of the Southern region. The caught fish can be grilled by tourists themselves or cooked by the chefs of the orchard to make some delicious countryside dishes. The gaming zone is not only attractive to young people, but also exciting to those who like to exercise. There are dozens of folk games which tourists are interested in such as cycle through a monkey bridge, bamboo basket boats rowing, river crossing on a rope, Sasuke challenge, etc. After entertaining and relaxing hours, visitors will enjoy many inviting country dishes, such as dragon bean salad, pork-stuffed fried guava, roasted Siamese duck with king orange, giant gourami with passion fruit sauce, steamed fish in gourd, grilled seafood with bamboo tube, mangrove apple hotpot and so on.
Mr. Tran Chi, owner of the Ba Hiep orchard, said: "We want to keep the true nature of the rustic Southern region so tourists can relive their childhood memories when coming to the orchard."
- Retail customers: 80,000 VND/person (including services such as round-trip ticket, countryside bike tour, visit the orchard, outdoor games, experience the traditional cake making)
- Group tour: One day as a farmer: 200,000 VND/person (including services such as round-trip ticket, countryside bike tour, visit the orchard, free "áo bà ba" for outdoor games, experience the traditional cake making, have lunch with delicious countryside dishes).
Source: Can Tho Newspaper - Translated by Hoang Dat