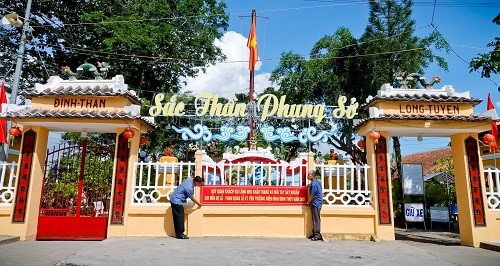 The management board of Binh Thuy Temple is hanging banners reminding people to actively engage in COVID-19 pandemic prevention and control while attending the Ky Yen festival.
Mr. Le Van Muoi, Deputy Director of Binh Thuy Temple, said: "This year's Ky Yen Thuong Dien festival takes place from May 23rd to dawn on May 26th (from April 12th to April 15th of the lunar calendar). This year's festival will only perform traditional rituals with the aim to preserve cultural values. The festival will feature various traditional ceremonies such as receiving and escorting Linh Than, the main worshipping procedures, Shennong worshipping procedures, Tuc Yet (introducing the village's officials to the gods), Xay Chau (drumming), Dai Boi (performing arts), and so on.
"These rituals are held traditionally, so the preparation is quite smooth, ensuring the right customs and traditions. The rituals are performed by students, dignitaries, religious officers, and clergy persons, etc. Since the Ky Yen Festival of Binh Thuy Temple is included in the list of National Intangible Cultural Heritage by the Ministry of Culture, Sports and Tourism, we try our best to maintain the traditions and customs, even though the number of participants is very small", Mr. Muoi added.
These days, The renovation and decoration of Binh Thuy temple, a national historical and cultural relic is being urgently carried out. Festival flags, decorative flags, decorative lights... are brightly hung from the courtyard to the areas around the communal house and along the roads leading to the communal house, thus creating a joyful atmosphere. Mr. Le Van Nghia, a resident of Binh Thuy ward, said: "Last year's Ky Yen festival was held in private. This year is no different for the sake of COVID-19 pandemic prevention and control. We believe it is necessary to ensure safety due to the complicated situation of the COVID-19 pandemic. My family will come and burn incense to pay tribute to the Village God when there are few people. Moreover, we also keep distance at the festival and we do not necessarily visit the Temple on the official festive day."
Ms. Phan Thi Nguyet, Standing Vice Chairman of the People's Committee of Binh Thuy District, said: "To ensure the prevention and control of COVID-19 pandemic, the People's Committee of Binh Thuy District has directed Binh Thuy district's Health Department and Binh Thuy district's Health Center to coordinate with the Binh Thuy district's Culture - Information Department, the People's Committee of Binh Thuy Ward and the Executive Board of Binh Thuy Temple to hold the Ky Yen Thuong Dien festival traditionally, ensuring COVID-19 pandemic prevention and control. Specifically, the local authorities of Binh Thuy district have to regularly remind people to follow the 5K message of the Ministry of Health like forming a medical team at the ceremony site to measure body temperature, provide disinfectants and instruct people to keep distance when attending the festival.
"The Board of Directors of Binh Thuy Temple has coordinated with the Health sector and Binh Thuy Ward to prepare plans to prevent the COVID-19 pandemic. This year's Ky Yen Festival will not feature food and drink activities to welcome visitors as usual. We will also cancel social activities such as folk games, cake wrapping contest, sticky rice cooking, etc. Before the festival, the health sector will conduct disinfectant spraying throughout the entire communal area. At the entrances, places of worship, hamlets, … we have arranged about 15 points to ensure pandemic prevention: hand sanitizer, mask distribution, body temperature measurement. There are about 40,000 masks prepared for people attending this year's festival", Mr. Le Van Muoi, Deputy Director of Binh Thuy Temple, added.
"Before and during festivals, even every day, we use loudspeakers to remind people about the COVID-19 pandemic prevention and control when they visit the communal house. If there are so many people participating at the festival, we will require visitors to keep distance and divide the communal house into zones so that people can keep a safe distance when worshipping and sightseeing. Since we won't perform the ceremonies and ritual parts and the communal area is very large yard thanks to its huge yeard, so there is space for people to keep distance", said Mr. Muoi.
With this thoughtful and careful preparation, despite its small scale, Ky Yen Festival in Binh Thuy Temple is Binh Thuy is still organized safely and solemnly, ensuring pandemic prevention and control and heritage preservation.
Source: Tourismcantho.vn - Translated by Hoang Dat