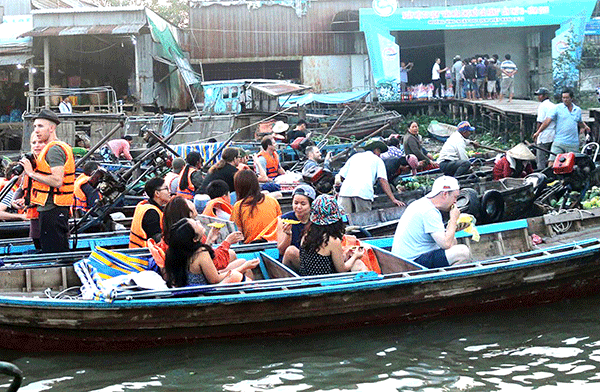 The bustling Cai Rang floating market attracts many visitors.
In 2018, Can Tho tourism organizes many promotion, cooperation and connection activities to expand markets: Hanoi, Da Nang, Ho Chi Minh City, Phu Yen, Ha Giang, Thanh Hoa, Nghe An, Binh Thuan ... Promotion work has a theme, especially through two promotion projects named "Welcome to Can Tho - The city of rivers" in Phu Yen and Da Nang. Ms. Le Dinh Minh Thy, Director of Vietravel in Can Tho and the South-western region, said: "Compared with previous years, promotion activities of Can Tho tourism have changed to become more professional. At the same time, there is the initiative in organizing and introducing tourism products, specialties and culture features when reserving space for exhibiting art objects and performing arts; facilitating connection as well as signing between local businesses and neighboring provinces, cities". Today, within the promotion activities of Can Tho tourism in other localities, the images in videos have been replaced by products and show performances of "real people and real event". Additionally, workshops together with stalls allow visitors to enjoy the fresh taste of Can Tho specialties, see firsthand the exquisite handicraft products and listen to the chanteys, folk songs, short excerpts of Cải Lương (reformed theater), etc.
Ms. Tran Thi Hong Thi, Deputy Director of Saigon Tourist - Can Tho branch, said: "Can Tho tourism industry which facilitates the connection of tourism businesses in promotion activities among localities has benefited tourist companies significantly. The tourism industry actively sets up domestic and international promotion events, helping the tourism units to be more proactive so the efficiency will also be improved". In 2019, the tourism industry set out many tasks, focusing on linking, promoting and marketing in key markets: Hanoi, Ho Chi Minh City, Korea, Malaysia and Japan; organizing and participating in about 20 promotion activities at festivals and tourism events inside and outside the country. Mr. Nguyen Hoang On, Director of Can Tho Tourism Development Center, informed that Can Tho will participate in Vietnam International Tourism Market in Hanoi (March, 2019), Food and tourism week in An Giang (May), Vietnam International Tourism Market in Ho Chi Minh City (September). We also organize a conference to promote Can Tho Tourism in two key markets like Hanoi and Ho Chi Minh City as well as coordinating with Vietnam National Administration of Tourism, Mekong Delta Tourism Association to promote tourism in potential international markets such as Korea, Japan and Malaysia. Particularly, this year, Can Tho first cooperates with Vietnam Tourism Association to organize Vietnam International Tourism Market (from November 29th to December 1st), with more than 200 booths. There will be 6 main activities in this event, including several meetings between travel agencies and people, food festival, international art - culture festival, etc.
Ms. Vo Xuan Thu, General Manager of Victoria Hotel, proposed: "In addition to promoting and marketing in other places, Can Tho should also invite guests and actively organize famtrip, presstrip so they can have practical reviews of Can Tho products and services. Can Tho travel agencies can also expand each other's customer base through cross-promotion". At present, the website promoting Can Tho tourism has an average of 1,500 visits a day, estimated to reach about 500,000 views in 2018; connecting with nearly 47 portals relevant to the tourism industry from the Ministry of Culture, Sports and Tourism, Vietnam National Administration of Tourism, Vietnam Tourism Association, provinces and key cities, universities, colleges... At the moment, the tourism industry in the city also enhances the promotion of multimedia and social networking applications, especially the study on smart tourism projects...
Mr. Tran Viet Phuong, Director of Can Tho City's Department of Culture, Sports and Tourism, stressed that Can Tho tourism industry is improving its competitiveness, restructuring the tourism market, thus focusing to some key markets such as Hanoi, Da Nang, Ho Chi Minh City, Lam Dong, Japan, Korea, China, Taiwan, France, Germany, England and Australia. At the same time, we will diversify forms of promotion and marketing, especially the application of information technology in tourism.
Source: Can Tho Newspaper - Translated by Hoang Dat