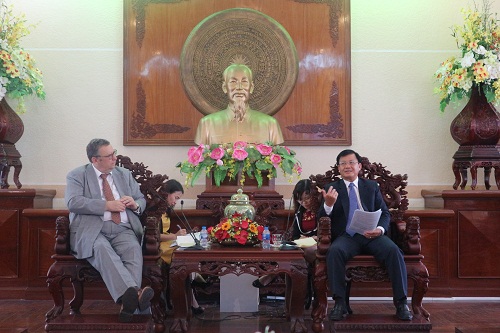 Mr. Dao Anh Dung, Permanent Vice Chairman of Can Tho city People's Committee is discussing with Finnish Ambassador, Mr. Kari Kahiluoto regarding the waste management in the city.
At the meeting, the Finnish Ambassador thanked the warm welcome of the city leaders and expressed his concerns towards the impacts of climate change and environmental pollution in Can Tho city. On this occasion, representatives of two Finnish companies namely River Recycle and Watrec attended the meeting to confer about the waste management, especially plastic waste on the river, and propose complete waste treatment in order to turn garbage into valued products.
Speaking at the meeting, Mr. Dao Anh Dung highly appreciated Mr. Kari Kahiluoto's efforts and concerns in environmental protection and climate change prevention in the Mekong Delta region. Apparently, this is reflected in Mr. Kari Kahiluoto's visits in Can Tho and through his closing speech at the ASEM Conference on Climate Action to Achieving the Sustainable Development Goals - Ways Forward in 2018. Through presentations by representatives of two Finnish companies, Mr. Dao Anh Dung said that there should be more working sessions between both sides to study more deeply about waste management and treatment solutions in Can Tho city from this day forward.
In addition to environmental issues, Mr. Dao Anh Dung asked Ambassador Kari Kahiluoto to encourage Finnish enterprises to seek opportunities for cooperation and investment in other areas such as: Seafood processing, manufacturing industry, high-tech agriculture, infrastructure, trade, cultural exchange, education and training, etc. Mr. Dao Anh Dung said that Can Tho city leaders will create favorable conditions for Finnish firms to do business and invest in the city.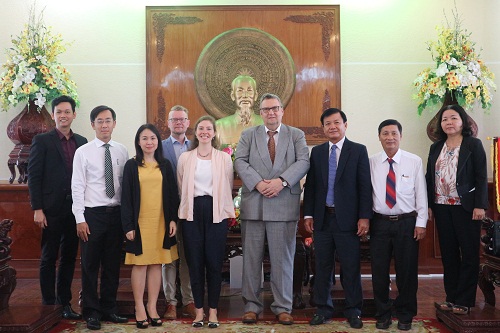 Photo of Can Tho city leaders and Finnish delegation.
Ambassador Kari Kahiluoto highly appreciated the development potential of the Can Tho city and said that he will actively support the promotion programs that Can Tho is calling for cooperation and investment by inviting Finnish businesses and corporations to the city in the future.
According to the work schedule, Ambassador Kari Kahiluoto and his delegation will have a working session with Can Tho University to exchange cooperation in the field of environment in the afternoon of May 10th, 2019.
Hoang Dat