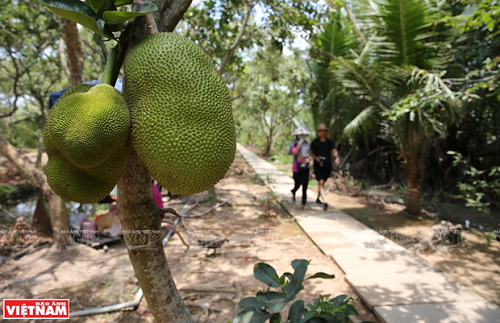 Eco-sites in Can Tho provide tourists with open, fresh atmosphere, colorful flowers and fruit. (Photo: Thong Hai/ Viet Nam Photo Newspaper)
According to Mr. Nguyen Minh Tuan, Deputy Director of Can Tho Department of Culture Sports and Tourism, in 2018, the city welcomed about 8 million tourists, including 2.5 million staying tourists with the total revenue of nearly VND 3,800 billion.
These figures are much higher than those of 2017. In particular, the purpose of tourists has shifted from participating in sightseeing and shopping tours to vacation and experience tours, especially the community eco-tours.
Community ecotourism is a model of tourism held by a community and based on local nature and culture to promote tourism together with environmental protection.
This model helps increase local people's income in a sustainable way. It also provides tourists with an opportunity to learn, raise environmental awareness, exchange cultures and experience daily life of the community. Such a model exists in Son Islet, Can Tho City.
Strength of Natural Resources and Culture
Son Islet area is over 67 hectares (located in Area 1, Bui Huu Nghia Ward, Binh Thuy District). This land of the alluvium deposit which emerges in the middle of Hau River is considered as a pearl in the dragon's mouth of Long Tuyen Ancient Village.
The locals have just started to develop tourism since the end of 2015. More and more tourists have flocked to Son Islet due to its strength of fruitful orchards, fish ponds, river wharves and the kind-hearted, friendly and peaceful lifestyles of the Westerners. Therefore, its tourism revenue has increased gradually in recent years.
The alluvial soil here deposited by Hau River is extremely fertile with the verdant and fruitful orchards all year round. In order not to make differences, 74 households here have planted a great variety of fruits such as star apples, rambutans, longans, and grapefruits. As a result, whenever tourists visit the gardens, fresh fruits are always available to serve right at source.
Additionally, being surrounded by the peaceful Hau River, this place is bestowed a rich resource of seafood. Many households take advantage of the river water to develop the model of raising fish in the river which reduces the cost of water change, develops local tourism, as well as expands the output by selling dried fish and shrimp at the stall to tourists.
Combining all natural strengths, Son Islet offers tourists with community ecotourism services. Accordingly, after relaxing on the hammock in the orchards, tourists have a chance to experience how to make folk cakes, do gardening, catch fish and other activities.
Before the tours end, they also enjoy the special tourist product_ a meal called "the community food tray." Each dish served in this meal is prepared by families in Son Islet depending on their sources. For example, one of them may serve fish hotpot; another may bring boiled vegetables with braised fish sauce and grilled snakehead fish; Tam Dien family provides pancakes; Sau Canh serves boiled chicken with grapefruit; Nam Phuoc has crab hotpot and Bay Bon has deboned feather back and so on. Therefore, "the community food tray" is diverse, colorful, flavorful and full of neighborhood love.
This model helps farmers promote their families' strengths and generate a stable income. For instance, experience tours can cooperate with households with gardens, fish rafts or skillful folk cake artisans. As for some households that do not own vegetable gardens or fish ponds, they are still able to contribute labor power and services to the supply chain.
They can choose any service in the chain depending on their preferences. The local pay attention to product improvement and attract more and more tourists.
Ms. Nam Phuoc, the owner of Song Khanh home garden, has said that the attractiveness of Son Islet community lies in the sincere and hospitable people who treat their guests as family members.
If fruits and dishes were served separately, it would not be special because they resemble many other tourist attractions in the Mekong River Delta region. However, the local services and stories make tourists feel warm-hearted and attached. A lot of tourists along with their relatives and friends come back Son Islet.
According to Ms. Nam Phuoc, most households in the islet are in the forth or fifth generation of people who have owned the land for ages. Everyone knows each other, and many of them have close-knit bonds as relatives. In addition, there is a high risk of landslides due to the islet soil feature here, so when any family is in need, everyone will be by their side to support them.
[To Erase "Thoughtless" Mindsets in Tourism Development]
Based on the community culture, the development of Son Islet community ecotourism is distinct and advantageous comparing with models of other localities.
River culture has been reflected local religions and spirit via the construction of Ba Chua Xu Temple in Son Islet. According to Mr. Huynh Ngoc Ngon (Tu Canh), the Temple was built nearly 100 years ago. The local believe Ba Chua Xu is a tutelary goddess, who protects people working on the river, preserves land and blesses them with health and prosperity.
Her death anniversary is busily held on the 9th and 10th of Lunar February. On this occasion, tourists are offered a chance to join this special spiritual festival with local people.
Besides, Son Islet is considered "A sleeping beauty" with the unveiled cultural values, so some groups of cultural researchers have visited this islet.
When they see some water pots, vases or even some cattle feeding bowls and other daily items, they help local people identify those precious antiquities. Not only valuable they are on market, but they also carry historical and cultural values and leave marks in the phase of reclaiming this islet. Hence, people are instructed to preserve and display those items for the aim of the tourist service and the conservation of Son Islet cultural identities and history.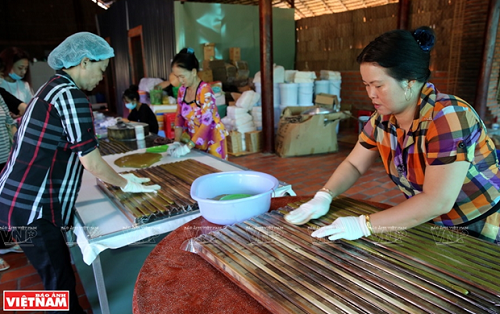 Exploring the process of making coconut candy in Son Islet. (Photo: Thong Hai/ Viet Nam Photo Newspaper)
Joining Hands to Develop Sustainable Tourism
In the meeting with representatives of Son Islet tourist households, Mr. Le Van Tam, former Vice Chairman of City People's Committee, has stated that in the city leading boards' opinions, the community ecotourism relies on local people, so they should have connections among themselves.
Binh Thuy District People's Committee, Bui Huu Nghia Ward as well as tourism sectors need to respect the locals' opinions. The locals are empowered to raise their voices and offer proposals to coordinate and promote community ecotourism. Governmental management and directives need to be evident, fair, approved and helpful to all local people in community ecotourism.
Similarly, Mr. Nguyen Minh Tuan has showed his agreement on this suggestion saying that the roles of the management boards are to set a legal environment and policies for the sustainable tourism development and appeal other households to join the model. As for local people, they are able to make connections with tourist company resources as well as scientists.
Besides, the management boards have to support the locals in other issues such as infrastructure, technology & science and food safety standards.
Son Islet needs renovating, upgrading and perfecting traffic, environmental sanitation, water and power system but still preserving its natural, distinct features and ecosystem.
Ms. Phan Kim Ngan (Bay Muon), Chairwoman of Intergenerationally Mutual Support Club, temporarily represents some tourist households on Son Islet. More than 30 households have joined Son Islet Community Ecotourism Club recently while only 15 households did in September 2015. This increase indicates that more and more families have recognized their own strengths as well as possible stable income from tourist activities.
They expect to have Son Islet Community Ecotourism Club organized directly under the Mekong River Delta Tourism Association so as to approach formal development plans. However, due to the entanglement of the administrative procedures, their four submissions were unsuccessful, and their righteous expectations have not been fulfilled.
Intergenerationally Mutual Support Club and some guest consultants have devised some plans to promote sustainable community ecotourism in Son Islet which highlight both tourism development and environmental protection.
One of the Son Islet community campaigns, "Say no to plastic bags", is launched and intensively fulfilled. All plastic bags are replaced with paper bags and vegetables are tightened with shredded banana stem fiber. Additionally, the community joins hands to fulfil, propagandize and supervise one another so that no one litters on streets and especially in the river.
Beside, cultural stories will add to Son Islet tourist products and specialties to characterize the products.
The community is going to publicize a construction plan on the antiquity gallery in the coming time.
At present, antiquities displayed in each family are scattered in the area, causing difficulties in the process of preserving and developing tourism. Therefore, the complete gallery is expected to become a new and fascinating tourist attraction and create more choices for tourists when they visit Son Islet.
Source: Tourismcantho.vn - Translated by Ngoc Diep