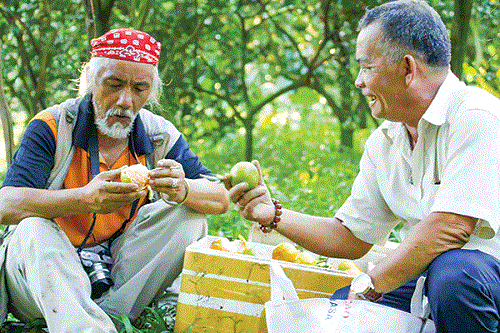 Tourists love to chat with the garden owner. Photo: Ch.L
Great lessons from visitors
First of all, the tourism sector integrates many economic sectors, concentrating dynamic, creative, and innovative knowledge resources towards global integration. It is a community of globally connected resources. The hospitality industry opens up space for many other industries, not just food & beverage, restaurants, fast food chains, bars, accommodation such as hotels, resorts, hostels, homestay, travel & tourism including travel companies, airlines, transportation, etc.
According to "The Traveling Professionals", "Traveling" itself means going from one place to another, but it usually means a long journey.
By analyzing the characteristics of the Tourist/Traveler/Visitor to identify their needs, Ahmet Cakir, who has traveled to more than 80 countries, says, "There is really no clear distinction in definitions. However, that division shows the characteristic of the traveler which is wanting to discover interesting values when walking out of the house, approaching the world. In other words, working in the hospitality industry means understanding the needs of customers, creatively portraying values, and pleasing visitors from other cultures who want to explore, experience, and enjoy life".
Tourists are people who go to another place and discover interesting things. In Can Tho, tourism associated with agriculture has been a strong idea for many years. Specifically, the farmer will interact with international visitors. The most important thing is how to interest tourists when comparing Vietnam with the countries they have gone through. We must have an international vision, at least show tourists that we are different from Thailand, Cambodia, Laos ... How our farmers can introduce Vietnam to tourists who don't know about this nation is a tough road. It is the first challenge that we must face when integrating into the world
"What, no way?" - many people are afraid to hear this!
Unbelievable, how could the community in Con Son islet do it?
Popular on the media, what has the Intergenerational Club and now the Community Tourism Development Club in Con Son done?
In Con Son islet, community welfare is understood to be important in improving the quality of life, and tourism is the solution to help the community achieve this goal. Community-based tourism is to emphasize the advantages of local communities. The question is how to get "a community sharing the same goal" and "finding a leader for that community" is extremely difficult, but it must be done. And the community-based tourism in Con Son islet did it.
"Con Son tourism has adhered to the goal of connecting the community and smoothly applying the AIDA model, including Attention: Attracting attention; Interest: Create interest; Desire: Creating demand for products and services; Action: Local action - global thinking", according to Dr. Vo Hong Tu, School of Rural Development, Can Tho University.
The good interaction between tourism and community leads to improving the income of the locals, tightening community relations, attracting human resources, developing succession forces, etc.
Could we copy what the Con Son community did? If so, it would be like putting yourself in someone's shoes and not sure it would fit. Moreover, reality poses many problems from people's awareness, skills, the synchronous transformation of the system ...
Madi Valley's story - changes in small villages
Myvawny Costelloe, Director of Intrepid Travel in Nepal, writes: "At first glance, there isn't much to see here, only rice fields, villages, some roadside stalls selling fruits and eggs. Do you want to see a travel project? Or a homestay community and village-run international tourist activities?".
Every year in the Madi Valley, thousands of visitors come to the southern buffer zone of Nepal's Chitwan National Park, which is a biodiversity hotspot, home to about 700 species of wildlife. This is also one of the last places on earth where some of these species can roam freely.
These wild animals have caused much trouble for the locals of the surrounding villages. The conflict between humans and wildlife in the area broke out, resulting in fatal consequences. Deer and wild boar entering the field destroy crops, elephants roam the village and human-tiger conflicts, etc. At first, the people did not see any benefits from Nepal's tourism boom and job opportunities in this valley.
In 2015, the community here sought the World Wildlife Fund of Nepal (WWF - Nepal) for help with the hope to find a way to stop wild animals from entering villages and create more jobs in the area.
At that time, many young people left villages to find work in Kathmandu, more than six hours away, or go to school to find jobs outside the village, or even work abroad. Two years later, WWF - Nepal joined hands with the Australian Department of Foreign Affairs and Trade (DFAT) to invest in a tourism project through the Business Partnership Platform (BPP) together with the participation of Intrepid Travel. A community-based tourism project (CBT) in Shivadwar was born.
In Myvawny Costelloe's opinion, tourism in a way that maximizes positive impact on the local community is the purpose of the project at Intrepid, and there is no better example of supporting community-based tourism projects like Madi Valley.
By hosting an overnight stay here, the project not only benefits the locals but also gives tourists a great experience by providing them with insight into the countryside life in Nepal.
Being financially supported, the community in Madi Valley begin to upgrade homestays. As a result, there are 13/34 hostel businesses - one room with two beds, a fan, a mosquito net, and a small private bathroom with a western-style toilet and hot shower. Currently, more motels, small shops, eateries selling drinks and snacks for tourists are being built, thus leading to the establishment of a new community hall.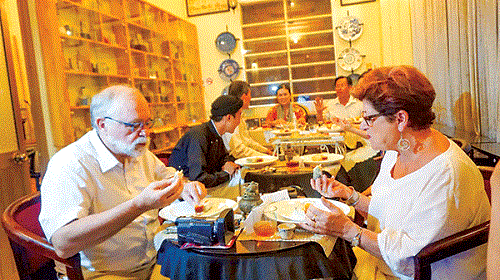 A Vietnam rolls party organized by Dr. Phil Ngo for visitors who are cultural researchers from France to Can Tho city. Participants have the opportunity to meet the cook and listen to the story about the ingredients and the special dish of the Hau River. Photo: Anh Khoi
A new program is designed for guests, including activities like cycling, fishing, cooking, and farming. There is also a show to tell the story of the Madi valley and how the Pun Magar people settled there.
Young people leaving the village to find work in the city are now returning to Madi Valley to work with their families, taking advantage of the opportunity to develop tourism. Roads are built, electricity is installed, waste management systems are in place, and human-wildlife conflict is completely reduced thanks to a brand new fence built around the village to prevent curious creatures from Chitwan National Park. Curious animals from Chitwan National Park. A fund is raised to help members in the community when they have a crop failure or property damage caused by wild animals.
Stories around us
David Ressel asked his daughter what she can gain from the trip? "I talk to a local boy in South Africa" - answered the daughter.
D. Ressel writes: "After all, we are all alike. Human beings depend on community and we all crave the same things: love, family, experience, respect. The more you travel, the more you see this. In a world that sometimes seems polarizing, travel makes the world smaller, more connected.
Foreign tourists consider tourism as an approach to the world and they always care about their children's perceptions after traveling.
Many tourist comments can be found after each tour: Community-based tourism not only offers real insight into local life but also offers a unique experience for you and the locals"; "The CBT experience varies greatly depending on the country you visit. Every experience is harmony, even though everything is completely owned and managed by the community, but your stay will benefit not only one family but the whole community ".
Meanwhile, my neighbor has a renovated garden to welcome tourists. This person understands that doing community-based agricultural tourism is to adhere to the criteria:
- Combining people, natural beauty, and daily life of the rural community;
- Promoting sustainable manufacturing;
- Adapting to rural life and preserving the inherent value, the welcoming, comfortable atmosphere, and the simplicity of the countryside;
- Promoting initiatives from indigenous knowledge from local people and strengthen local organizations;
- Using local people as resources, distributing benefits equally, reasonably, and supplementing the community's agricultural income;
- Promoting local people's right to decide against their present and future problems.
But he was very cautious when talking about cooperation, even bluntly saying "I do not buy vegetables from neighbors because I know what chemicals they use".
It is now the 21st century, however, the story of tourism towards agriculture and rural areas still seems too new. It is difficult to find a connection! Will this divide the community? There must be a way to overcome this barrier! - According to an expert at the Business Studies and Assistance Center (BSA).
Source: Can Tho Newspaper - Translated by Hoang Dat