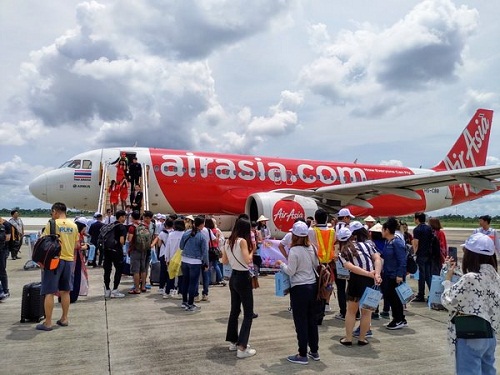 Visitors on AirAsia's first flight from Bangkok to Can Tho early this afternoon, May, 2nd 2019. Photo: Huynh Kim
Quickly reply to Saigon Times Online when coming to Can Tho airport, Mr. Kenny, a Thai tourist, one of 76 passengers on AirAsia first flight from Thailand to Can Tho at the beginning of this afternoon, May 2nd, said: "I have been to many places in Vietnam and this is the first time I come to Can Tho because I heard that Can Tho is very beautiful; I will stay here for two weeks to explore Can Tho."
Welcoming these visitors, Mr. Nguyen Minh Tuan, Deputy Director of Can Tho Department of Culture, Sport and Tourism, said that, for more than a month now, after having had more domestic and international flights to Can Tho, the number of passengers traveling by air to this city increases by 25% compared to the past.
"When there are new flight routes, trading activities in general and tourism in particular between Can Tho and other domestic as well as international cities, provinces are very convenient. Particularly, the AirAsia flights namely Can Tho - Kuala Lumpur (Malaysia) and Can Tho - Bangkok (Thailand) will strongly support bilateral tourism activities," Mr. Tuan said.
Mr. Duong Tan Hien, Vice Chairman of Can Tho City People's Committee, stressed: "This is also an opportunity for Can Tho and Mekong Delta provinces to attract foreign investment. Can Tho City People's Committee has also planned and reserved 300 hectares on Vo Van Kiet Street near Can Tho airport to invite investors to build an air logistics center serving these objectives. By the end of this year, there will be two more international routes connecting Can Tho with Korea and Japan".
Ms. Laddawan Meesupwatana, AirAsia's Head of product and Indochina market group, emphasized in the press release: "Can Tho - Bangkok flight route with a frequency of 3 flights per week and at a reasonable price will promote tourism for Bangkok and the Mekong Delta region. This new route is also a successful continuation of Can Tho - Kuala Lumpur which has just been opened in early April 2019 ".
In terms of domestic flights, from early April to now, VietjetAir has exploited more routes connecting Can Tho with Hai Phong, Vinh, Thanh Hoa, Nha Trang and Da Lat. Bamboo Airways, on the other hand, opens Can Tho - Hanoi route.
From 2011 to April 2016, Can Tho International Airport had flight routes connecting Can Tho with Hanoi, Da Nang, Phu Quoc and Con Dao of Vietnam Airlines and VietjetAir. This airport is capable of receiving Boeing 777 and 747 aircraft. The capacity of Can Tho airport is 3 to 5 million passengers and about 5,000 tons of goods per year.
Source: Tourismcantho.vn - Translated by Hoang Dat