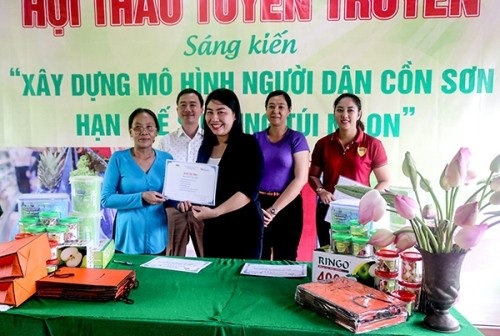 The households doing tourism in Con Son signed a co-operation agreement "Building the model of Con Son islanders restrict the use of plastic bags" with the owner of the initiative. Photo: M.Hoa
Hoa Sung eco-tourist garden is attractive to tourists because of its idyllic beauty and typical Southern-garden style, with cool space of leafy huts, fruitful coconut trees silhouetting over the pond, mixing with the image of bubbling water when the fish appear to gulp for air or to eat. The main material for paving the garden's winding roads and building its basic structures are the red bricks, combined with the green plants to create a distinctive look. At the corners of the garden, people use bullock carts, flower-boats, and colorful bougainvillea on the trellis...
Travelling to Hoa Sung eco-tourist garden, not only visitors feel the fresh air but they can also relax by fishing different kinds of fish such as catfish or giant gourami that are raised in the fishpond. After a leisurely fishing trip, guests can ask the farmer for some favorite dishes made from their "prize" and then enjoying the delicious food in the leaf huts. Country delicacies are always present in the Hoa Sung's menu such as crunchy fried baby shrimp, grilled snail soaked in pepper, poached eel with coriander, roasted chicken with chili salt, caramelized clay pot hủn hỉn fish, grilled airbreathing catfish, Grilled snakehead fish, boiled vegetables or stir-fried vegetables and so on. One of the unique dishes that customers can hardly ignore when coming to Hoa Sung is Vồ Đém fish hotpot (Pangasius larnaudii) with homegrown jussiaea repens, vegetable hummingbird or water lilies. The best thing about this hotpot is that it uses the fresh coconut water available in the garden for cooking, so that the hotpot has a sweet smell and a very unique fragrance compared to other places. To make the menu more diverse, in the "floating season", Hoa Sung eco-tourist garden also adds more dishes made from the special Linh fish (Henicorhynchus) such as fried Linh fish, caramelized clay pot Linh fish or sour soup...
Mr. Tran Le Quan, the owner of Hoa Sung eco-tourist garden, said: "Visitors travelling to Hoa Sung eco-tourist garden is not only for recreational fishing, blending in with natural green space or trying countryside delicacies but also for enjoying the wonderful Southern Amateur music. Most of the dishes in Hoa Sung are made from fish raised in fish ponds, homegrown vegetables and fruits in order to ensure the freshness, the quality, and the food safety. At the moment, Hoa Sung eco-tourist garden is not only a tourist attraction for enjoying the typical Southern cuisine, but it is also an ideal place for family picnics, friends meeting, parties ... during the weekends, holidays or Tet".
Source: Can Tho Newspaper - Translated by Hoang Dat