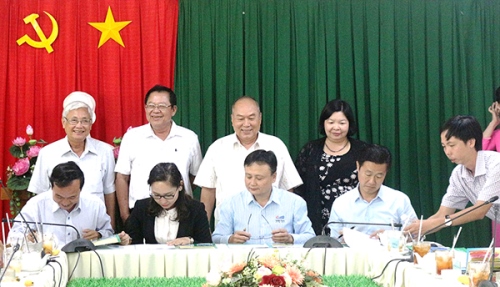 Tourism enterprises of Bac Lieu and Can Tho signing the tourism cooperation memo.
Can Tho has welcomed various promoting delegations of Northern, Central and Central Highland provinces and cities such as Ha Giang, Quang Binh, Binh Thuan, Dak Lak, etc. this year. Quite a few agreements have been signed to mark its cooperation for tourism development with other places. This has been a foundation for Can Tho City to become an important transit in the Mekong River Delta region in sending tourists to other tourism-majored provinces and cities in the country.
Specifically, Bac Lieu sent a delegation to Can Tho for tourism promotion and they proposed a lot of cooperation approaches last November. In addition, Bac Lieu welcomed around 1.5 million tourists in 2017. This number was three times higher than that of 2011. However, tourists staying overnight in Bac Lieu accounted for one-third only, and its tourism products were not diverse and attractive to tourists. Therefore, Bac Lieu tourism industry has suggested some plans for developing tourism by diversifying its system of products and services. It has confirmed that an important step to promote provincial tourism is to cooperate, especially with Can Tho City. " We have expected that our direct link to Can Tho will make a change to Bac Lieu tourism situation. Our target is that 50% of the tourists to Can Tho City are expected to continue with the tours to Bac Lieu. The number of the visitors to Bac Lieu is hoped to increase three-fold in a couple of years. Among them, visitors staying overnight here are expected to account for 40-50%," said Mrs. Cao Xuan Thu Van, director of Bac Lieu Department of Culture, Sports and Tourism. (In 2017, Can Tho welcomed over 7.5 million tourists _ the author of this article.)
It is hoped that the link to Can Tho City will be effective because the city has the fast-growing tourism as well as various travel agencies, which is a transit for transferring tourists to other places. For this to happen smoothly, at first, travel agencies have changed the way to bring tourists to Bac Lieu. "Vietravel and Bac Lieu Province have signed an agreement for modifying the tourism products. In the past, in the discovery Southwest tours of Can Tho – Soc Trang – Bac Lieu – Ca Mau, visitors did stay overnight in Bac Lieu, but currently they do," said Mrs. Ho Thi Dieu Hien. According to Vietravel, the number of tourists to the Southwest region in the high season (June, July, August) is around a thousand per month, of which the Can Tho - Soc Trang - Bac Lieu - Ca Mau tours accounts for around 60%. In the low season, there are around five hundred tourists per month on average. Mr. Tran Viet Phuong, director of Can Tho Department of Culture, Sports and Tourism has stated that the cooperation between Bac Lieu and Can Tho will bring many benefits in the information exchange in order to come up with appropriate solutions for these connecting tours to be effective and gradually contribute to the development in tourism in these two places.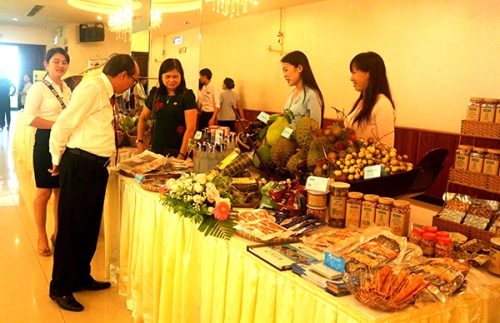 Can Tho City promoting its tourism products in Phu Yen Province
Can Tho has been witnessed an average of 20% growth rate in the number of tourists and the amount of revenue from tourism. Therefore, other neighboring provinces have chosen it as a major link for tourism promotion. Recently, Quang Binh Province has selected Ho Chi Minh City and Can Tho City to launch a roadshow, "Quang Binh Tourism, Unique Experiences". In particular, Can Tho is expected to be a transit to link Quang Binh to provinces in the Mekong River Delta. Mr. Ho An Phong, director of the Quang Binh Department of Tourism, hopes this promotion will provide a forum for Quang Binh tourism enterprises to promote, link and cooperate with those of Can Tho and other provinces in the Mekong River Delta, as well as to promote the growth of tourists to Quang Binh, North Central and Southwestern provinces; also, he has proposed a plan to open the Dong Hoi - Can Tho flight route. The Mekong River Delta is expected to be a potential tourist market of Quang Binh and North Central provinces and cities. Some types of tourism, namely, beach resorts, cave experiences in Phong Nha - Ke Bang are the suitable tourism products for the taste of Southwest people. Especially, fast-growing tourism in Can Tho City attracted around 7.5 million tourists in 2017. Can Tho will be a great transferring point if the Dong Hoi - Can Tho flight route is put into use.
The Can Tho Tourism Promotion Program in the 2018-2020 period, oriented to 2030, approved by the City People's Committee by the end of 2017, is underway. The key objectives are to accelerate the Can Tho tourism promotion, to build the image and trademark of Can Tho tourism in major markets nationwide and worldwide, to enhance the Can Tho tourism competitiveness and to contribute to accomplishing the mission of making Can Tho tourism a spearhead economic sector. One more objective is to concentrate on promoting and exploiting domestic target markets, namely Hanoi and Northern provinces; Da Nang and Central provinces; Lam Dong and Central Highland provinces, Ho Chi Minh City and Eastern provinces. International markets are countries and territories such as France, Germany, the UK, Japan, Korea, Taiwan and so on. Other objectives are to participate in the delegation of promotion and exhibition hosted by the city, the Ministry of Culture, Sports and Tourism and the Vietnam National Administration of Tourism as well as events, festivals, major tourism fairs nationwide and worldwide so as to approach, attract partners and travel companies specializing in transferring international tourists into Vietnam and Can Tho city.
Can Tho has been successfully taking the leading role in promoting, connecting with tourism, and it will gradually become the important joint of the Mekong River Delta in tourism. In fact, Can Tho has cooperated with more than 20 potential provinces and cities regarding tourism connection and promotion, which contributes to bringing more and more tourists to Can Tho and the Mekong River Delta.
Source: Can Tho News - Translated by Diep Truong