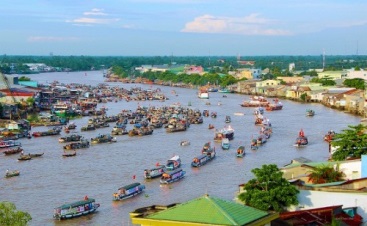 Cai Rang Floating Market is a tourism highlight of Can Tho city
Can Tho city has just checked and taken over the project "River and garden tourism development in Can Tho city".
The project team said that Can Tho has huge potential for tourism development, but its growth is not that adequate. Knowing that, besides other special forms of tourism in the Mekong Delta region such as traditional art, spiritual and agricultural tourism, the research team proposed that the city should focus on developing a novel tourism model of river and garden to attract tourists, at the same time contributing to the overall picture of the Mekong Delta tourism.
The research team also proposed a list of priority action programs to develop Can Tho river tourism, such as: Dredging canals on important tourist routes; upgrading wharves and boats at tourist hubs; investing in ships and boats typical for river tourism; improving the quality of human resources for tourism, including focusing on standardizing the quality of tour guides...
The city also needs to build several shops, malls to promote and sell local products and specialties to tourist groups.
The project has been highly appreciated by the Acceptance Council for its practicality. Its content is also in line with the tourism development orientation of Can Tho and the master plan for tourism development in the Mekong Delta region until 2020, with a vision to 2030. Specifically, it is to develop national and international tourist routes, expand inter-regional tourist routes based on the construction of specific tourism form for each locality.
Developing a fluvial and orchard-based tourism model is a right direction for Can Tho. In particular, it is necessary to focus on setting up tours and tourist routes based on customers' interests.
The Project Acceptance Council also mentioned the importance of tourism development of Can Tho in particular and the Mekong Delta in general based on the application of scientific and technological advances. Tourism portal and smart application on mobile devices - Can Tho city has just been put into operation, which will help visitors gather a lot of information about the destination that they want to visit.
At the same time, when the project is widely implemented, the environmental sanitation should be ensured with more aggressive and radical solutions instead of just stopping at the campaigns of collecting plastic wastes on the rivers as it is now.
As a central city of the Mekong Delta, a transport hub connecting provinces and cities throughout the country, Can Tho has a complex system of rivers, fertile soil, and fresh fruits that are available all year round. There are also many festivals, traditional craft villages, and valuable historical and cultural relics; system of orchards along the city such as: My Khanh, Giao Duong, Vam Xang, Ba Cong, Muoi Cuong tourist villages, Con Son community tourism ... and other tourist attraction like Ninh Kieu quay, Cai Rang and Phong Dien floating markets, Bang Lang stork garden...
This is also a land of the Kinh, Chinese and Khmer ethnic groups which creates a very unique culture of the Western residents.
In addition, Can Tho also has a well-equipped and synchronous system of transport infrastructure and technical facilities as well as diversified and various forms of tourism and entertainment facilitates.
Source: Chinhphu.vn - Translated by Hoang Dat