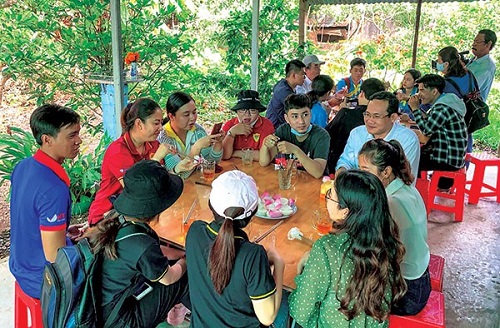 Visitors enjoy cuisine from the time of land reclamation with rice cooked in spathes of the areca palm, at Cồn Sơn islet
► The land of craftsmen and creativity
The life of the inhabitants of the Mekong Delta in general and of Cần Thơ city in particular, the cradle of rural civilization, is typically agricultural, river, and very natural. The dishes are mainly prepared based on ingredients existing in nature and rich agro-aquatic resources. The gastronomy of Cần Thơ city is therefore well-diversified, from popular cuisine inspired by the everyday life of the land clearing period to modern restaurants with a creative spirit.
Speaking of the gastronomy of Cần Thơ city, we immediately think of the famous bánh tét lá cẩm, sticky rice cakes with magenta leaves which make the reputation of Binh Thuy district, the birthplace of ingenious artisans. Variants of higher commercial value are also created bánh tét chùm ngây (sticky rice cake with moringa powder), bánh tét hồng đẳng sâm (sticky rice cakes with Codonopsis ginseng) by the craftswoman Lê Thị Bé Bảy, faithful to the community tourism of Cồn Sơn islet (Bình Thủy). She admits that the love for traditional gastronomy is transmitted to her by elderly women including her mother. "I want to keep the tradition while creating new things to enhance the local gastronomy; this is how I took advantage of natural ingredients to create fancy cakes," she adds. Ms. Lê Thị Bé Bảy is the one who managed to make popular cakes with new ranges of tastes and colors, which appeal to customers.
Cồn Sơn islet has many talented craftswomen known as Ms. Bảy Muôn, Ms. Năm Phước, Ms. Năm Minh… They want to keep not only the recipes of traditional cake (Bánh in, bánh kẹp, lá mít, bánh lọt…) but also the simple lifestyle and rustic dishes of the old Southern people. Green bananas in vinegar, grilled fish wrapped in lotus leaves, rice cooked in the spathes of the areca palm, fried salted fish, sautéed water hyacinth with shrimp ... evoke yesterday's life with so many memories. The original rural cuisine of Cồn Sơn islet brings to the urban gastronomy of Cần Thơ a special feature that appeals to visitors. The "community" meal is not to be missed during your visit to the islet. Homemade dishes prepared by the host families represent many customs and the friendly way of life of the people.
Phong Điền district, Cần Thơ is also known for its artisans and its good dishes. Madame Sáu Khuya with "bánh ít trần nhân vịt xiêm" (sticky rice ball with duck meat), Madame Hoa Lài with bánh xếp (crispy dumpling), Ms. Út Dzách with bánh hỏi mặt võng (rice vermicelli interspersed in delicate layers)… Many visitors believe that the most original dishes of Phong Điền are prepared with local fruit such as gà um dâu Hạ Châu (chicken cooked with Hạ Châu Burmese grapes), gỏi măng cụt (mangosteen salad), gà nấu ấu (chicken with water chestnuts), sầu riêng chiên (fried durian), ổi chiên giòn (crispy fried guava), bánh xèo gấc (pancakes with Momordiques)… This creates spectacular gastronomy of Phong Điền.
The other localities like Cái Răng, Thốt Nốt, Cờ Đỏ, Thới Lai, Vĩnh Thạnh, Ô Môn also have their original typical gastronomy. Tân Lộc islet, Thốt Nốt, is a fertile land, rich in fruit and aquatic products. It is also famous for unusual dishes such as gỏi ổi (guava salad), mắm cá tra (salted catfish), cháo ếch (frog congee), bung bung chang chang hấp (steamed clams) and so on. Each land has its natural resources and delicious cuisine, which attracts visitors from far away.
►Street food
Tourism discovery is more interesting with the tasting of street food, appetizers. Street food, which has only appeared very recently in Cần Thơ, attracts many gourmets and tourists. Besides the famous areas of appetizers known as the Ninh Kiều quay, Trần Phú, Lê Lai, the new Huỳnh Cương (Xáng Thổi lake), Mạc Thiên Tích street, Búng Xáng lake, and park ... are becoming good destinations for the youth. Among them, the Mạc Thiên Tích gastronomic corner is the liveliest with a dozen shops such as Mỹ Tho MT68 sugar cane juice, Pancake Samsam, Cô Chu Vietnamese sweet soup, Dì Ba Scorched Rice, Delio House, 3CE …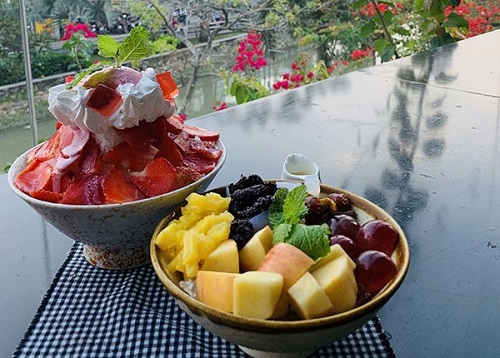 Eye-catching appetizers at Pancake Samsam.
Among the famous snacks and street food, chè (Vietnamese sweet soup) turns out to be the most striking. Some famous shops like Nguyên Đặng (Mậu Thân street), Cô Chu (Trần Hưng Đạo street and Mạc Thiên Tích street), Pancake Samsam (Mạc Thiên Tích street), Trần Bình Trọng, 132 (3/2 street), 28 (Xô Viết Nghệ Tĩnh street), Vạn Thủy (Hoàng Văn Thụ Street) are recommended by many visitors. The dishes are not only delicious but also well presented. We can cite the famous chè mâm (several kinds of chè served on a platter) at Nguyên Đặng, the chè of medicinal plants, fruit nectar with crushed ice at Pancake Samsam…
Street food, appetizers easily win the hearts of visitors because they demonstrate the peculiarities of the local culture. They also promote tourism and attract young people who like Facebook check-in with photos of good food and unusual things. For the love of food, gourmet visitors also choose to stay overnight because some street food is only served in the evening.
Cần Thơ will be able to make its diverse culinary culture its own commercial brand to attract visitors from near and far.
Source: Can Tho Newspaper - Translated by Hoang Dat