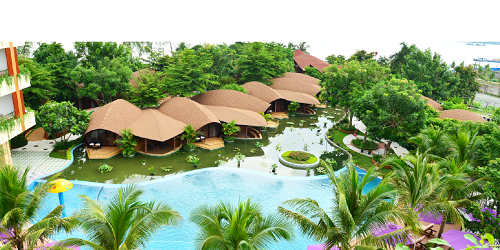 Con Khuong Resort
According to the Department of Culture, Sports and Tourism of Can Tho City, many businesses in the field of accommodation, tourist attractions, entertainment, and catering services have signed up to join the tourism stimulus program connecting Ho Chi Minh City and the Mekong Delta region.
Specifically, Muong Thanh Luxury hotel has launched a promotional program of 20% discount for accommodation and 10% discount for conference and meeting rooms.
Meanwhile, Victoria Can Tho Resort has decided to reduce the average room rate by 25% and carry out this discount program until the end of September 30th, 2020. As a result, the cheapest price of this hotel is 1,749 million VND/room/night.
Ninh Kieu Riverside Hotel also decided to reduce room rates for tourists from 27% to 56% and for business travelers from 33% to 60%. At the same time, this hotel also reduced 10% of the conference room rates. The program is valid until July 31st, 2020.
Dong Ha Fortuneland Hotel offers discounts up to 40% for the room rates. Meanwhile, the Con Khuong resort decided to reduce 55% of the room rate, but only for tourist groups renting 5 rooms or more.
Con Khuong Resort offers discounts up to 50% - 60% for room rates. Specifically, a 55% - 58% discount will be applied until September 30th, 2020, and 50% will be applied until 30/12/2020.
West Hotel also presents a preferential program until October 30th, 2020 with a discount of up to 40% on room rates.
About the tourist area, My Khanh tourist village, which provides services such as sightseeing, food, entertainment, accommodation, transportation by boat and tram, decided to implement the program "buy 2 get 1 free" and free tickets for sightseeing and entertainment. They also offer free airport transfer for guests traveling in groups of 10 or more and free "Tay Do night" tour on Can Tho River in 2 hours (guests can book table for dinner, Southern Vietnamese folk music on the cruise) for 20 people or more. The program will be applied until December 31st, 2020. In addition, My Khanh tourist area also applies a 40% discount on the admission fee for children and 30% for adults until June 30th, 2020 for groups of 10 people. Free train tour and electrical bus tour are applied from July, 1st to December 31st, 2020 for groups of 20 people or more.
Vam Xang fruit garden (Mekong Rustic Can Tho), provides preferential prices for the double room (2 people) at 742,000 VND; room for 3 people at 889,000 VND and the family room (4 people) at 1,029 million VND.
Besides, travel agencies also participate in tourism stimulus programs. For example, Ben Thanh Tourist - Can Tho branch decided to reduce 10-15% for tours and 15% for Can Tho - Nha Trang tour, as well as Can Tho - Da Nang tour; Vietravel Company, Can Tho branch, reduced 10-15% for tours.
Meanwhile, Saigontourist Company - Can Tho branch decided to reduce from 27% to 54% for each type of tour and apply this incentive until June 30th, 2020.
Launching attractive promotional programs is necessary to attract tourists to Can Tho in particular and the Mekong Delta in general, with the purpose of recovering the tourism industry that has been badly affected by the COVID-19 epidemic.
Source: Tourismcantho.vn - Translated by Hoang Dat