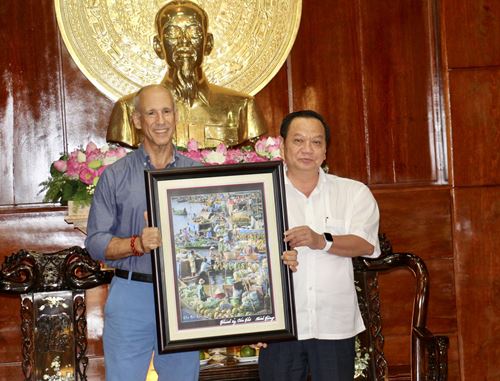 Mr. Trung Quoc Trung presented a souvenir to Mr. Peter Ryder at the meeting. Photo: N.H
At the meeting, Peter Ryder expressed his appreciation for the rapid development of the city and his desire to promote investment cooperation. In presenting his goal of the meeting, Mr. Peter Ryder said that Indochina Capital decided to invest in a high-end hotel project in Can Tho. Having chosen the land for construction, their company plans to complete the application procedures for the investment license and the procedures necessary for the implementation of the project. Indochina Capital hopes to receive the support from the city government for its rapid implementation.
Mr. Tran Quoc Trung affirmed that the city government always welcomed and supported investors in business cooperation. Informing about Can Tho's economic structure that the service sector accounts for more than 59 percent, the secretary of Can Tho City Party Committee said that Indochina Capital's investigation into their hotel project in Can Tho suited the development conditions of this city. The Secretary also presented to Mr. Peter Ryder the city's real estate projects that call for investment and look forward to receiving the cooperation of Indochina Capital.
On the same afternoon, the Deputy Chairman of the People's Committee of Can Tho City, Mr. Duong Tan Hien, and representatives of relevant departments and divisions met with Mr. Peter Ryder and his colleagues.
Source: Can Tho Newspaper - Translated by Hoang Dat