Specialties

Fermented pangasius (tra fish) – a new product of Tan Loc Island – Can Tho city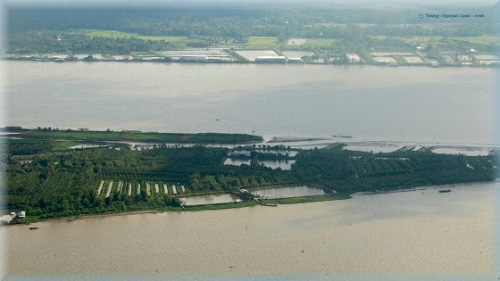 Tan Loc Island in Thot Not district, Can Tho city was known as a sweet island because in the past, there were a lot of households in Tan Loc growing sugar canes to make sugar. Nowadays, this island is called Fish Island because currently, the households have focused on raising a lot of catfish including tra fish and ba sa fish.
Guava Salad, a delicious dish in Tan Loc island

Two dishes in Can Tho continue to set the Vietnam Record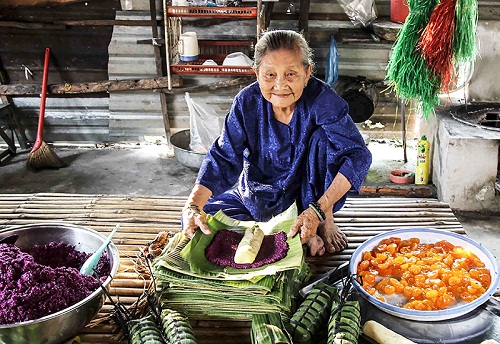 The Vietnam Record Organization has just announced the list of 100 dishes and specialties of Vietnam 2018. Two dishes of Can Tho which were honored to contribute the list, were "Bánh tét lá cẩm" (Vietnamese cylindrical sticky rice with magenta plant cake) and "Vịt nấu chao" (Braised duck in fermented tofu).
Com Ruou (Fermented Glutinous Rice Balls) village in Thot Not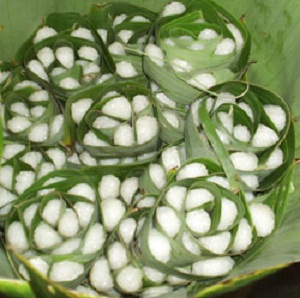 After crossing Thot Not Bridge, we turn left and go for about 6 kilometer to get to Trung Thanh Commune. In this place, almost all local people can show us how to go to the village producing fermented glutinous rice balls. Following the instructions of the indigenous people, we go more than a kilometer to Ba Dang Rivulet, along which there are 80-90 households making fermented glutinous rice balls. This area is in Thanh Phuoc and Thanh Phuoc 2 Village of the edge of Thot Not District (Can Tho City). Mrs. Huynh Thi Diem, Vice Chairwoman of Trung Thanh Women's Association, says, "Here, two out of every three households make Com Ruou as a way to earn their living.
Star apple season has returned in Phong Dien

Traditional Vietnamese cakes

Visiting Can Tho, remember to eat silver barb quenelle cooked with fish sauce

Silver barb which is sweet, soft, greasy and delicious with a lot of fishbone (especially small fishbone) is considered as a speciality of the Mekong Delta and is made into various dishes which are grilled, fried, cooked with sour soup, cooked with soybean sauce, steamed with coconut milk, or made into its paste,… However, the most delicious one is silver barb quenelle cooked with fish sauce.
Local cuisine - Can Tho Bánh Đúc lá dứa (Pandan rice cake with coconut sauce and palm sugar syrup)

(Bánh Đúc lá dứa is a dessert made from non-glutinous rice flour or corn flour. It takes the form of gelatinous blocks that are often colored green by the addition of pandanus amaryllifolius (pandan) leaf extract. It is cooked by boiling the ingredients and allowing them to cool, solidifying into a jelly-like sheet that is then cut into blocks.)
Three Rural Dishes for You in the Rainy Season in Can Tho City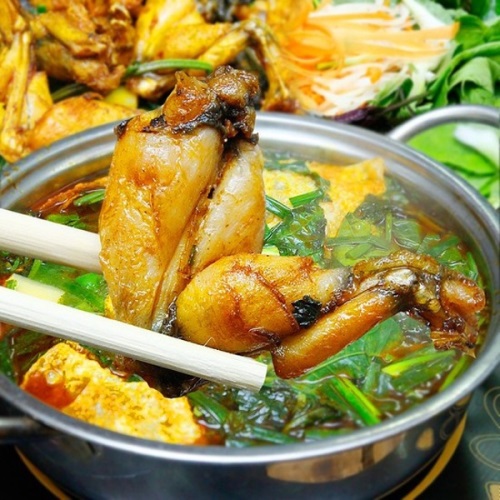 Dishes like grilled snails (Ốc nướng), frog hotpot (Lẩu ếch đồng) or Vietnamese sausage on the grill (Nem nướng) can easily make you feel warm and relaxed on rainy days in Can Tho City. On days when the weather is unfavorably wet, nothing can be better than these three country dishes for the whole family to enjoy.
Enjoying 3 folk-dishes in Can Tho rainy season

Eating sesban flowers

Mắm đùm (Steamed ground salted fish) – a unique dish of the Western region

Papaya salad with shrimp and egg - attractive street food in Can Tho

Rustic grilled snails in Can Tho

Snake braised with fermented soybean

Bún Riêu Cái Răng (Cai Rang Crab Noodle Soup) to the top must-try delicious food in the world

Foreign tourists prefer cocoa wine brewed by farmer in the West

Shredded chicken with pomelo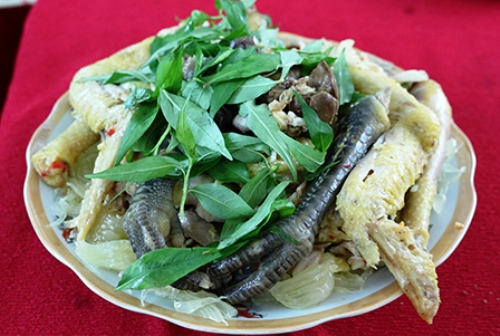 The Mekong Delta is endowed by nature with lots of delicious fresh produces. Taking advantage of those ingredients, the chef can cook rustic delicacies. Shredded chicken with pomelo is one of the attractions. This dish is considered an improved version of the milling shredded chicken, with a little more creative when combine available fruits in your garden to change the taste without losing the flavor.
The western-style cafes for weekend dating in Can Tho

Crab soup and knocking rice noodle for a full belly in the afternoon wandering in Can Tho