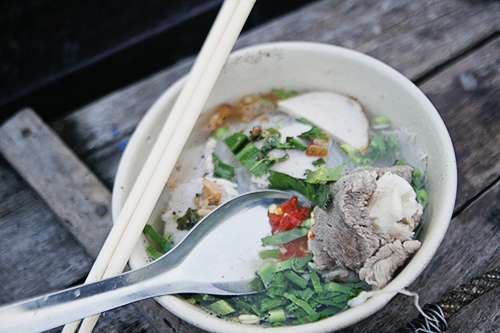 Floating on the calm river of Can Tho, visitors can not miss tasty and charming dishes of the Western region.
Hủ tiếu
Surely, no one could feel unfamiliar with Hu tieu, a dish having many variations with different flavors. Visiting Cai Rang floating market, however, enjoying a bowl of Hủ tiếu on the vast river will bring you extraordinary experiences.
The trands of Hủ tiếu of this region are very clear, smooth and tough served with broth, topped with pieces of meat, sliced beef ball, beansprouts and green chives.
Specially, to make the broth sweetish and tasty, it is said that it takes more than 3 hours to stew the marrowbones. Sitting on a boat swinging when another boat passes by, use chopsticks to pick up noodle strands together with meat will make you feel excited and interested.
Bún riêu cua
The floating market starts meeting since the early moring with lots of products including from vegetables such as sweet potatoes, pumpkins, gourds, bitter melons, jicamas ... to rice, teas, cakes and fruit. Living entirely on the river, but it does not make serving food for visitors becomes difficult.
Boats full of food and cooking utensils solicit customers every time they are passing by. You just need to sit on your boat and call any certain boat then you can enjoy a tasty breakfast with Western waterways style.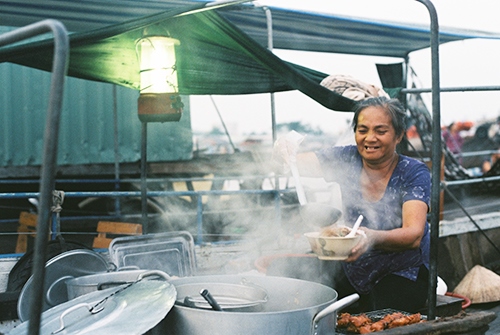 Once voted by the travel site Skyscanner to be the dish you need to try in life, Bún riêu is also one of the dishes impressing visitors by the distinctive taste of shrimp paste and fragrance of crabmeat. Bún riêu after processed will be passed to your hand with the eye-catching red of tomatoes, green of scallions, meat, fragrant shrimp paste and slightly spicy chili.
Because the dish is made on the boat that just a second of recklessness it will be spilled out. Therefore, the implementation stages are required to be very careful and skillful. However, serving dishes are not limited. Bún riêu is served with fresh lemon, coriander, shrimp paste and fresh vegetables. You can add chili if you like spicy taste.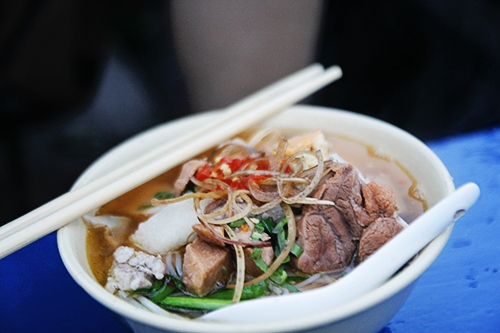 The most interesting thing of eating on the boat is not only the taste of the dish but also the atmosphere that visitors experience. In the cool breezes of early morning on the floating market with sounds of bustle, sometimes a free wind appears, a warm bowl of Bún riêu will make you remember forever.
Source: VnExpress - Translated by Ngoc Diep