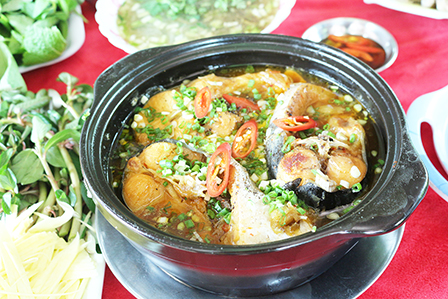 Fish braised in clay pot, a typical dish of the Western region, you can enjoy it at Vietnamese restaurants on Hai Ba Trung Street.
The "street of food" De Tham (Hue Vien Street) enchants visitors with hundreds of kinds of food (both vegetarian and non-vegetarian) from traditional to modern dishes. Those who want to enjoy seafood or contryside dishes can visit Dinh Tien Hoang Street, where is named the "Ba Khia (Mangrove crab) Street". In addition, you can leisurely walk on the pedestrian street (the junction of Ngo Quyen, Hai Ba Trung, Nguyen Thai Hoc - Vo Van Tan Streets), enjoy snacks or buy souvenirs. There is a night market here opens from 4 p.m to 4 a.m of the next day. If you want to try Vit nau chao (duck meat with soybean paste soup) – a specialty of Can Tho, you can go to Alley 1, Ly Tu Trong Street, where is named "the alley of Vit nau chao". This alley has many well-known restaurants such as Thanh Giao, Co Minh.... Or you can enjoy genuine specialties of the Western region such as snakehead fish porridge, snake stewed with lemongrass at restaurants on Tran Van Hoai Street; dishes with goat meat at restaurants on Vo Van Kiet Street...
If you like to nosh, you can visit the fruit area on Le Loi Street (also known as Hang Duong Street); pancakes, pennywort juice on Le Lai Street; clams, oysters, snails dishes on Tran Van Kheo street; or smoothies, sam bo luong (sweet, cold soup) at the Three-lamp area in Ninh Kieu Quay. The street of nosh at Tran Phu night market with many unique dishes such as fried fish stomach with flour, take-away grilled or fried dishes... is also very attractive. Further to the direction to Cai Rang District, you can enjoy the famous pancakes at Bay Toi on Cai Son - Hang Bang Street; or "noodles pizza" at Sau Hoai's rice noodle factory on Lo Vong Cung Street...
Ninh Kieu still has many unique streets associated with delicacies, bringing visitors exciting experiences on the features and richness of the culinary culture of Can Tho.
Source: Can Tho Newspaper - Translated by Ngoc Diep