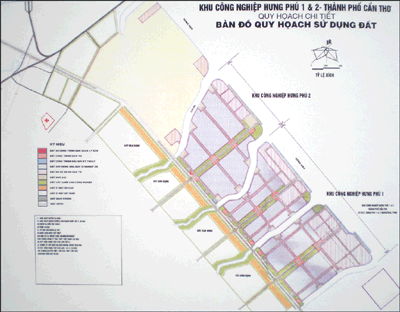 1. The advantages about its site:
Hung Phu I & II Industrial Parks: with total area of 975 ha, consisting of Hung Phu I: 390 ha; Hung Phu II: 585 ha.
Hung Phu I & II Industrial Parks: are located along the right site of the Hau River, 3 km from the South to Can Tho city. Connecting with Phu An ward, Dong Phu commune, Chau Thanh district and next side to new urban area with banks, hotels, school and hospital......
In Hung Phu industrial park I: Cai Cui National port has been constructing with big scale, receiving ships of over 10.000 tons; with fulfill of warehouse system to met the requirements of transferring goods 4-5 million tons per year. National Route 91B connecting with Can Tho Bridge, National Route 1 and Quang Trung Bridge. Infrastructure conditions as electric, water, telephone are also approved by provincial people's Committee to expand for building in 2002.
Along with Cai Cui National Port. Hung Phu Industrial Park I have some investment projects worth USD 45 million and other investors are promoting for land leasing. Hung Phu Industrial Park II has 3 projects worth USD 20,92 million, in which, 2 projects are in operation. Viet Nam Shipping Industrial Company also signed memorandum of understanding about location for leasing 20 ha land to construct Can Tho shipping industrial area in order to serve for all of provinces in Mekong delta.
2. Oriented development:
It is encouraged to develop:
+ The industry for processing food, foodstuff, fishery, sea products, fruit beverage for export.
+ The industry of knitting, garment, leather.
+ The industry for chemical, chemical products.
+ The industry for consumer goods.
+ The industry for construction materials.
+ The industry for port, shipyards, amending.
+The industry for mechanism, manufacturing, installing to serve agricultural sectors.
+ Other industrial factors that are suitable to the development of modern industrial park in the future.
It is encouraged to develop fields as electric technology, new material and biological technology. Fields in studying, applying science technology, training and other services favorable with the regulations of high technological park.