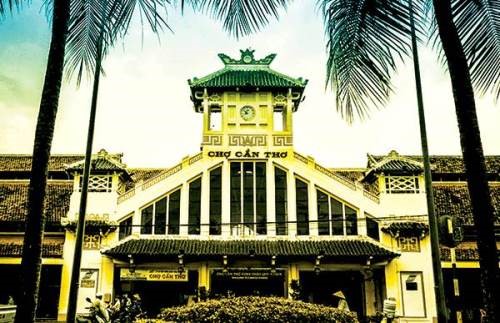 Can Tho moss-topped ancient market
"Cần Thơ xứ lắm bạc tiền,
Bởi vì thổ sản điền viên cả ngàn.
Chín tổng trong chín mươi làng,
Ruộng thuộc ruộng khẩn muôn vàn biết nhiêu.
Vườn nhờ huê lợi cũng nhiều,
Bông hoa cây trái mỹ miều thường niên"
(Can Tho is very rich
Because it has thousands of fertile farms with abundant products
Nine districts have ninety villages,
Lots of their fields are cultivated
Gardeners have enjoyed various profits from their fruit trees all year round.")
It is obvious that Can Tho, the urban city along the river, has been prosperous since more than a hundred years ago. That is why the locals now still remind themselves of old memories of the old, civilized rural area with delicious dishes and well-mannered people.
These memories have contributed to the urban identity of Can Tho: a great harmony between traditional and modern elements, development, and heritage.
"Since there were cemented streets, people on different vehicles have traveled faster using a shortcut in front of the market. Foreign tourists, both on foot and on bicycles, usually visit the beautiful embankments, and local children follow them trying to catch their attention saying, "Hello! Hello! " It is very funny!"
Those are some sentences taken from the writing "Front House" by Nguyen Ngoc Tuyet (Ho Chi Minh City Writers' Association). They are also what she has read to open the topic "Old Features in Modern City". Her house used to be Nguyen Thi Minh Khai Alley, but it is now in a large frontage road thanks to Rach Tham Tuong Embankment Project. In the afternoon, this retired teacher and her grandchild took a walk on the embankment, watching sidewalk flowers in blossom spreading out their fragrance. The slumped streets in the past are now crowded modern ones, and the polluted canal becomes clean and clear. Memories of the old canal and friendly neighbors like the welder, the lady collecting old stuff for recycling, young couples selling groceries, etc. and the others, who have stayed and left, are now a part of the urban life. Ms. Tuyet happily says, "Our common saying to one another is that people living in the alley like us ever imagined living in the front house. It is true that what is fated to be yours will always return to you!"
This must be a story of many Can Tho residents today. The new modern and young city can be seen in its houses and streets. Black canals have been replaced by embankments across the river. Despite such remarkable changes, this city still keeps its old features as well as beautiful urban memories. Ms. Tuyet has 34 years of teaching, first at Doan Thi Diem Junior High School, then Chau Van Liem Senior High School, and continued teaching there until she retired. She has all her 73 years of age attached to Can Tho urban life. That's why she shows deep affection to each of the old features in the city at any time.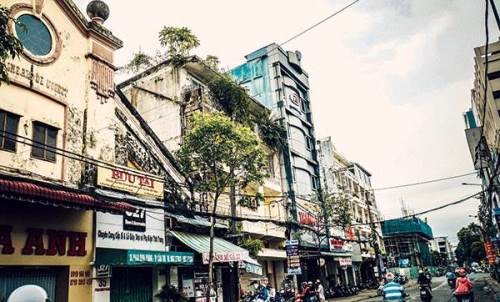 A corner of Phan Dinh Phung Street with "Imprimerie de l'Ouest" on the roof.
Ms. Tuyet and her nephew often go along Phan Dinh Phung Street, where there used to be a row of 18 famous houses once, and she lived in one of them for a long time. This old street is now a memory. Time flies waiting for no one. Looking at the traces of the fence gate, tile roof in 18-house street, she thinks of her childhood. Only one of those 18 houses, Giang's barbershop, is now in good condition. The shop owner does not notice much about the mossy roof except when many people point at his house and say, "In the past, this place ..."
The memories of the former Can Tho residents have shown that the market housing has appeared in here for ages. It is reflected via a row of 18 houses on Phan Thanh Gian Street (now Xo Viet Nghe Tinh Street), Delanoue Street (now Phan Dinh Phung Street) or a row of 5 houses in Hai Dia Alley, Phan Thanh Gian Street (now Alley 18 on Xo Viet Nghe Tinh Street) ... Many people probably start to forget an old sign of Nhà Tằm (The Silk House), now at the corner of Ngo Huu Hanh Street and Vo Thi Sau Street. Formerly the French built this house to raise silkworms, so it was the Silk House. Later, it was demolished to build apartments for civil servants, now known as Ngo Huu Hanh Block of Apartments. Those who cross Phan Dinh Phung Street every day may notice the watch shop whose roof has the words "Imprimerie de l'Ouest". This is where the headquarters of the Western Printers was born in 1911, which demonstrates the development of the printing and communication industry in the early time in Western Capital.
Urbanization innovates many things from the appearance of the city to people's lifestyle and thinking. At times, people used to complain about the slow urbanization of Can Tho City. But for those who love this Western Capital, slow speed has its advantages: Slow but solid foundation and humanity. This concept is evident in the old roofs and the old traces in the modern city center. Tourists may one day walk on Hai Ba Trung Street, listening to the peaceful gong sounds from Ong Pagoda and smelling the faint incense in the air. Going to Can Tho Ancient Market, which is bustling yet somewhat mossy. They must give their compliments on the beauty of Can Tho heritage.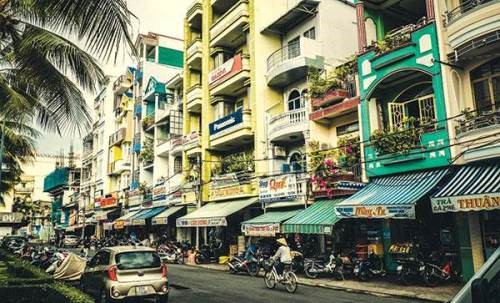 Hang Dua Street, now Phan Boi Chau Street.
Walking through the small streets: Duy Tan, Thu Khoa Huan, Phan Boi Chau, etc. visitors may suddenly think of the image of the old lady sitting selling betel and areca. Then they "emerge themselves" enjoying filtered coffee at the roadside coffee shops whose owners can remember each of their customers' tastes. They have been drinking coffee here with some old friends at the same corner for dozens of years. In the early morning of Can Tho, people may feel its tranquil peace as enjoying coffee in very popular coffee shops such as that of Mrs. Tu Diec at the beginning of An Lac Market, or Ms. Hoa on Thu Khoa Huan Street, etc. Ms. Hoa is almost half a century old. Her mother, Mrs. Sau, founded it 50 years ago and left it to her children and grandchildren. Regular customers are easy to recognize in this tiny coffee shop. As soon as they sit down, they can hear the owner's loud voice identifying what they are to drink such as "Uncle Tieu, coffee with a lot of milk!" There is no need to order and no menu in here. Here, the sale is accompanied by hospitability, friendliness, and happy memories.
Although having "wandered around" in his topic when chatting with his friends, Vu Thong Nhat, a writer, (Vice Chairman of Can Tho City Writers 'Association) almost always comes back to how Can Tho has still kept some canals in its middle, dunes in the rivers and ancient tile houses in the downtown. According to him, these are how the city maintains its unique Western features and affirms its ancient cultural position. Typical examples of such effort are Binh Thuy Ancient House, Can Tho Ancient Market, etc., which currently serve as valuable tourism products in Can Tho City. "Of course, there must be a thorough survey and evaluation of which values to be preserved, and which ones to be renewed, etc. That is the responsibility of Can Tho people today," says Mr. Vu Thong Nhat with much enthusiasm.
Tet Holiday is very beautiful in Can Tho City. The locals still keep their tradition of going to pagodas and asking for ancestors' blessing at the beginning of the year. The ancestor's altar on Tet holiday has full traditional features. Northeast winds are somewhat chilly yet pleasant in the morning in Can Tho City. It is nice to sit at a low table in Ms. Hoa's coffee shop, feeling the beauty of so many ancient features in this modern city.
Source: Can Tho Newspaper - Translated by Diep Truong