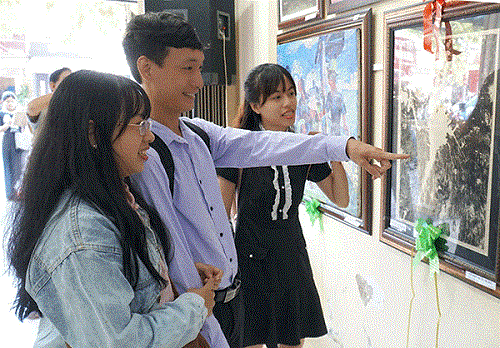 Young people visiting Can Tho City Fine Art Competition 2019.
"Sen (Lotus)" by Le Thi Kieu Nga won the second prize in this competition. Ms. Kieu Nga sketched a beautiful and pure lotus image on silk material. Despite her young age, this female artist has participated and won several awards in this kind of competition for years. She has said the competition is really a playground for competitors, especially young ones like her. It is where they can get more experience and improve their skills. Besides her daily work as a teacher, she always practices drawing so that she can draw the best works.
This year, there are 46 artworks from 22 competitors. The judges have decided to award 1 first prize, 2 second prizes, 3 third prizes, and 5 consolation prizes to the best ones. The others are quite good and selected for display. Regarding the material, the most commonly used are oil and acrylic, and the rest are wood carvings, silk paintings, powder paintings, digital prints, eggshell paintings... Through the artists' observation, different aspects and perspectives on life are embedded in paintings. For many years, painter Le Hoang Lam has chosen the topic of Cai Rang Floating Market for his works, and become very successful. In 2018 competition, he won the first prize with "Cai Rang Floating Market 2", and in 2019 he won the second prize with "Cai Rang Market Session 2". A rich culture and unique characteristics of a waterway life seem to feature in his oil paintings of Cai Rang Floating Market.
The entries for the 2019 competition reflect real-life drawing angles such as a flower frame in front of the house, friends' portraits, a scene of people on Vam Nao ferry, or at Southern Folk Cake Festival ... All of these express our love for the homeland as well as national pride. For example, all 3 paintings of Tran Quy Thuan send the message of love to the sea and islands. His work "Defending the Fatherland" shows a moment when the coast guard is patrolling, surrounded by huge breaking waves like flowers in the middle of the sea, which seems effusively romantic. He has stated that his work is mainly calligraphy and belongs to applied painting (i.e. decorative painting for civil buildings), yet he is very dedicated to professional art. He draws only when inspired and selects the topics closely associated with life such as the portrait of Can Tho swimmer Nguyen Thi Anh Vien or a drawing of Tai Tu Performance which are now displayed Can Tho City Museum.
The results of this year's competition were in accordance with public opinions because of the fair judges including experienced artists namely Ca Le Thang, Le Xuan Chieu and Duong Van Sen. Sculptor Tran Dinh Thao, Chairman of Can Tho City Fine Arts Association says, "It is praiseworthy to those who won awards at this competition are mostly young artists such as Cao Thi Anh Xuan, Le Thi Kieu Nga, Vo Thi Xuan Ca, Van Tan Phuc, Huynh Thi Phong Lan, Nguyen Doan Duy ... They have studied and upgraded their skills to create their own styles in the paintings. "
However, what makes the chairman of Can Tho Fine Arts Association concerned is the absence of lacquer paintings and applied art in this competition. Especially, there is no painting of applied art - the type of fine arts that directly serves life and meets today's consumer tastes. This requires artists in Can Tho to update themselves to keep up with the trend.
Can Tho fine arts has gradually developed "slowly but firmly", creating a mark in the national fine arts community.
Source: Can Tho Newspaper - Translated by Diep Truong