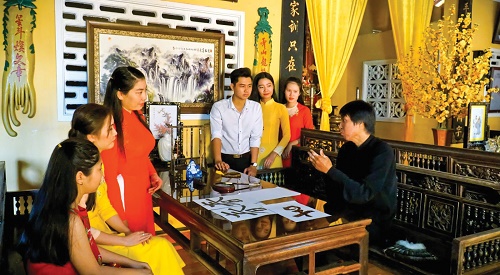 Monk Ho Minh Phong, Head of the Nam Nhã Pagoda Administration Board, offering his calligraphy for tourists.
"Province Chief Huỳnh Mẫn Đạt is said to be caught in a typhoon while sailing on Hậu River in 1852. Hardly could his crew and he survive the violent storm until he saw one of the canals and ordered his boat to turn into. To their surprise, it was tranquil in here, which helped them escape from the wrath of the water god. He declared, "We are all safe as following the water flow here. Now, I name this place Bình Thủy. "
After listening to the old story, visitors go to the calm rivulet mouth to the river to feel the meaning of "Bình Thủy ", which has become an unforgettable experience in their visit to Long Tuyền Ancient Village.
Recently, a group of young people dedicated to Cần Thơ tourism has introduced the tour to this new but old village. According to Tống Thiên Thanh, a young tour guide, the destinations are still Nam Nhã Pagoda, Bình Thủy Communal House, Vườn Lan Ancient House ... In addition to enjoying the beautiful scenery, visitors can understand the local culture via various interesting stories. After each tour to explore this ancient village, both visitors and the tour guide can accumulate much knowledge of the local area. She says, "Such knowledge is the depth of a land, the length of memory…., all of which is very precious!"
At Bình Thủy Communal House, Mr. Tám Huế, Head of Management Board, has told visitors the story of Lục Ấp (six hamlets) block of compartments for villagers from six hamlets of former Long Tuyền District to stay as they gathered during Kỳ Yên Festival. Villagers and their neighbors gathering under the roof of the communal house, joined hands to prepare sticky rice. The story of this over-80-year-old farmer is attractive due to its profoundness and simplicity. Across the river is Nam Nhã Pagoda, where the old stories are kept. The more you listen to them, the more you feel their cultural beauty. The most interesting moment is when visitors gather around Monk Hồ Minh Phong, the Head of the Administration Board of Nam Nhã Pagoda, waiting for his calligraphy with the hope that his meaningful words can help bring peace to their family. Some people ask for the word "Tâm" (Heart), others for "Tinh" (Smart). The monk writes these words in Nôm (Chinese-transcribed Vietnamese), giving full of his heart into the real meaning of each word.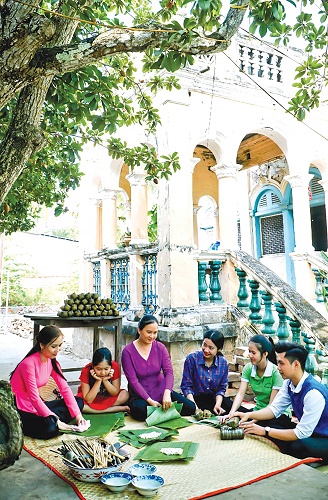 Ms. Ngọc Duy and visitors preparing bánh tét (Vietnamese traditional food) in the old house.
Next to Vườn Lan Ancient House, there is a beautiful, valuable and famous house. Its current owner is Ms. Ngoc Duy, the fourth grandchild of Mr. Dương Lập Cang (the housebuilder). Here she tells visitors the old stories under the light from the ancestors' altar. Outside, under a cool shade of the old sapodilla tree, visitors gather to make bánh tét (Vietnamese traditional food), while listening to stories about the old house, the memories of the countryside, and its customs which cannot easily be found in modern times.
………..
"Bình Thủy - Long Tuyền is widely considered as a sleeping dragon. I want to wake it up," says Ms. Lê Thị Bé Bảy, a lady with so much passion for tourism development in her homeland. The tour to discover the depth of the ancient village Long Tuyền is her initial effort to kick start the local tourism.
For a long time, on a tour to Long Tuyền Ancient Village, besides taking a few photos, visitors used to have only some information about how the house was built, how many rafters, columns, and tiles were used. Yet, the ancient village has more than such pieces of information. Ms. Bé Bảy has tried to find another way to conquer tourists' hearts. "It took me more than 5 years to design a new tour," says she with a smile. She has asked Ms. Sáu Hoa's family to restore her family's tradition of making shrimp chips; searching for Lục Ấp old story of Bình Thủy Communal House; recalling the famous delicacies that have made the elegant and famous features of the ancient Bình Thủy such as red Dang Shen ginseng, glutinous rice chupatty, chopped rice paste soup ... the compiled form of all these stories is a hundred-year-old story of Long Tuyền Ancient Village which fascinates all visitors to this place.
In his tour in Spring to Long Tuyền Ancient village, Mr. Phạm Quang Triều, Director of HT Travel Company, has been greatly impressed. He says, "It is really an uncommon tourism resource." What he notices and wants to have in the tour are onsite guides. They can be a keeper of the communal house, a landlady, a baker in the old village ... who heartedly tell stories of their hometown to visitors.
At the end of the year, Nguyễn Phượng Thư, a girl from Long An Province and a student from Hồ Chí Minh City along with her boyfriend Filip Nguyen, an overseas Vietnamese, come to Cần Thơ City for a visit to Long Tuyền Ancient Village. Young couples are conquered by the mossy style of the communal house and the ancient pagoda. Seeing local women preparing traditional food and cakes, she says that she is looking forward to Tết or Vietnamese traditional Lunar New Year. Her friend says that this is "the number one" exciting discovery because he has actually come back to his original point. In fact, he is originally from the West.
Tourism derived from the culture which in turn is the platform for tourism. A tour to Long Tuyền Ancient Village proves to be in the right direction. Old houses and old villages along Bình Thủy River are the highlights for tourists from far away because they keep track of people and nature; contain the values ​​of artistic creation, history, and culture of ancestors. During the integration time, Vietnamese families have become different. It is not easy to find the egg shape oil lamp on the ancestor's altar. It is easy to be with Aunt Bảy, Mom Hai preparing traditional food such as bánh tét, coconut, or banana jam…. Is it possible that future generations still know how to preserve old customs and traditions of the land and their family? It is difficult, much more difficult than reserving the house and the communal home. Therefore, tourism will reconcile this when it becomes a cultural "messenger", both transmitting and saving cultural values.
Then at some time in the future visitors will tell one another that there is a special ancient village considered as the soul of the South in Cần Thơ City. Here, the young find out their origins, the old their memories, the expatriates the ways to home and the local and foreign tourists the ways to discover the identity of a region ...
Source: Can Tho Newspaper - Translated by Diep Truong