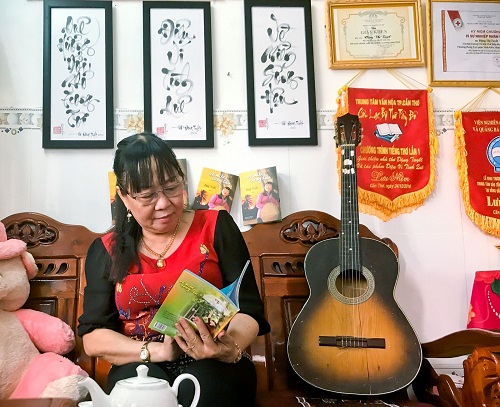 Poet Dang Tuyet. Photo: DUY KHOI
Poet Dang Tuyet explains that she has considered Can Tho as her homeland ever since she first came here. The 30-year attachment to the Hau River region has brought her a lot of unforgettable impressions, so much joy mixed with sadness and misfortunes as well as the adversity of life. Then she has found poetry as a friend, sending her heart to the verses:
""Qua rồi bão tố phong ba
Vần thơ kết trái nở hoa tặng đời"
(Gone have the vicissitudes
Poems bring happiness and joys to life)
This poetry collection is divided into 4 parts: "Về miền sông Hậu"(Coming to Hau River region)", "Tình thơ" (Love for poetry), "Thơ thiếu nhi" (Poetry for children) and "Thơ phổ nhạc" (Poetry for music setting). It contains unexpected feelings of a person living far away from home, getting homesick when she happens to hear a Ví sentence (an allegoric lyric) from Ninh Kieu Wharf:
"Về miền sông nước Cửu Long
Chợt nghe câu Ví ấm lòng người xa"(As she happens to hear a Ví sentence in the Mekong River region, an expatriate living far away from home feels so much warmth in her heart.)
However, according to Ms. Tuyet, that is just a little nostalgia deep in her subconscious because both Can Tho and Ha Tinh are her homeland forever. She composed great - matching verses as follows:
"Tình người vùng đất Chín Rồng
Quyện vào câu Ví núi Hồng sông La
Ai về xứ Nghệ quê ta
Nhớ miền sông Hậu bao la nghĩa tình"
(Love of people in the land of Nine Dragons
Intermingles with the Ví of Hồng Mountain and La River.
Ones on their return to Nghệ, my homeland
soon miss the immense sentiment of the Hau river region."
Poet Dang Tuyet confides that poems are a way for her to send her heart to her beloved despite various ups and downs in life. Her acquaintances admire her energy of life. Having just overcome the shock of marriage break and the attack of illness, she faced her son's death in a traffic accident. The poet confronts everything with the tranquil soul. She sends her heart to poems and goes to charities as a joy. She is now the head of Nối vòng tay lớn Club (the Great Circle Club), which helps difficult people around the country. "Doing good deeds and meeting unfortunate people, I find myself so lucky. Therefore, I should be optimistic and go on," says Ms.Tuyet.
On her son's 2nd death anniversary, she wrote "Bài thơ mẹ viết tặng con" (Mommy's Poem to Son). Heart-touching verses are written from a mother's love:
"Gặp con trong những giấc mơ
Giật mình tỉnh giấc con thơ đâu rồi?"
(I meet you in dreams, and then I wake up finding that you have gone: Where are you, my son?)
Regarding the poetry for children, she has written poems for her toddlering granddaughter named Thanh Chau. Her forte is a six-eight poetry (six words in the first sentence and eight words in the second one). She also has a number of Tang-styled poems and five-word poems. These verses are sometimes not too implicative or elaborated, but in return, they are her true emotion and love in search of harmony.
Source: Can Tho Newspaper - Translated by Diep Truong