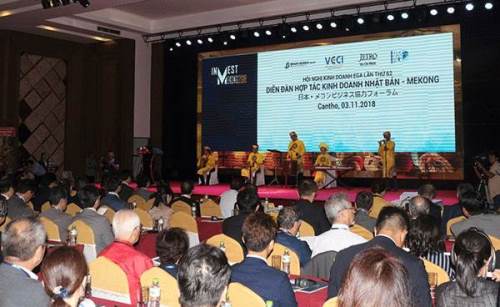 Japan - Mekong Business Cooperation Forum 2018. Photo: N.H
Vietnam - Japan Festival is an annual event co-organized by VCCI Can Tho and Can Tho city People's Committee since 2015. Marking a 5-year milestone (2015-2019), this year's program is held solemnly on a large scale and at an international level. There are expected to be 150 booths in various fields from trade to culture and cuisine. Particularly, the startup products of the Mekong Delta provinces are also on display this year. Each booth is designed harmoniously demonstrating the cultural characteristics of both nations' cultures. The highlight is the impressive designed pavilion, which displays Japanese and Vietnamese products with the desire to help young people better understand the culture of both countries. In particular, this year's program continues to make a special charter from Narita Airport (Tokyo) to Can Tho City, bringing Japanese businessmen and tourists to Can Tho city.
There is a list of connecting events in this year's program: Japan - Mekong Business Cooperation Forum; the 3rd conference on Sustainable Economic Development in association with environmental protection, especially, the discussion session on trade and investment linkages between the two countries. Within the framework of the festival, there will be a cultural exchange between Vietnam and Japan. Many art performances will take place in 4 consecutive days. In addition, there will be a culinary exchange festival with delicious and distinctive food from Japan and Vietnam.
Source: Can Tho Newspaper - Translated by Hoang Dat