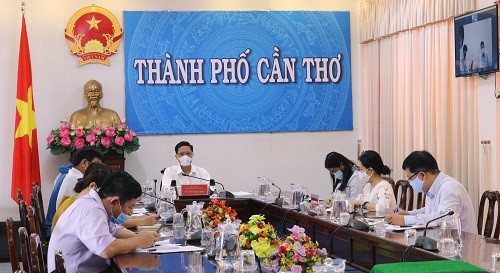 The virtual meeting between representatives of Can Tho city and representatives of the Environment Department, International Chamber of Commerce, Department of Labor, Industry, and Trade of Hiroshima Prefecture
At the meeting, Mr. Nguyen Thuc Hien, Vice Chairman of the People's Committee of Can Tho city, presented about the city's socio-economic situation; thereby also expressing his desire to cooperate with Hiroshima Prefecture in several fields such as environmental protection, climate change, investment cooperation, trade, healthcare, advanced technology, education, and training, etc.
Furthermore, the city of Can Tho is also looking for Hiroshima's support and the recommendations of enterprises with appropriate technology for specific issues on solid waste treatment, aquaculture wastewater treatment, environmental monitoring, saltwater intrusion warning, and adaptation to climate change.
In addition, the city is seeking assistance in circular technology to optimize raw materials and by-products in the seafood industry in order to help reduce pollution and greenhouse gas emissions.
As many Japanese enterprises are relocating their investments to Southeast Asia, Vice Chairman Nguyen Thuc Hien hopes that they will invest in other sectors in the city such as seafood processing, information technology, tourism, and energy.
To facilitate cooperation between Can Tho and Hiroshima, the city has prepared a 30-hectare plot for Japanese enterprises and is working with language centers to provide Japanese language training to local workers, making it easier for Japanese firms to invest in Can Tho.
In response to the provided information and suggestions on practical needs for cooperation and support of Can Tho city, Mr. Ide Futoshi, Director of the Environment Department of the International Chamber of Commerce, Department of Labor, Industry, and Trade of Hiroshima, said they would endeavor to connect enterprises and provide technical support to meet the needs of the city. He also suggested that the city should make a list of specific fields that need support so that the Hiroshima prefecture can recommend the most suitable companies as well as appropriate technical support, giving the best options for the city.
In terms of surface water monitoring and environmental monitoring, Mr. Ide Futoshi would introduce several enterprises in Hiroshima with advanced technology and experience in these issues to the city in the near future.
After this meeting, the Hiroshima officials will work directly with the Department of Agriculture and Rural Development and the Department of Natural Resources and Environment of Can Tho city on obtaining information and specific needs of the city to recommend the most suitable enterprises for Can Tho.
Concerning the issue of agricultural waste and aquaculture wastewater treatment, there are now many Hiroshima-based enterprises that are very experienced and specialized in this field operating in Vietnam, and so Mr. Ide Futoshi also wants to introduce these firms to Can Tho.
Regarding the city's proposal on plans to reduce CO2 emissions and greenhouse gases, Mr. Ide Futoshi emphasized that this issue is of great concern to the Japanese Ministry of Environment. Therefore, the Japanese Ministry of Environment will support Can Tho city with 50% of the total value of the project on environmental protection and CO2 emissions reduction.
Mr. Ide Futoshi hopes that this practical support will minimize the burden on the Can Tho city as well as enterprises participating in the project.
Source: KKN - Translated by Hoang Dat