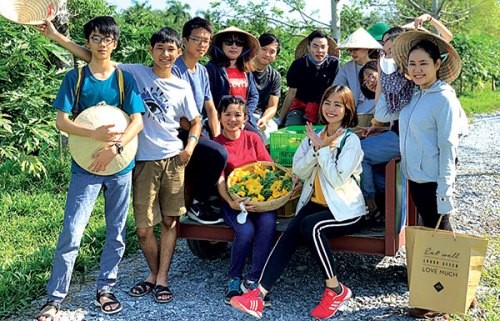 Agricultural tourism is suitable for tourism recovery after the COVID-19 pandemic. In the photo: Experience agricultural tourism at Bao Gia Farm, Can Tho - Hau Giang.
Compared to 2019, in the first 4 months of 2020, the Mekong Delta recorded a decrease of 41.6% in the total number of visitors, a decrease of 50% in the number of guest stays and a downturn of 42% in the total revenue (tourists mainly travel in January and February 2020). As a result, the Mekong Delta Tourism Association offers 5 tasks, solutions and focuses on launching the tourism stimulus program, strengthening the communication as well as promoting Mekong Delta as a safe destination.
The tourism stimulus program has been implemented throughout the Mekong Delta region, starting from June to the end of 2020 and preparing for the first quarter of 2021. The Mekong Delta authorities focus on encouraging companies to participate in the program and strengthening linkages between provinces and companies, organizations. In particular, cooperation with Ho Chi Minh City, Can Tho city, the provinces of Kien Giang-Phu Quoc, Bac Lieu, Ca Mau, Tien Giang is on top priority. Moreover, the association also develops appropriate discount programs, improve service quality and ensure safety, prioritize domestic tourism, promote joint activities among companies to lower costs, reduce incentive services from 20% or above and build interesting, new tours to attract tourists. Currently, the Mekong Delta Tourism Association has encouraged about 100 companies in the field of tourism to reduce the average price from 10-50% or even 100% on admission fees in some places.
For an effective tourism promotion program, Can Tho City will also organize a Tourism Festival on June 16th to connect with travel agencies in Ho Chi Minh city and the Mekong Delta region.
At the conference, Mr. Dang Minh Viet, Representative of Vietnam Airlines in Can Tho, says, "To stimulate domestic tourism, our company establishes many new flight routes, departing from Can Tho to Hai Phong, Thanh Hoa, Vinh, Buon Ma Thuot ... starting from June 12th.
With these new routes, our company increases the operating rate by about 1.5 times and the number of direct flights from Can Tho to other localities by 50% compared to the post-COVID-19 period. As a result, we have received positive feedback from travel agencies when it is possible for them to build interline products, suitable tourism promotion programs to stimulate domestic tourism, especially connecting Can Tho city and the Mekong Delta to provinces and cities nationwide.
Source: Can Tho Newspapers – Translated by Hoang Dat